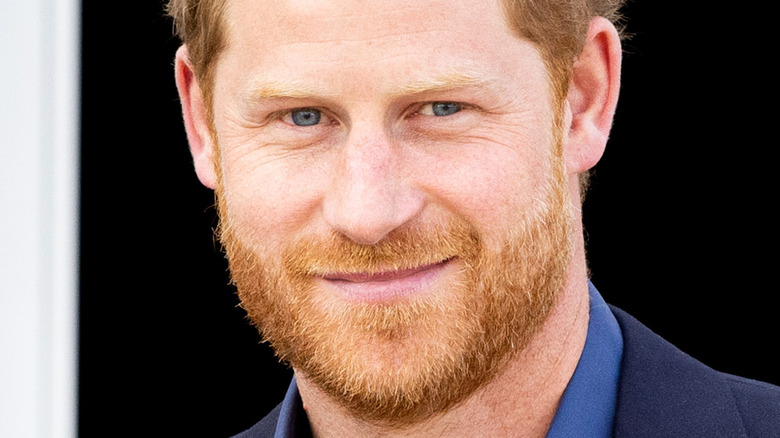 It seems like a love for dogs runs in the royal family. Prince Harry grew up around the late Queen Elizabeth II, who owned many different corgis through her decades as monarch. As Prince Harry grew up, his love for dogs clearly grew, as he and Meghan Markle now have their own set of loving pups. He doesn't have corgis like his grandmother, but Prince Harry's affection for his dogs appears to rival the queen's.
Prince Harry and Meghan may be busy — with two kids, Archie and Lilibet, and multiple business ventures to juggle — but they still dedicate time for their three furry friends. Still, Harry recognizes that caring for so many pets isn't easy. "I've got three [dogs] in this house now, so we basically have five children," he said during a conference call with WellChild Awards recipients in October 2022 (via Us Weekly). "Between the three of them, they drudged around chasing the squirrels every day, but they are also emotional support dogs when they're behaving."
Currently, the Duke and Duchess of Sussex have one black Labrador and two beagles — and they're clearly keeping the couple busy. There's no doubt, though, that Prince Harry and Meghan consider the dogs a crucial part of the family.
Meghan Markle had her own dogs before marrying Prince Harry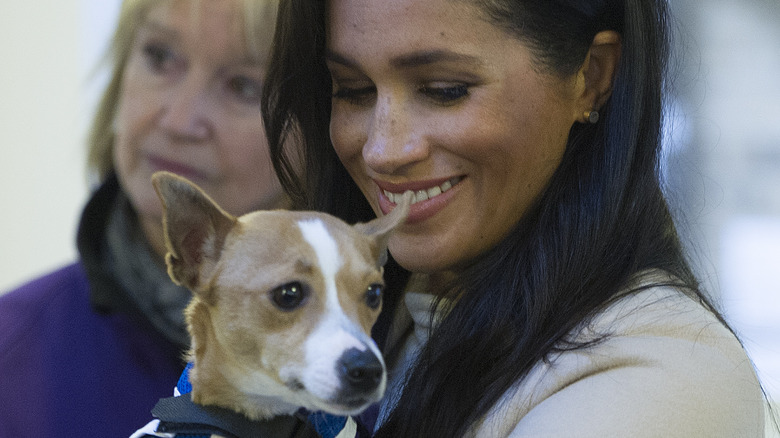 Meghan Markle loved dogs long before she married Prince Harry. People reported that the Duchess of Sussex's first dog was named Bogart. It wasn't long after adopting Bogart when she decided to give her first puppy a friend. According to Courier Journal, Meghan adopted a beagle named Guy in Kentucky in 2015. The Montgomery County Shelter is known for putting on adoption events, and it was at one of the events the future Duchess of Sussex decided to adopt the lucky pooch. The outlet reports that Guy even took a trip across the sea with Meghan and was spotted with the late Queen Elizabeth II. Guy became a package deal when the "Suits" actor married Prince Harry.
As for Bogart, things went a little differently. The dog did not join his mom's move to the U.K., according to the Daily Mail; instead, Meghan had to leave her dog behind after becoming a royal. There was a lot of speculation as to why Meghan rehomed Bogart to a friend in Canada — where he still resides today — including one that revealed Prince Harry and the pup didn't get along. According to Parade, however, a veterinarian deemed Bogart too old to travel to the U.K. "
It seems the royal made up for the missing companion because not long after Prince Harry and Meghan married, they decided to expand their family even more.
Prince Harry and Meghan Markle added two more furry friends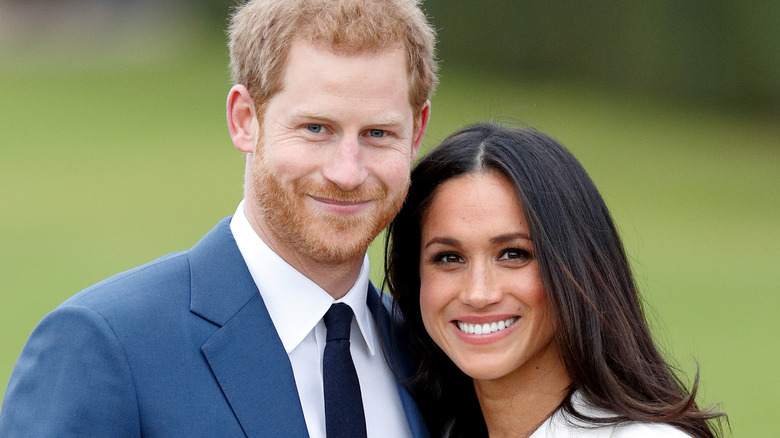 When it came down to choosing a dog to add to their family, Prince Harry and Meghan Markle chose to adopt all three of their pooch. In a bonding experience, the couple got their first dog together in 2018, per People. Prince Harry and Megan decided to name the black Labrador Pula. The meaning of their dog's name is significant for the couple because it's after the Botswana currency, and they took their first trip together to the country.
In 2022, the couple extended their family once again by rescuing another beagle named Momma Mia, per People. Momma Mia is an older dog with various health issues, but that didn't stop them from adopting the beagle. Even after being warned about Momma Mia's health issues, they were still adamant about adopting her, according to animal rights attorney, Shannon Keith, who oversees Beagle Freedom Project. "She [Meghan] was like, 'No we don't want a Christmas puppy ... We want ones we can help who are older.'"
Clearly, the duke and duchess take the adoption process seriously and ensure the dog they adopt feels loved.