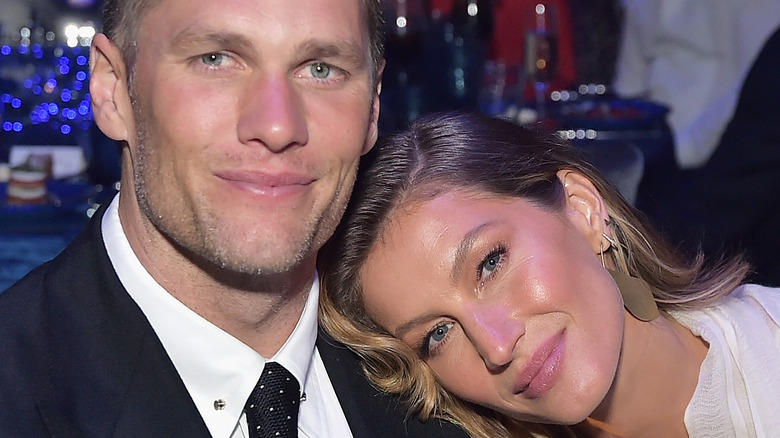 When it comes to celebrity divorces, there is quite a spectrum. On one side, there are the divorces that drag on for years and years as the two have things out in the courtroom and each and every detail becomes tabloid fodder. On the other end, there are the splits that happen at such lightning speed and so quietly that we could not have possibly seen the split coming. How on earth do A-list stars manage to keep the dissolution of their marriage out of the spotlight?
In a 2016 chat with Bloomberg, superstar divorce attorney Laura Wasser revealed a few tips that celebrities use to ensure their divorce stays private. For one thing, did you know that some divorce lawyers have specific places they like to file divorce documents because they're less likely to leak? What's more, the timing of the news can play a huge role, too. Wasser shared that she may even try to time different couples' filings in an effort to divide the public's attention. Who knew?
As for the public figures who may have benefitted from such pro divorce knowledge? From Tom Brady and Gisele Bündchen's post-finalization confirmation to Hulk Hogan's confession he thought everyone was aware that he and his second wife had called it quits, here are some of the most notable celeb couples who didn't announce their divorce until it was final.
Miranda Lambert and Blake Shelton wasted no time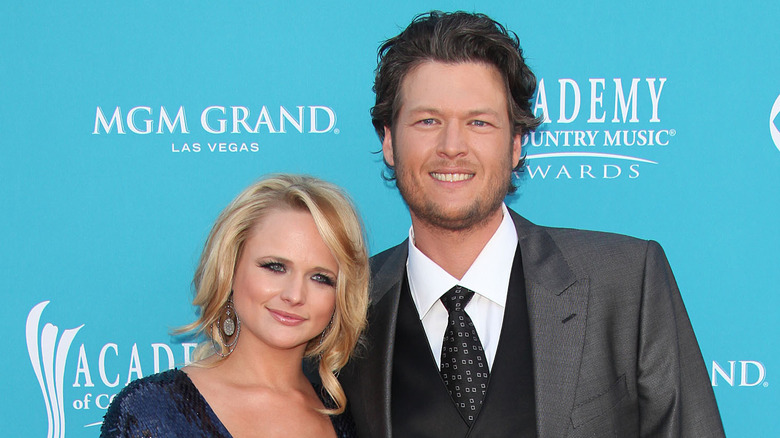 In the words of Dolly Parton, "Our D-I-V-O-R-C-E becomes final today." Former golden couple of country music Miranda Lambert and Blake Shelton announced that they were going their separate ways back in 2015 — the very same day their divorce was finalized. According to TMZ, Shelton filed just weeks before they made any kind of declaration, and the whole thing was finalized mere hours after they officially confirmed their divorce in a statement. "This is not the future we envisioned. And it is with heavy hearts that we move forward separately. We are real people, with real lives, with real families, friends and colleagues. Therefore, we kindly ask for privacy and compassion concerning this very personal matter," it read, per Us Weekly.
While Shelton and Lambert might've seemed like the Ken and Barbie of the country music world, there was trouble in paradise behind the scenes and cheating allegations ran rampant. Even so, they tried to keep up appearances for as long as possible. TMZ even reported the former "The Voice" coach had been wearing his wedding ring in a photo posted to social media two days before the announcement but had since ditched it. After his split from Lambert was made official, he moved on with "The Voice" co-star Gwen Stefani. In 2019, Lambert married a police officer named Brendan McLoughlin.
Tom Brady and Gisele Bündchen stayed mum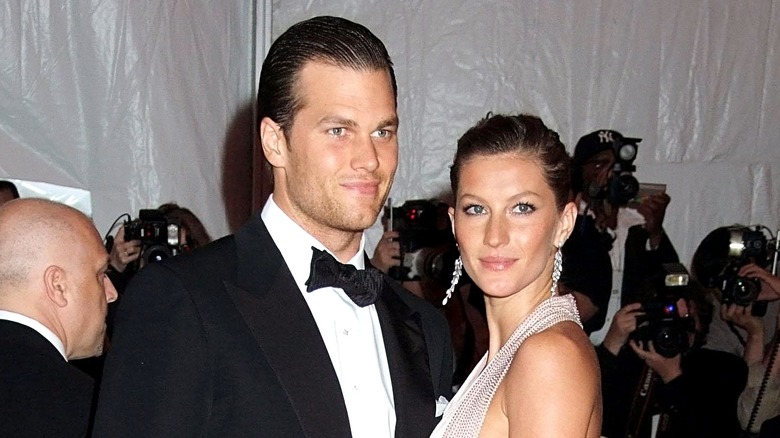 On October 28, 2022, Tom Brady and Gisele Bündchen announced they'd decided to go their separate ways. In an Instagram Story, the Buccaneers quarterback wrote (via Page Six), "In recent days, my wife and I finalized our divorce from one another after 13 years of marriage." That same day, Bündchen also confirmed everything was done and dusted on her own Instagram Story, writing (via Page Six), "With much gratitude for our time together, Tom and I have amicably finalized our divorce."
While the genetic lottery-winning duo's marriage might've seemed like a dream on paper, don't think this divorce exactly came out of the blue. For months, there were rumors that the football superstar and the supermodel's marriage was on the rocks; Brady's decision to return to the NFL after a brief retirement period supposedly was their breaking point. A number of outlets even announced the divorce was happening before they did. Weeks before Brady and Bündchen went public with their relationship status news, Page Six reported that the two had apparently hired divorce lawyers and were indeed done with their marriage.
Dianna Agron never really addressed her split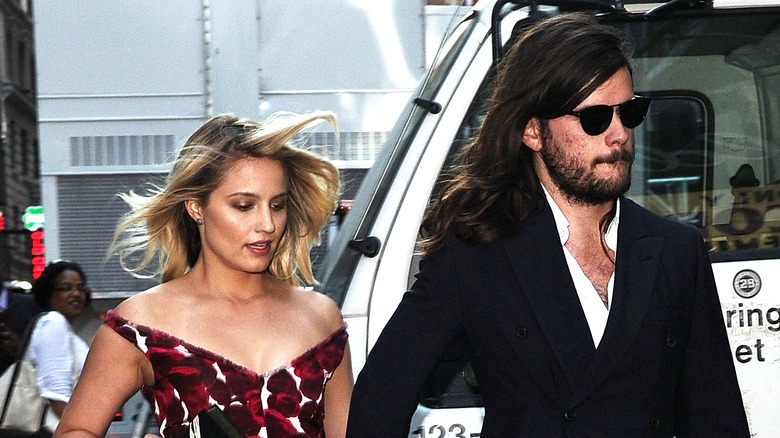 If you want to find someone who can keep a secret, it sounds like former "Glee" star Dianna Agron is your girl. The actor managed to keep her divorce from Mumford & Sons singer Winston Marshall quiet. Like, really quiet. She basically did not confirm the split until she was spotted with someone else years later. In 2020, Us Weekly broke the news that Agron and Marshall were going their separate ways. A source shared, "They have been living separately since last year. [Agron] is dating." However, neither ever appeared to make a public statement about their breakup.
Fast-forward to November 2022 when Agron finally made it pretty clear she and her former husband were officially done. About two years after her divorce happened, the Daily Mail shared some paparazzi in photos of Argon getting cozy with artist Harold Ancart.
While the breakup may have come as a surprise to some, the quiet way they handled it all was par for the course. The two were notoriously shy when it came to speaking publicly about their personal lives during their time together, with neither Agron nor Marshall ever even acknowledging their wedding on social media and both largely shunning being photographed together.
Hulk Hogan thought everyone knew about his divorce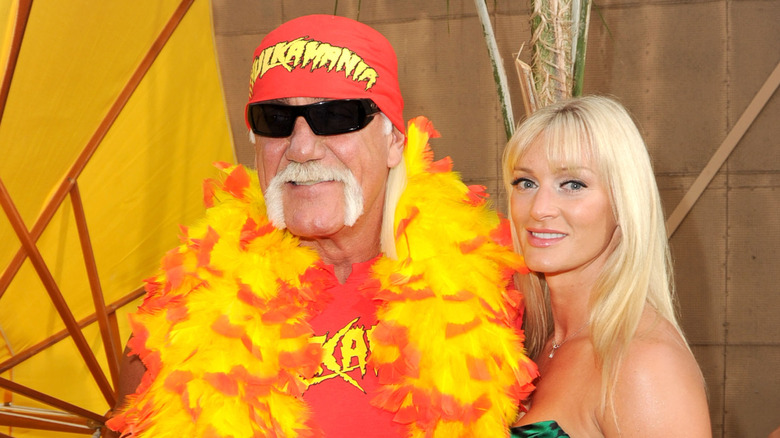 Did you know Hulk Hogan divorced his second wife, Jennifer McDaniel, before he told you? Because he thought you did. This one's a little messy, as Hogan only confirmed he'd actually split from McDaniel after he was spotted out and about getting cozy with girlfriend Sky Daily. Rumors then began to swirl that the former WWE star may have been stepping out on his wife, who he married in 2010 — however, that actually wasn't the case.
Hogan shared he'd officially been divorced from McDaniel for a while via a tweet in February 2022 as he took on all the infidelity rumors. "Yo maniacs just for the record, the Facebook and Instagram posts are of me and my girlfriend Sky, I am officially divorced, sorry I thought everyone already knew," he wrote on the social media site.
Following the social media announcement, TMZ reported that the "Hogan Knows Best" reality star had been the one to file for divorce from McDaniel in October 2021 and things were officially finalized later that year. Evidently, the Hulkster just didn't make a big deal of it.
Mary Lou Retton broke the news on Dancing with the Stars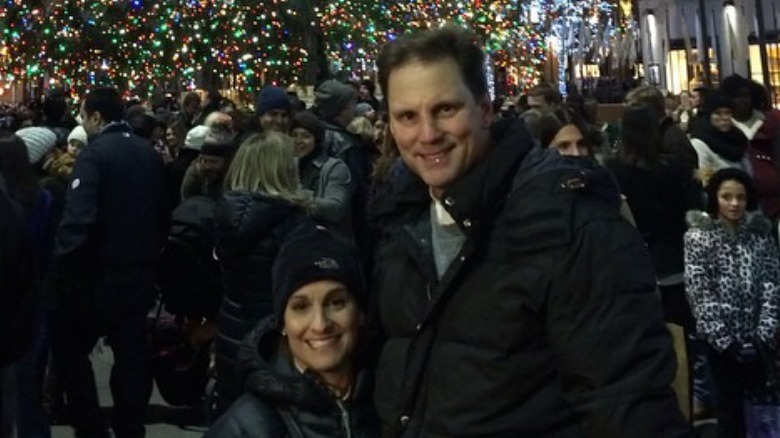 When gymnast Mary Lou Retton was ready to announce her divorce, she didn't go to Us Weekly or People. Rather, she took it to the ballroom. When Retton appeared on "Dancing with the Stars" in 2018, she revealed to her partner, Sasha Farber, that she and her football player husband, Shannon Kelley, were no more after around 27 years of marriage. "I went through a divorce. People don't know that," Retton shared on the show, noting that it was the first time she had decided to address the split publicly (via CNN). She then went on to share a little bit about what happened, explaining to Farber, "It's something that had really needed to happen for a long time. We still love one another, but we weren't great together anymore."
The former couple managed to keep things on the down low for quite some time before Retton went public, as The Blast reported she was the one who filed — and she'd done it almost a whole year earlier in November 2017. Court documents sourced after she made the big reveal on "DWTS" confirmed that Retton had also asked to get a temporary restraining order from Kelley, and stated, "[The marriage is] insupportable because of discord or conflict of personalities that destroyed any chance they could reconcile."
David Duchovny and Téa Leoni's under-the-radar divorce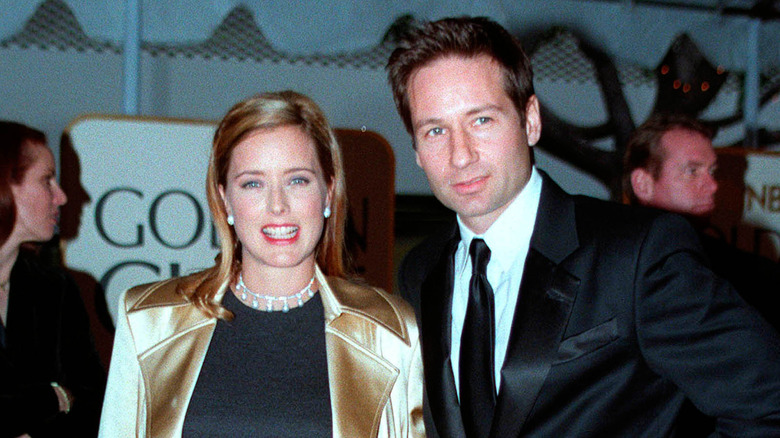 When David Duchovny and Téa Leoni officially ended their marriage in 2014, pretty much no one knew about it — not even TMZ. The outlet still broke the news, but didn't get the scoop until that September, which was around two months after the two had actually finalized things. According to the terms of those quietly filed documents, Leoni had primary physical custody of the former couple's two children, while they shared joint legal custody. As for the cold hard cash? It was reported that "The X Files" star would pay his former wife monthly child support of $8,333 as well as other expenses for their kids, plus another $40,000 in spousal support.
Leoni didn't publicly officially confirm the divorce herself until the reports came out, though she made it clear there was no bad blood. "Listen, David gave me the two greatest gifts on the planet; I don't know how I could ever hate him. We've always loved each other, and we adore these kids," she told Parade in September 2014.
Then, in February 2015, she made it pretty clear she didn't have any regrets calling time on her 17-year marriage. Speaking to More, she said, "[I am] divorced — and liking it, thank you," while also noting she was in a new relationship and had been seeing her boyfriend since the summer.
Pawn Stars' Rick Harrison knew how to keep a secret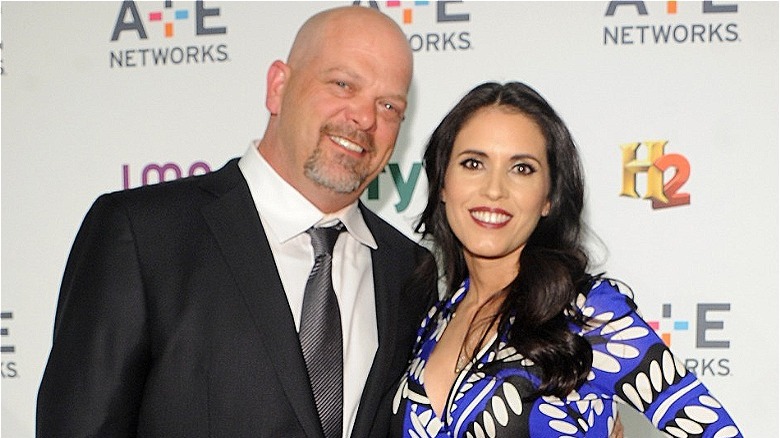 "Pawn Stars" Rick Harrison also had a secret divorce that TMZ didn't find out about until months after it happened. The outlet reported in August 2021 that the reality star had filed for divorce from his former wife, Deanna Harrison, after around seven years of marriage in July 2020. By September of that year, the reality stars had reached a settlement — though his relationship update pretty much went unnoticed. As for why this one stayed so hush-hush? TMZ theorized that because of the important coverage surrounding the Black Lives Matter protests at the time, the divorce did not get much attention.
Rick spoke about the breakup to the outlet when the news finally broke, maintaining he'd moved on from the marriage and going their separate ways was a joint decision. The reality star was pretty well practiced in divorce by the time his split with Deanna rolled around, too. Deanna was actually his third wife — and third divorce. By February 2022, he proved he'd very much moved on from the marriage when he went Instagram official with girlfriend Tauna Harris. "Date night with my GF @taunaharrisdesign," he captioned a since-deleted snap of the two of them (via TV Shows Ace).
Few people knew about Brad Garrett's split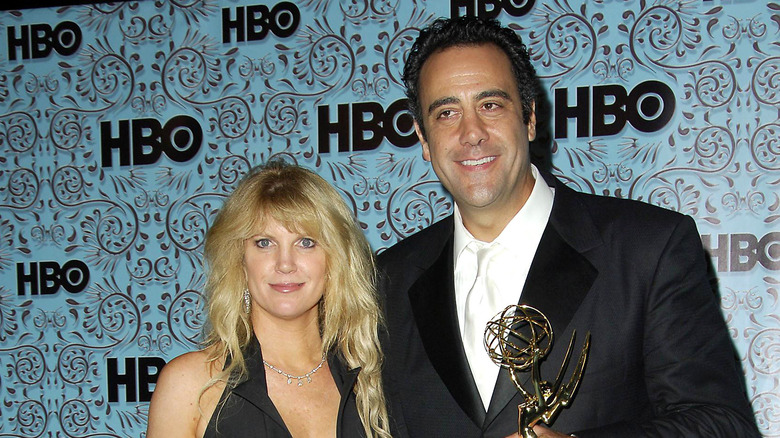 "Everybody Loves Raymond" star Brad Garrett kept his split with his wife of seven years, Jill Diven, totally secret from, well, pretty much everyone until he confirmed they'd officially divorced to USA Today in August 2006. According to the outlet, his nearest and dearest were not made aware of the divorce until he was ready to go public with the news.
But while the two decided to call it quits, Garrett still had nothing but sweet things to say about Diven, the mother of his two children. "[Diven is] an extraordinary woman; the greatest mom in the world," he shared, noting that they were still friends. "Our number one focus is our kids and parenting. We will always be friends because we will never be single parents. We will always be two parents," he added. Sharing a little more insight into what went wrong, the actor continued, "You can't stay together for the kids, because kids know everything. Sure, it's daunting to have Daddy move out, but when he's back two days later, and he gives Mom a hug, and everyone goes to lunch — that's what it's about," he said.
It was pretty surprising the former couple managed to keep their divorce so quiet, though TMZ reported the twosome had managed to keep things on the down low because he used his real last name on the divorce documents, Gerstenfeld.
Anthony Mackie kept a Marvel spoiler-sized secret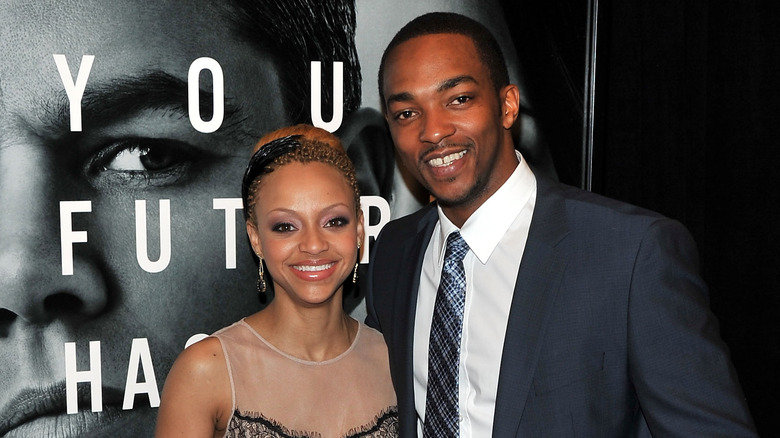 "Captain America: The Winter Soldier" star Anthony Mackie proved all those important Marvel secrets and spoilers are more than safe with him, as he managed to keep a massive secret from the public for quite a while. He and his wife of five years, Sheletta Chapital, ended things in 2017 and finalized their divorce the following year. However, the news didn't actually hit the headlines until May 2019 — yes, almost two years after they actually broke up — when TMZ brought it to our attention. E! News confirmed the split and also noted that they've known each other since they were children.
While the divorce was no doubt shocking news for fans of the actor, the way they kept things so quiet was likely no surprise. Mackie and Chapital had been notoriously private throughout their romance and kept pretty much every aspect of their life under wraps. For one thing, the two never officially spoke about their own wedding day; Page Six confirmed the news in June 2015 — over six months after they actually tied the knot.
Sean Hannity's secret split from his wife of 20 years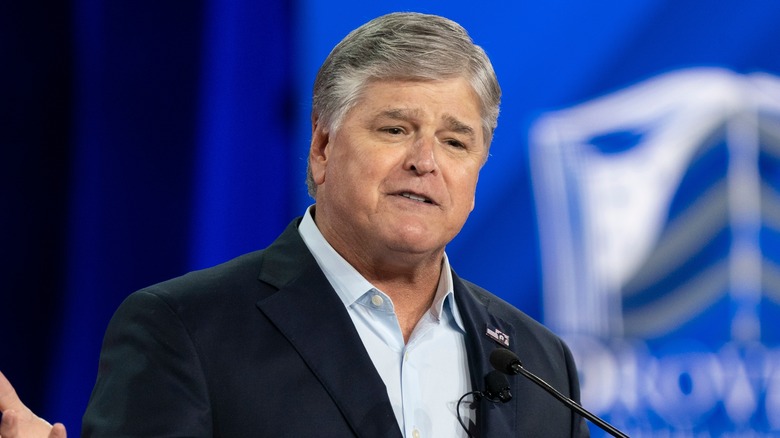 Sean Hannity and his wife of more than 20 years, Jill Rhodes, officially divorced in secret in June 2020, with Page Six only confirming the news several months after it was all finalized. The outlet revealed that, despite a lack of media attention, the former couple had actually been working on things for years, while friends revealed Hannity and Rhodes had apparently finalized things over a year before the public knew about it.
The former couple only then confirmed they'd formally gone their separate ways via a spokesperson when asked for comment. "Sean and Jill are committed to working together for the best interests of their children. Amicable agreements were entered into over four years ago between Sean and Jill," Hannity's rep said in a statement. "They maintain a close relationship as parents to their children. Neither will have any further comments and ask for the sake of their children that their privacy be respected," they added. A source also stated things were friendly between the two and they still spent time together for the sake of their family.
The same month as the divorce news hit the headlines, Hannity was romantically linked to Fox News' "Fox & Friends" anchor Ainsley Earhardt, per Page Six. Speaking via a spokesperson again, Hannity said of the rumors, "I do not discuss my personal life in public."