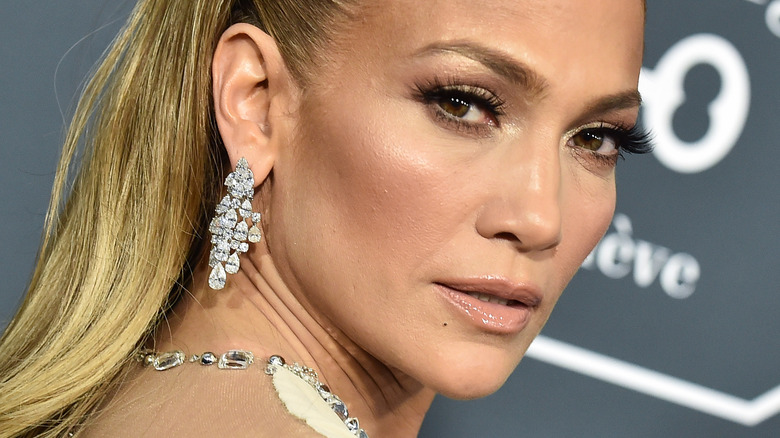 From starring in popular films to recording chart-topping hits, Jennifer Lopez has had an incredibly versatile career. She's also added "American Idol" judge to her already impressive résumé. The performer joined the reality TV show in 2011, alongside judges Randy Jackson and Aerosmith frontman Steven Tyler. She appeared on Seasons 10 and 11, but did not come back for Season 12. However, she soon returned for Season 13 and the next couple of seasons after that.
In a 2016 interview with People, Lopez reflected on her "American Idol" experience. She described her emotional connection to the contestants, whom she helped achieve their dreams. But it went beyond that. Lopez confirmed that signing on as a judge had a positive effect on her career and even humanized her. She also revealed how it spurred a comeback, saying, "It was like re-introducing me after having the babies and being away for a while into the public eye again but also for my self-esteem." But there was one other aspect that served as the cherry on top of the "Idol" sundae. Fellow judge Steven Tyler made Lopez's time on the show more than worthwhile. In fact, he was even to blame for her departure.
Jennifer Lopez said she and Steven Tyler 'had magic'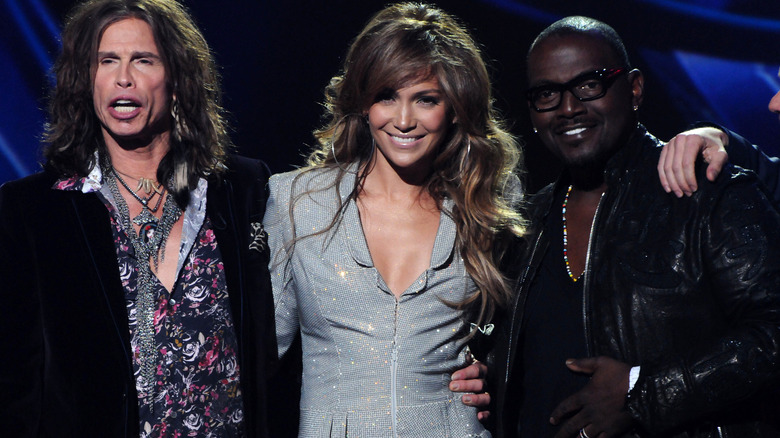 So, what are the details behind Jennifer Lopez's exit from Season 12 of "American Idol?" According to Us Weekly, she confirmed her departure to host Ryan Seacrest just one day after judge Steven Tyler disclosed he was leaving. Yup, it was Tyler's exit that influenced her to quit. Lopez told ABC News' Amy Robach (via Us Weekly), "We had magic. I don't know. With him gone, it might be a different formula." However, that wasn't the only reason she left. Lopez had other priorities. Instead of spending her days selecting the nation's top talent, Lopez would focus on performing, filming, and taking care of her kids. But she did mention she'd potentially come back in the future (which she did).
It makes sense that Lopez followed Tyler's footsteps in leaving, as the two had undeniable chemistry. Remember when he poked fun at her about her Oscars nip slip? The pair clearly had a playful relationship, and Tyler liked to ham it up for the camera. Tyler said, "Jennifer dared me to take my pants off and jump in the water and it was all over the press. And now she's out-pressing me? Wait, wait, who am I?" He then re-enacted the Oscars moment and they laughed.
Jennifer Lopez and Steven Tyler adored each other
Once it was publicized that Steven Tyler and Jennifer Lopez were going to be judges, they both addressed how they felt about one another. Tyler told ExtraTV, "I'm in love with that woman... I think I'm in love with her soul." We're right there with you, Tyler. After all, what's there not to love about J. Lo? Referring to Tyler, Lopez shared, "He doesn't know this, but I am a huge fan." As for teaming up to record a song? Lopez remarked, "In your mind, whenever you think about another artist, you always think about what it would be like to work together. So who knows... we'll see."
In a 2011 interview with Rolling Stone India, Lopez opened up more about her relationship with Tyler. Lopez confirmed that she hit it off immediately with Tyler and Randy Jackson. "There was a lot of mutual respect, and that respect grew into love; we've kind of become like brothers and sisters. They're very protective of me, as I am of them." Regarding Tyler's often crude sense of humor, Lopez shared, "I love how spontaneous he is, and that he has a colorful way about him, which adds color to the panel. He's also a very deep and soulful person. The crazy mixed in with that is a beautiful combination." There's no denying that Lopez had a great deal of admiration for Tyler, which made for a fun and vibrant on-screen dynamic.