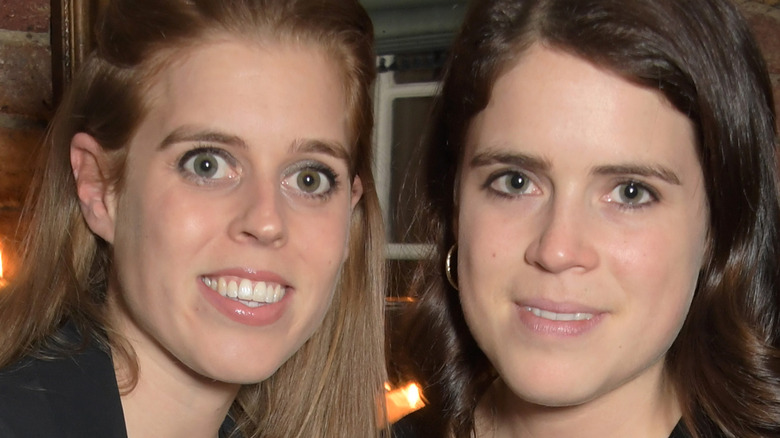 It ain't easy being royal — okay, for the most part it kind of is, but sometimes it really sucks. Need proof? Look no further than Princess Beatrice and Princess Eugenie. Beatrice currently ranks 9th in line for the throne, and Eugenie is even further down the line. They are not working royals, yet they've had to stomach all the strife that comes along with the title since birth.
They may not have the name recognition of Prince Harry and Prince William, but the princesses are just as much a part of royal life as their cousins. The two were long rumored to be favorites of Queen Elizabeth. And why not? For one thing, Eugenie and Beatrice are relatable... you know, for royals. Beatrice only made a little more than $20,000 at her first grownup job and quit without a plan, per the Belfast Telegraph.
Beatrice and Eugenie haven't had hard lives by nearly any standard, but they have had their fair share of setbacks. Below we break everything down, everything from their stressful relationship with William to Beatrice's abysmal taste in men.
Princess Beatrice had a heartbreaking breakup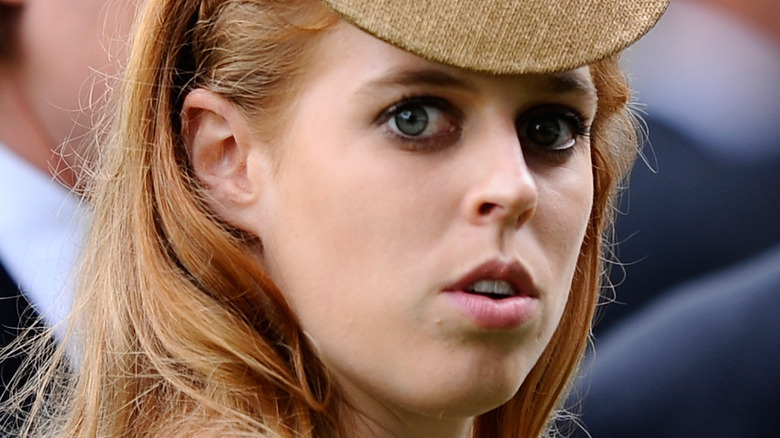 These days Princess Beatrice is happily married to Edoardo Mapelli-Mozzi, but it wasn't that long ago that Bea reportedly hoped to end up with someone else. Before the princess met Edo (as she affectionately calls him), she was smitten with a man named Dave Clark, whom she dated for nearly a decade before calling it quits in 2016. She even moved across the Atlantic to live with him in New York.
Rumor has it that Beatrice was ready to take the next step (engagement) after almost ten years together, and Clark was not. "Beatrice has become a lot more assertive and confident recently," a source told Express back in 2016. "She gave Dave an ultimatum, but it backfired because he did not ask her to marry him." Beatrice and Clark ultimately decided that their relationship had run its course.
"To be honest, it caught us by surprise," a friend told the Daily Beast. "I always thought it was hard to see how Dave could not marry her as they had been together so long." To add insult to injury, Clark met his now wife just two months after splitting with Bea, per Page Six. It would be another two years before the princess would meet her prince charming and get her own happily ever after.
Princess Eugenie's family suffered a tragic loss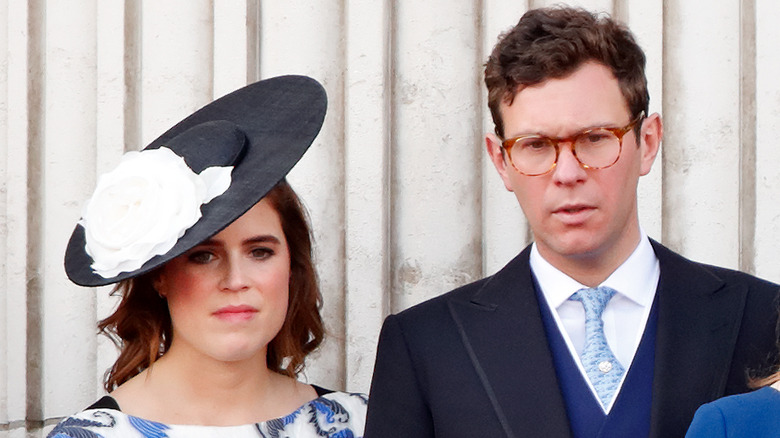 What should have been a happy occasion, the November 2021 christening of Princess Eugenie's son, August, was tragically overshadowed by the death of her father-in-law. George Brooksbank died just a few days before his grandson's christening. Though devastating, the loss was reportedly not a complete surprise to Eugenie and her husband, Jack Brooksbank. According to Tatler, George suffered from numerous long-term health problems after contracting COVID-19. "George had been in hospital with Covid last year and was not the same after that. He had been unwell for some time," a confidant told the Daily Mail. "It's been a difficult time for Jack losing his father before the Christening."
Despite the recent loss, Jack and Eugenie reportedly appeared happy at the ceremony. Though baby August's grandfather did not make it to the event, it was likely a comfort to Jack and Eugenie that the queen was able to join them, even though she was being extra cautious about COVID, per People. The queen made a special effort to be there because of her closeness with Eugenie and because August was named in honor of her late husband, Prince Phillip.
Eugenie and Beatrice were super close with the queen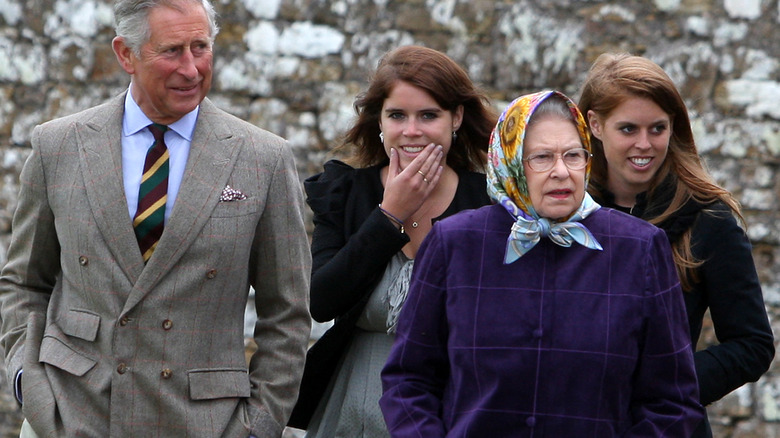 Royal lovers worldwide were devastated when Queen Elizabeth died at the age of 96 in September 2022. Very few could relate to Princesses Beatrice and Eugenie's grief, though. Elizabeth was always known to be a doting grandmother, but sources say she was especially fond of Beatrice and Eugenie. Eugenie often opted to join the queen at state functions — just for the opportunity to hang with their grandma, per Town and Country. In a piece for the Spectator, Eugenie had nothing but kind words for Elizabeth and the influence she hoped the monarch would have on her son, August. "I'd love Augie to have her patience, her calmness and her kindness, while always being able to laugh at himself and keep a twinkle in his eye."
As for Beatrice, she was just as close to Elizabeth. When Bea wed Edoardo Mapelli-Mozzi, she did so quietly, in a ceremony attended only by family and scheduled around the queen's engagements. Rather than splurge on a princess-worthy gown, though, Beatrice borrowed one of her grandmother's and had it updated for the day, per Grazia. The queen's affection for Beatrice ran just as deep. When selecting a headpiece, Elizabeth lent Beatrice the most meaningful of all: the Queen Mary Diamond Tiara, the same one Elizabeth wore when she married Phillip.
Eugenie and Beatrice struggled with their parent's divorce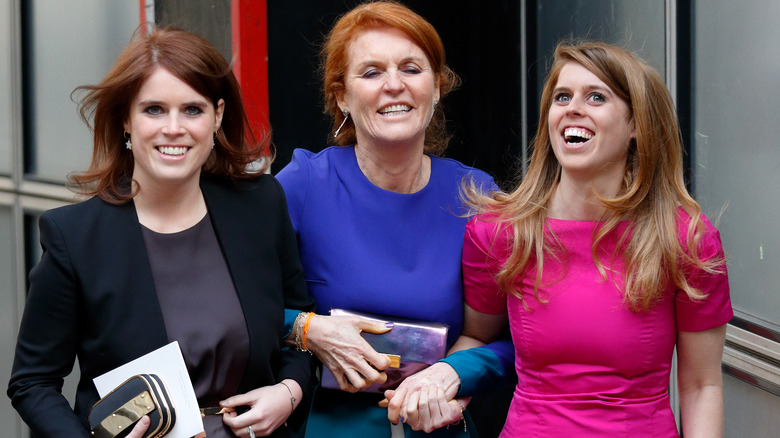 There can be no more scandalous divorce than that of Princess Diana and Prince Charles in 1996. A close second, though, has got to be Prince Andrew and Sarah Ferguson. Andrew and Sarah split in 1992, and while it may not have rattled the world the way Charles and Diana's breakup did, it definitely affected their kids, Princess Beatrice and Princess Eugenie. "Beatrice and Eugenie had a very odd childhood, where their parents were, on the face of it, remained friends, but they were seeing other people from quite early on," royal expert Tom Quinn explained in a 2020 documentary "Beatrice and Eugenie: Pampered Princesses?" "And I think that was quite probably damaging in a subtle but kind of long-lasting way."
The most difficult part of the breakup for Princesses Eugenie and Beatrice, though, was likely the fallout between Sarah and the rest of the royal family. While Sarah and Andrew have always remained cordial (much more than that by some accounts), the rest of the royal family has reportedly done their best to ice her out. Sarah's frequent tabloid exploits soured her relationship with the royal family, per Express. That put Bea and Eugenie in a tough position. "The wild side of them can come out when they're with Sarah, and it certainly does," Quinn said in "When Fergie Met the Monarchy." "Then the restrained side they perform for the Royal Family." Nevertheless, they added, "the Queen loved Eugenie and Beatrice."
Beatrice and Eugenie felt abandoned by Prince William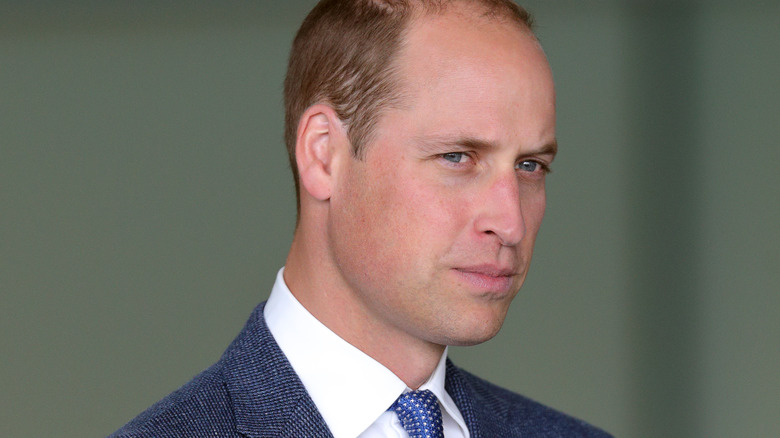 In recent years, a seemingly endless stream of scandals have rocked the royal family. The most notable of which are certainly "Megxit" and the Prince Andrew fallout. When the news broke that Andrew would step away from royal duties, it was rumored that Prince William and the then-Prince Charles made the decision as they were next in line for the throne, per the Daily Mail. Andrew did not come out of the Jeffrey Epstein debacle looking good, but his daughters stood by his side. "Princesses Eugenie and Beatrice are seemingly struggling to remain cordial with Prince William, Catherine, and Charles," a source told Express at the time. The tension allegedly stemmed from Andrew's banishment and fears that Charles would completely ostracize Eugenie and Beatrice when he became king. The second part was not true, as Beatrice was given a more prestigious title when Charles eventually took the throne.
That wasn't the first time rumors of tension had reached the public. Just after Prince William and Kate Middleton's wedding, experts speculated that something might be amiss between Eugenie and Kate, based on a clip of Eugenie appearing to shoulder bump Kate at a church service, per Express. If the Andrew stuff and the alleged shoulder bump weren't enough to anger William, then we're guessing Eugenie's close relationship with Prince Harry and Meghan Markle is.
Princess Beatrice struggles being in the public eye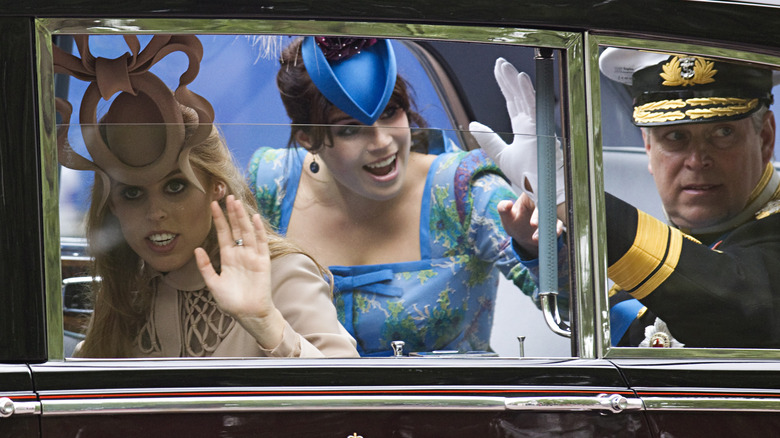 It's no secret that being a member of the royal family can be tough, but Princess Beatrice seems to have struggled more than most. According to insiders, her mother put her on a diet for the first time when she was just eight years old, per Belfast Telegraph. As justification for her actions, Sarah Ferguson, whose own weight has been criticized, once told reporters, "I think over-eating sort of runs in the family." Flash forward a decade, and Beatrice's looks were still a topic of discussion — even on her cousin's wedding day.
Beatrice wore a unique hat to Prince William's wedding, and while some might say that her hat was no more silly than any other fascinator worn by royals in attendance that day, the sartorial choice was widely panned in the press. The criticism was so intense that Beatrice was brought to tears during a Buckingham Palace garden party after reading one particularly scathing article, per Express. She made the best of a bad situation, though, and auctioned the iconic hat for more than $130,000, denoting the proceeds to charity, per People. As for her style, Beatrice learned from the occasion, too, and spent the year after the wedding working with a personal stylist to ensure she never had to endure such mockery again.
Beatrice and Eugenie were reportedly kept away from their cousins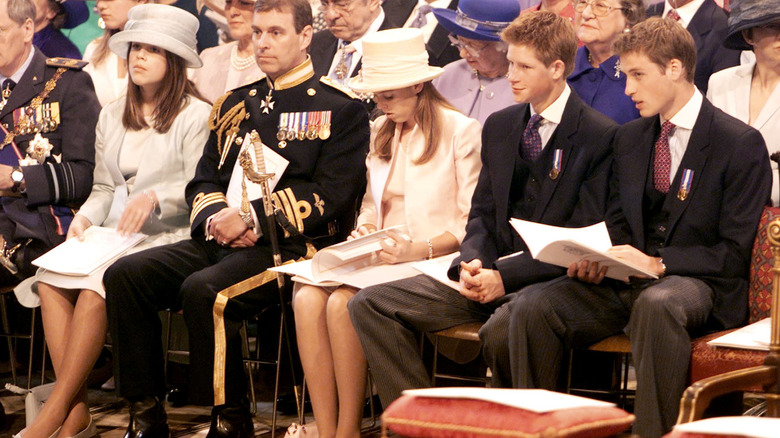 Princess Beatrice and Princess Eugenie have always been close with their cousins, Prince William and Prince Harry. Some insiders have even suggested that Bea and Eugenie are the princes' favorites among all their extended family. The close relationship stems from the bond their mothers shared. Being one-time royal newlyweds, Princess Diana and Sarah Ferguson were very close friends, and thus the four kids spent a lot of time together, per Express. That all apparently came to an immediate halt when Sarah released "My Story" in 1996. The reason? Evidently, the part where Fergie claimed she developed plantar warts after wearing Lady Di's shoes didn't go over well.
In her 2022 book, "The Palace Papers," Tina Brown claimed Diana supposedly plotted to banish Eugenie and Beatrice from interacting with her sons. Unfortunately, Diana died before making peace with Fergie. As Sarah told Harper's Bazaar in 2007, "And the saddest thing, at the end, we hadn't spoken for a year, though I never knew the reason, except that once Diana got something in her head." As for Bea and Eugenie, they were eventually able to hang out with Will and Harry again and hopefully provide some much-needed support in the aftermath of their mother's death.
The Prince Andrew legal troubles loom large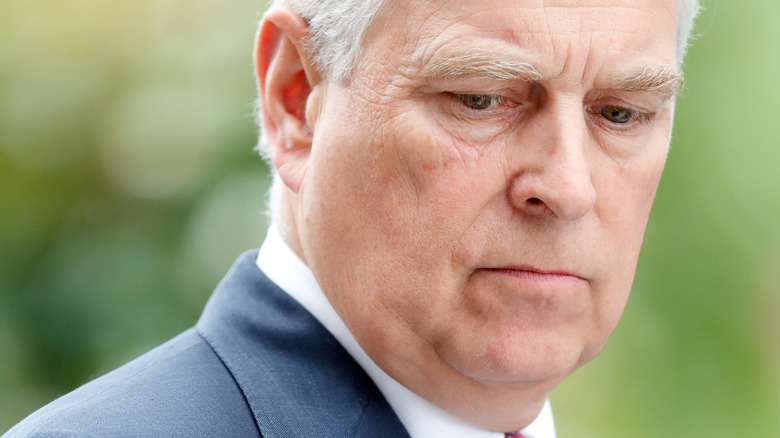 Then there was Prince Andrew, the oft black sheep of the Windsor family. If you already know about Andrew's legal problems (if you don't consider yourself lucky), it should be no surprise that Andrew's very public fall from grace deeply affected his daughters, Princesses Beatrice and Eugenie. Beatrice is especially close with her father. A source told Us Weekly that Beatrice was still talking to her father "most days" after the scandal broke. The royal threw her trust behind Andrew and wasn't prepared to turn her back on him — even if his most recent scandal meant she had to cancel her engagement party over privacy and safety concerns.
Beatrice is more than familiar with the drawbacks of a title — but watching her father be ostracized was presumed to be difficult for her. A body language expert told the Mirror that Beatrice appeared to be overcome with emotion watching her father escort Queen Elizabeth down the aisle at Prince Philip's memorial in 2021 — a rare royal showing familial affection and loyalty in the face of public scrutiny from her grandmother.
Beatrice's boyfriend was a convict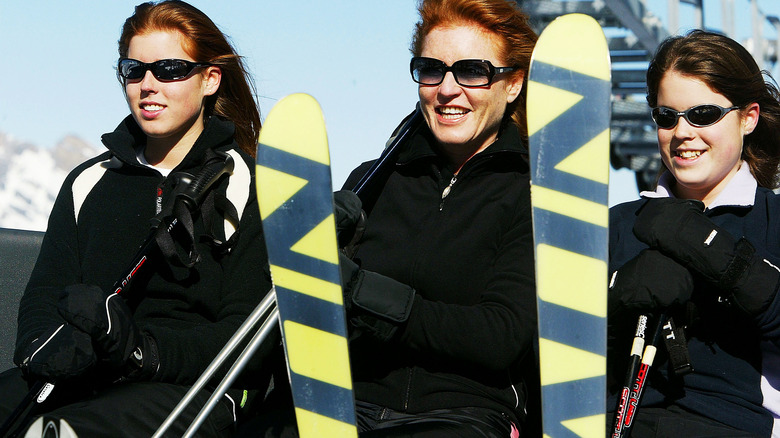 Long before Princess Beatrice allegedly gave her American ex-boyfriend an ultimatum, she was in a rather questionable relationship. When she was 17, Beatrice was linked to Paolo Liuzzo, an American with an exceedingly bad reputation. Before Liuzzo and Beatrice ever met, Liuzzo was convicted of assault and battery, a charge that was dropped down from manslaughter after he beat someone to death, per the Belfast Telegraph. After being hounded by the press, Sarah Ferguson felt compelled to release a rare public statement about her teenager's personal life. "As any parent will know, the most important element in a relationship with your child is trust," she said. "We must trust [Beatrice's] judgment."
While Fergie and Prince Andrew might've steered clear of telling Bea to dump her boyfriend, she apparently reached that conclusion independently. The family even invited Liuzzo to join them on a family ski trip in the Alps, but there was a problem: He was on probation in Massachusetts and wasn't supposed to leave the country for anything other than business trips. The news that he'd broken probation and could end up back in jail for skiing with the royals made headlines worldwide, per New York Post. That kind of attention was apparently too much for Bea, who dumped him shortly thereafter.