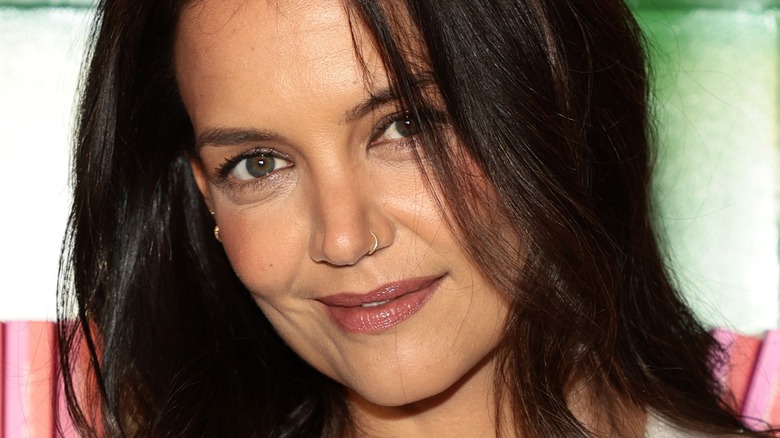 When Katie Holmes and Tom Cruise introduced their daughter Suri Cruise to the world in 2006, they did it in a splashy way that reminded everyone that the "Dawson's Creek" actor and the "Top Gun" star were one of the era's biggest "it" couples. They reached out to Vanity Fair, and the magazine enlisted acclaimed photographer Annie Leibovitz to photograph baby Suri and her parents at their scenic property in Telluride, Colorado.
Suri made her glossy debut a little over a year after Tom proposed to Holmes. When Vanity Fair reporter Jane Sarkin first laid eyes on the tot, she thought Suri had inherited her dad's hair, but Tom and Holmes disagreed over which parent their daughter resembled more; Tom was convinced that Suri was her mother's mini-me, while Holmes believed that she took more after Tom.
"I always said to myself that my children would be able to depend on me and I would always be there for them," Tom said of his parenting philosophy. But after he and Holmes divorced in 2012, the "Mission: Impossible" actor would appear to fade out of his daughter's life. Holmes was granted primary custody of Suri, and in 2018, a source told Us Weekly that Tom wasn't taking advantage of his visitation rights because Suri was not being raised as a Scientologist. Tom's absence meant that Suri would always be with her mother when she stepped out in public, providing fans with plenty of opportunities to observe the growing resemblance between the two.
Why Katie Holmes believes she gave birth to Suri Cruise at the right time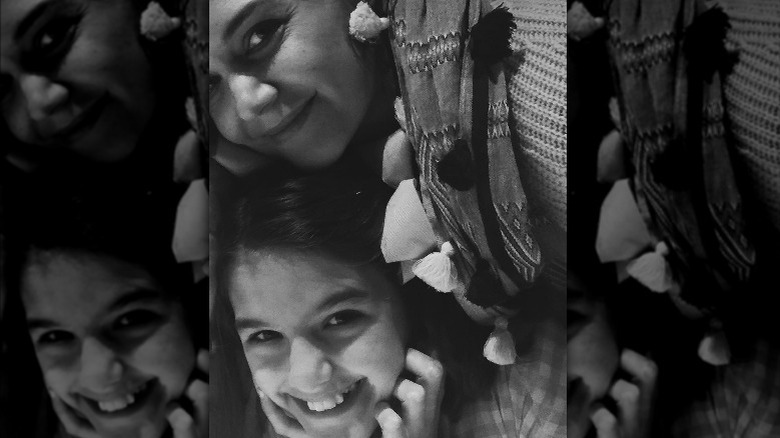 When Katie Holmes posts a photo of Suri Cruise on Instagram, it's inevitable that fans will flood the comments section with remarks about the mother and daughter's likeness. "She looks so much like you it's insane," read a response to a close-up shot of Suri and Holmes. "If there was ever a 'Dawson's Creek' reprise she could be Joey Potter 2.0!!" Another commenter opined, "She's grown to look so much like you!" But there are also those who can see a little bit of Tom Cruise in Suri, too.
Holmes' Instagram page is also filled with evidence of the close bond that she and Suri share. There, fans can see the "Batman Begins" star and her daughter putting on makeup together, hanging out on the beach, trying on matching oversize sunglasses, and admiring artwork. Speaking to Elle UK in 2019, Holmes explained why she and Suri seem to have so much in common. "Every age that my child has been and my age at that time has been a good match. We kind of grew up together," she said. But Holmes isn't trying to mold Suri into her mini-me. "My biggest goal has always been to nurture her into her individuality," she told InStyle.
According to Holmes, Suri has a strong work ethic, and she also possesses a talent that Holmes decided to showcase in one of her movies.
Suri Cruise sings in Alone Together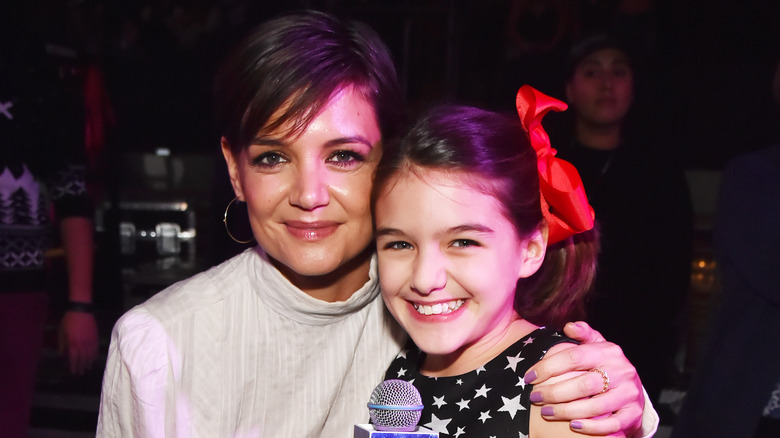 Like mother, like daughter. Katie Holmes was 16 years old when she landed her first acting role in "The Ice Storm," per The Cut, and Suri Cruise was the same age when she made her movie debut — but she doesn't actually appear on-screen. Speaking to Yahoo! Entertainment, Holmes revealed that it's Suri's voice viewers hear crooning the classic tune "Blue Moon" at the beginning of the rom-com "Alone Together." The film is written and directed by Holmes, but the actor insisted that there was more than nepotism at play when Suri got asked to contribute to the soundtrack. "I always want the highest level of talent, so I asked her!" Holmes said. "She's very, very talented. She said she would do it and she recorded it, and I let her do her thing." According to the proud mom, Suri's talent scored her a second singing role in "Rare Objects," another project helmed by Holmes.
In 2016, Holmes told Refinery29 that her relationship with Suri actually sparked her interest in directing her first feature, "All We Had." Said the actor, "I was drawn to it because of the characters, but also because I am a mom and I know a mother-daughter dynamic." The following year, The Sydney Morning Herald asked Tom Cruise if he believed his daughter would follow in her famous parents' footsteps by pursuing a career in the entertainment industry. He would only say, "You never know, you never know."