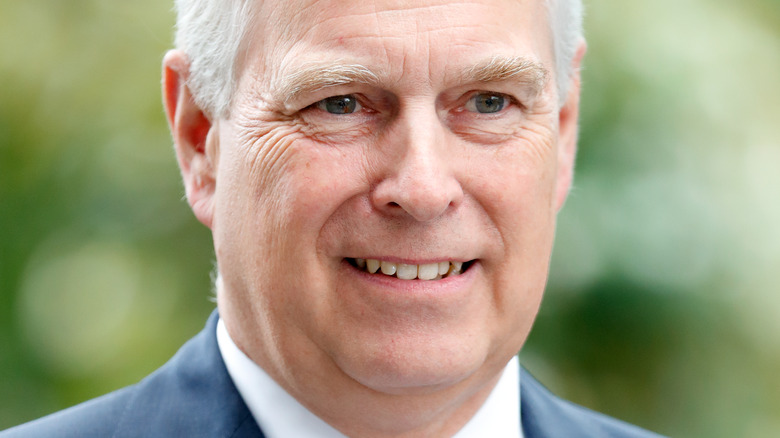 In mid-June, Prince Andrew appeared to be returning to his royal duties. On June 11, Buckingham Palace announced an unexpected decision to support Andrew. A palace source told The Sunday Times, "Thought will have to be given to how to support the duke as, away from the public gaze, he seeks to slowly rebuild his life in a different direction." After the shocking news from Buckingham Palace, sources working for Andrew announced the Duke of York would be part of the Order of the Garter ceremony on June 13. But the disgraced prince's victory dance was short-lived.
The day after the palace announcement, Prince Charles and Prince William blocked Andrew from the Order of the Garter event. The U.K. Sun reported Charles and William convinced Queen Elizabeth to change her mind, fearing "backlash" from the public by allowing Andrew to enter back into royal life. But a Buckingham Palace source told the Sun, "He is delusional if he thinks Charles or William will ever let him back. The Queen is the only person who ever backs Andrew up." Another source added, "His comeback fight is probably doomed." The Duke of Cambridge is strongly against Andrew returning to his official duties and gave the queen an ultimatum. A senior source told The Evening Standard, "The Duke of Cambridge was adamant. If York insisted on taking part publicly, he would withdraw."
But the royal family has a strategy for keeping Andrew at bay, according to royal experts.
Royal family will keep Prince Andrew 'financially secure' so he won't talk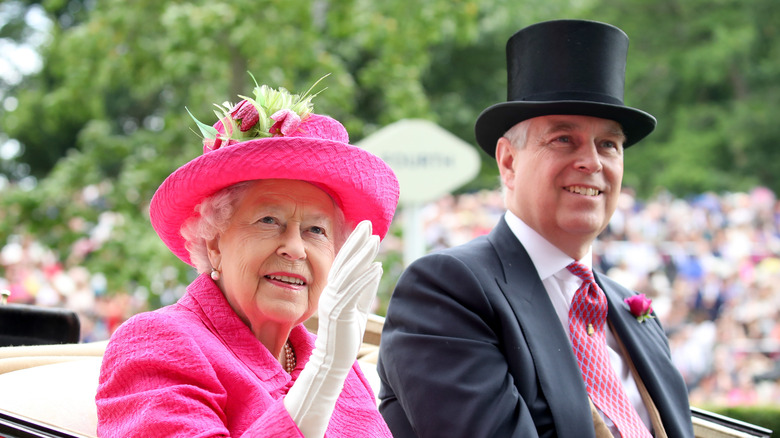 Royal experts claim the royal family will keep Prince Andrew "financially secure." In an interview with True Royalty TV's "The Royal Beat" (via the Daily Mail), Newsweek's royal correspondent Jack Royston and Ingrid Seward of Majesty Magazine talked about the next steps for the queen's son. Seward said the royal family couldn't kick Andrew out completely because the Duke of York could create an even bigger mess for The Firm. Seward explained, "He will be more trouble and start talking and giving TV interviews and writing books." The Majesty Magazine editor added, "He will be financially secure, but I would be very surprised if he kept the Royal Lodge."
The Duke of York moved into his $36 million home in 2003, paying $1.2 million for a 75-year lease to live in the Windsor estate where his grandmother lived for years. Andrew married Sarah Ferguson, then divorced in 1996, but his ex-wife continues to live with the duke. Royston said, "When the Queen is no longer here, Charles will not have any truck with Andrew attempting a comeback." Newsweek's royal expert added, "That will be game over for him. It might be game over already." Andrew's friendship with Jeffery Epstein, who allegedly sex-trafficked young girls, landed the duke in hot water. But after the Duke of York settled with accuser Virginia Giuffre for millions to stay out of court, many assumed Andrew would fade from the public eye.
The public doesn't want Prince Andrew to return to his official royal duties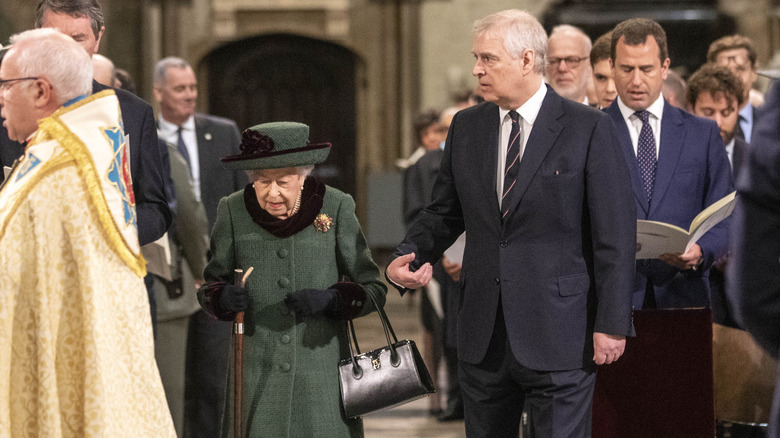 According to Newsweek, YouGov reported that Prince Andrew's approval has hit "rock bottom," as only 5% of Brits view him positively, and 85% view Andrew negatively. In January, Queen Elizabeth slapped Prince Andrew with severe consequences, stripping her son of all military titles and royal patronages because of Virginia Giuffre's lawsuit against him. But two months after the queen banned him from royal duties, Andrew escorted his mother to Prince Philip's memorial service at Westminster Abbey. On March 29, Vanity Fair reported Andrew was at the center of Philip, Duke of Edinburgh's memorial service, to the dismay of many. Yahoo UK royal editor Omid Scobie tweeted,"Prince Andrew taking on the self-appointed role of consort for the day has completely overshadowed a beautiful service."
It appears everyone in England got the memo that no one wants Andrew back ... except the disgraced prince. After Andrew's efforts to jump back into royal life in June, an insider source told The U.K. Sun, "He was confident and bullish he can make a comeback." Wrong. British TV host Vanessa Feltz ranted on "The Talk" about Andrew (via Express). On June 20, Feliz blasted the disgraced prince, "It is absolutely extraordinary and utterly delusional, really. He has only been barred for five months and thinks he can make a really terrific comeback and obviously feels there is an appetite in his appearance!"
Perhaps someone should tell Andrew to read the room?