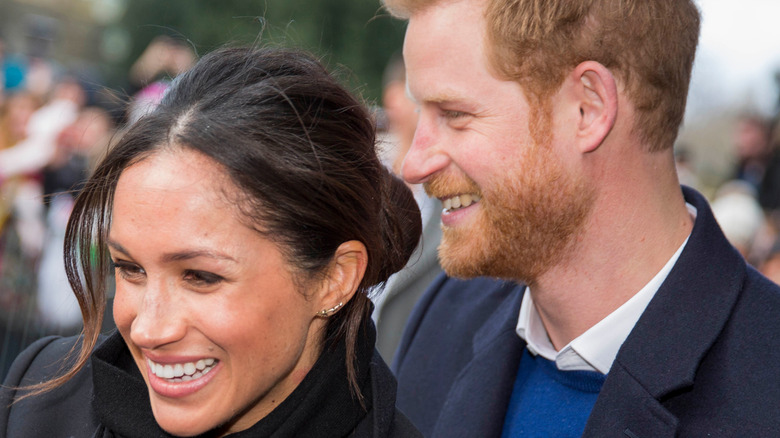 Prince Harry and Oprah's new Apple TV+ show, "The Me You Can't See," just dropped and it is a must-see. The Duke of Sussex really gets into what went down with his family, a.k.a. The Firm, and how unacceptable their treatment of his wife, Meghan Markle, was, per The Guardian. In the series, Harry admitted his biggest regret was not calling out racism enough. He referred to his mother, Princess Diana, and said she "was chased to her death while she was in a relationship with someone that wasn't white. And now look what's happened. You want to talk about history repeating itself. They're not going to stop until she dies."
Harry also said he believes his mother would be proud of him. He's being criticized by royal experts for a number of things. During an interview on "Good Morning Britain," royal biographer Hugo Vickers accused Harry of using footage of his mother's 1997 funeral in "The Me You Can't See," saying, "It's a pity to use images of a very sad time in his life at his mother's funeral as a promotional thing." Harry, 12, and William, 15 walked behind their mother's coffin in the funeral procession.
Vickers isn't the only royal expert criticizing Harry and Meghan. Kinsey Schofield, the founder of todifordaily.com, gave an interview to The List, during which she said that Prince Harry and Meghan's intentions a good, but how they've chosen to honor Princess Diana, needs work.
Kinsey Schofield has suggestions for Prince Harry and Meghan Markle
Kinsey Schofield has loved the royal family since she was a child, per todifordaily.com. In her interview with The List, she said, "If Prince Harry and Meghan Markle could thrust their energy and contacts into positive causes and exciting opportunities for the underprivileged, it would approve their overall likability." She is referring to Prince Harry and Meghan Markle's interview with Oprah about their exit from the royal family due to the struggles they faced. The couple received a fair bit of criticism after the interview, such as the tirade Piers Morgan went on that led to his dismissal from "Good Morning Britain," per BBC.
Schofield pointed out that Harry often compares himself and Meghan to his mother, but to really honor Princess Diana, the couple needs to examine their intentions. "Diana's legacy is one of love, charity, and compassion," she explained. "She put her money and her time where her mouth was."
That said, Schofield believes that the couple's hearts are in the right place and they will find their way. "I'm excited to see Prince Harry and Meghan Markle prove their value and show the people that doubted them what they're really made of," she said.