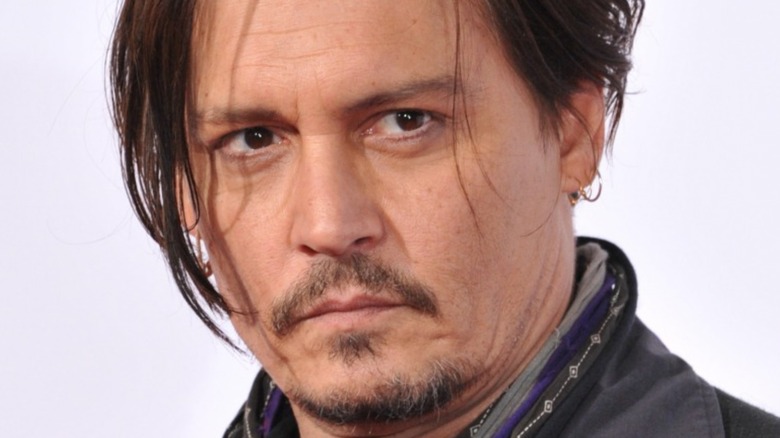 The following article includes allegations of domestic abuse and substance abuse.
Showbiz couples are known for planning extravagant weddings that showcase their larger-than-life personalities and exorbitant Hollywood wealth. But often it seems the marriages don't live up to the hype of the fairytale ceremonies. Celebrity marriages are notorious for ending with drama instead of a happily ever after. But why is that? Psychologist and fame expert Donna Rockwell told Cosmopolitan that lack of privacy and inflated egos have a major impact on Hollywood love stories, explaining, "What happens after a while with fame is that the famous person is so used to everyone looking at them, everybody coming to them, everyone giving to them, they forget how to turn around and give it back."
Divorce isn't easy for anyone, but mix in fame, tabloids, and obscene amounts of money,. and things are bound to get even uglier. Most recently displayed with the Johnny Depp and Amber Heard trial, divorce can come with a whole lot of accusations, lawsuits, and public airing of a relationship's most intimate details. But Depp and Heard aren't the first famous divorced couple to make a silver screen-sized drama out of their splits.
Let's take a closer look at some of the ugliest divorces in showbiz history.
Johnny Depp and Amber Heard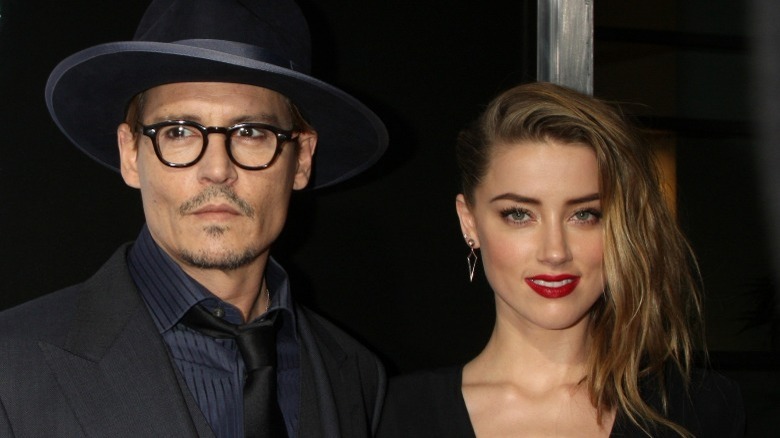 Johnny Depp and Amber Heard met in 2009 on the set of "The Rum Diary" and, according to Heard, they began a "flirtatious" friendship, though both were in other relationships at the time. In 2012, Heard and Depp split from their significant others and began dating. The pair announced their engagement in January 2014 and married the following year.
Depp's defamation trial against Heard has revealed that their marriage was riddled with violent arguments. After only 15 months, Heard filed for divorce, got a restraining order against Depp, and made her first abuse allegations. The divorce was settled in 2016, with Depp shelling out $7 million and Heard permanently canceling the restraining order, per CBS News. In a joint statement (via Reuters), Heard and Depp seemingly aimed to put the chapter behind them, writing, "Our relationship was intensely passionate and at times volatile but always bound by love."
The drama was reignited in 2018, however, when Heard wrote an op-ed about domestic violence for The Washington Post. While she didn't mention Depp explicitly, media outlets were quick to assume she was referring to her most recent ex. Because of the article, the "Pirates of the Caribbean" star sued his ex-wife for $50 million for "three counts of defamation," per NPR. Heard responded with a $100 million countersuit for damages, claiming Depp "falsely accused her of fabricating claims." Through the lawsuit, Depp is attempting to prove that — not only are the accusations against him false — he was the one abused in the relationship.
If you or someone you know is dealing with domestic abuse, you can call the National Domestic Violence Hotline at 1−800−799−7233. You can also find more information, resources, and support at their website.
Kim Kardashian and Kanye 'Ye' West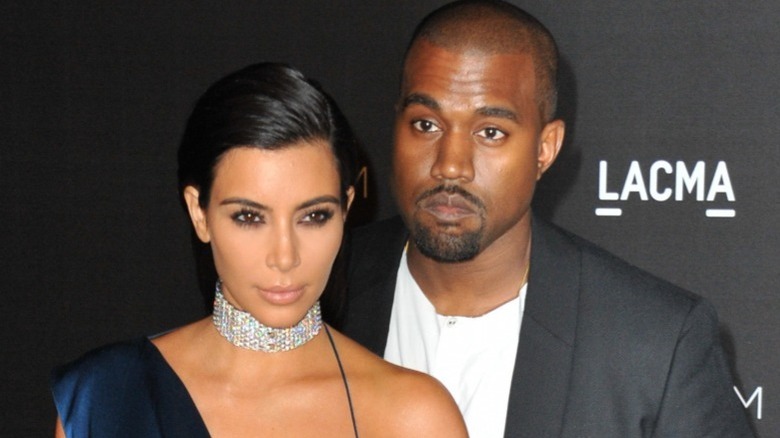 Kim Kardashian and Ye West started dating in 2012 and married in 2014. For over six years, the insanely wealthy power couple seemed happy. But in December 2020, Kardashian posted a selfie sans her wedding ring, per Cosmopolitan. The following month, it officially leaked that the Skims founder was considering a divorce.
The couple had been living separately, West at his Wyoming ranch and Kardashian in Los Angeles, due to her business and family obligations. "After turning 40 this year, I realized, like, 'No, I don't want a husband that lives in a completely different state. ... I thought 'Oh my god that's when we're getting along the best' but then that is sad to me," she said on "Keeping Up with the Kardashians," via ET. She filed for divorce in February 2021.
West did not take the news well. In a now-deleted Instagram post (via BuzzFeed News) the rapper posted a poem stating, "Divorce feels like your soul was dragged over coals." More drama hit when Kardashian started dating SNL cast member Pete Davidson in November 2021. West took to the internet to vent about his estranged wife's new relationship, igniting a feud with the comedian. Using Instagram, he expressed his discontent with Davidson in odd ways, like making memes. West also went to extremes to try and win Kardashian back, even resorting to purchasing a house across the street from her, reported the Daily Mail, though his attempts proved fruitless. Kardashian was "declared legally single" on March 2, per E! News.
Charlie Sheen and Denise Richards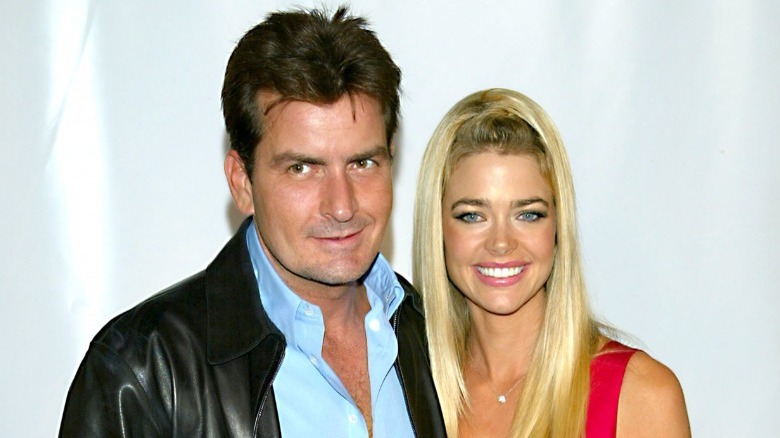 Charlie Sheen was a reformed "bad boy" when Denise Richards started dating him in 2001. "I fell in love with who he was when I met him: a strong man who could admit his weaknesses and work through them," she told RedBook. That view of Sheen didn't last, however.
Pregnant with their second child, Richards filed for divorce and a restraining order against Sheen, citing "abuse of prescription medication, violent mood swings, compulsive gambling and use of pornography," according to People. Sheen denied the allegations as "baseless." When Sheen released an email from Richards allegedly asking for his sperm to NBC News (via Today), the media war between Sheen and Richards escalated. She declared the email fake, and they then went back and forth, accusing each other of lying for months.
Even after the email feud, their post-divorce relationship has never found a permanent calm. In 2015, for example, Sheen criticized Richards in now-deleted tweets (via E! News), calling her the "worst mom alive" and an "evil terrorist." Custody and child support battles plagued their co-parenting relationship. In 2016, Richards sued Sheen for $1.2 million over a child support dispute, per People. After one of their daughters moved in with Sheen in 2021, the court ruled that Sheen no longer had to make child support payments to Richards, per ET. As reported by Page Six, Richards was "blindsided" by the ruling and claimed that Sheen purposely set the court date for when he knew she would be out of town.
If you or anyone you know is struggling with addiction issues, help is available. Visit the Substance Abuse and Mental Health Services Administration website or contact SAMHSA's National Helpline at 1-800-662-HELP (4357).
Angelina Jolie and Brad Pitt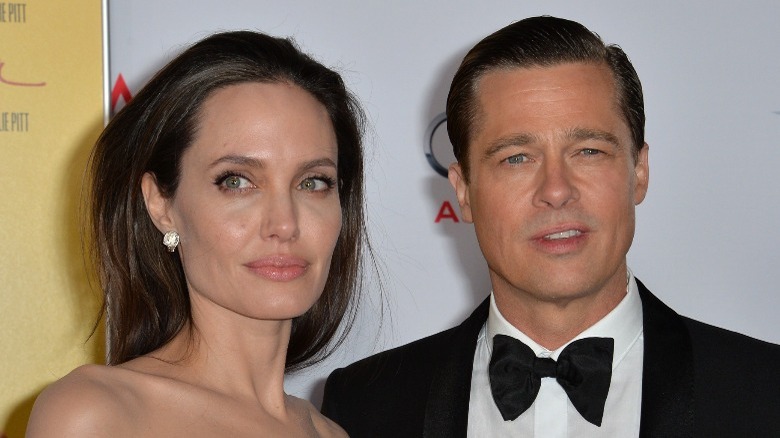 Even though Brad Pitt was still married to Jennifer Aniston during his first liaison with Angelina Jolie, Aniston and Pitt's divorce was amicable enough that they remained friends. Pitt and Jolie's divorce, however, was more drama-filled. When "Brangelina" first met on the set of "Mr. and Mrs. Smith," sparks flew, though Jolie denied they had an affair. Nevertheless, the two were partners for nine years, before finally saying "I do" in 2014.
However, despite their numerous years (and children!) together, Jolie filed for divorce in 2016. TMZ reported she asked for custody of their six kids, due to Pitt's alleged substance abuse and "anger problem." When The Guardian asked if she had feared for her children's safety, she said, "Yes. ... I'm not the kind of person who makes decisions like the decisions I had to make lightly. It took a lot for me to be in a position where I felt I had to separate from the father of my children."
The divorce settlements and custody battles have taken years. Though Pitt was cleared of the abuse charges, Jolie filed new court documents in 2021 claiming she had "proof" that her allegations of domestic abuse were accurate, per ET. Pitt was temporarily "granted joint custody" in May 2021, according to NBC News, but a previous custody arrangement was reinstated in October, per Newsweek. Although their divorce was finalized in 2019, custody and asset drama rage on. In early 2022, Pitt sued his ex-wife over the winery they owned together, per the BBC.
Kim Basinger and Alec Baldwin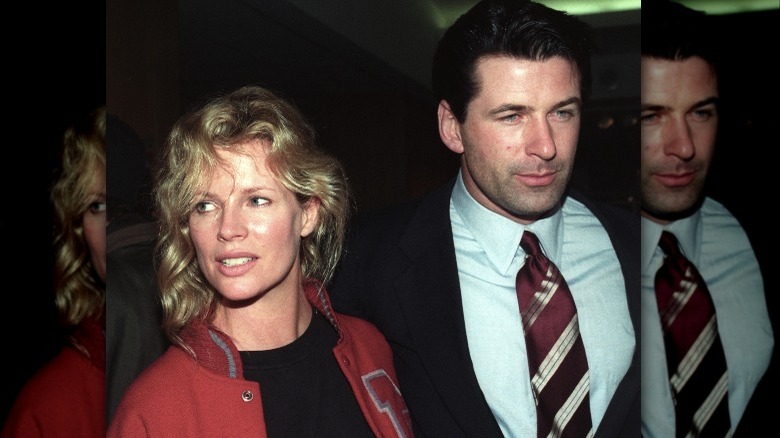 Alec Baldwin and Kim Basinger tied the knot in 1993 and their nine year marriage had its fair share of ups and downs. The "Batman" star and the "30 Rock" actor separated in 2000, though their divorce and the custody battle for their daughter, Ireland, took years.
In court, the accusations flew. Basinger reportedly accused Baldwin of having an anger management problem and Baldwin reportedly accused Basinger of lying to turn their daughter against him, per the Los Angeles Times. Despite settling on a joint custody agreement, the news outlet reported that "court documents show Baldwin constantly fighting for his share of time." In 2007, a voicemail from Baldwin to his daughter was leaked via TMZ. In the rather threatening message, an angry Baldwin said, "I don't give a damn that you're 12 years old or 11 years old, or a child. ... You've made me feel like s***." Baldwin quickly accused Basinger of leaking the message to poison public perception of him.
The custody battle took a heavy toll on all parties involved. In 2013, Baldwin told The Guardian, "I can barely tell you what I did for those six years. It was a period that was so painful." Basinger was also open about how difficult the divorce and media frenzy were on Ireland, telling Net-A-Porter, "Divorce is hard on a kid, no matter how you cut it. And ours was very public and nasty." Indeed, it seems ex-spouses battling in court can sometimes lose sight of what's best for their kids.
David Gest and Liza Minnelli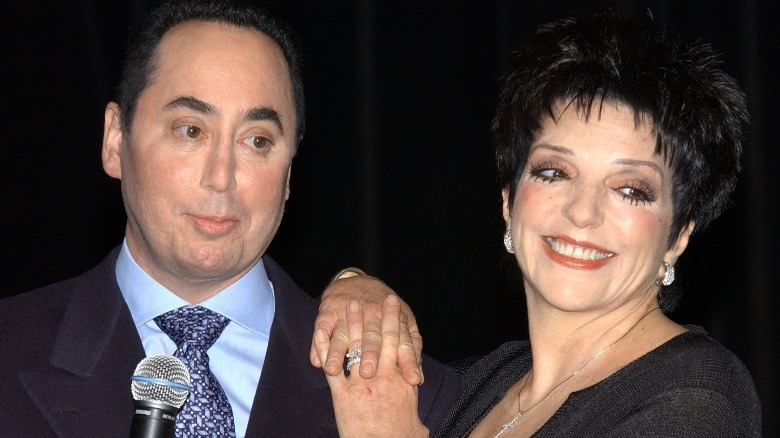 When Liza Minnelli and producer David Gest met, they thought their love at first sight would be everlasting. Spoiler alert: It wasn't. Their initial infatuation progressed quickly; they allegedly said "I love you" after 48 hours of knowing one another, moved in together a week later, and were engaged six months after that, per People. The whirlwind romance culminated in an extravagant, celebrity-filled wedding, with Hollywood royalty Elizabeth Taylor serving as matron of honor and pop icon Michael Jackson as best man.
The flame, however, burned out as quickly as it was lit. After only 16 months, their marriage ended. Gest claimed Minnelli had become violent and that he had suffered irreparable physical and emotional damage due to her abuse. "She just kept hitting me in the head with her fists, over, and over and over. The pain was so enormous that I get now 80 shots around the head to deaden the nerves," he told NBC News. Gest ultimately sued her for $10 million, though Minnelli filed a $2 million countersuit, claiming he surreptitiously took money from her earnings.
The pair eventually came to a settlement four years later, in 2007. The judge dismissed Gest's lawsuit and the two settled their divorce on confidential terms, according to the Associated Press (via The Washington Post). In a statement, Gest's lawyer claimed, "Liza Minnelli and David Gest have resolved all disputes between them, and the parties will be divorced without fault on the part of either of them."
If you or someone you know is dealing with domestic abuse, you can call the National Domestic Violence Hotline at 1−800−799−7233. You can also find more information, resources, and support at their website.
Paul McCartney and Heather Mills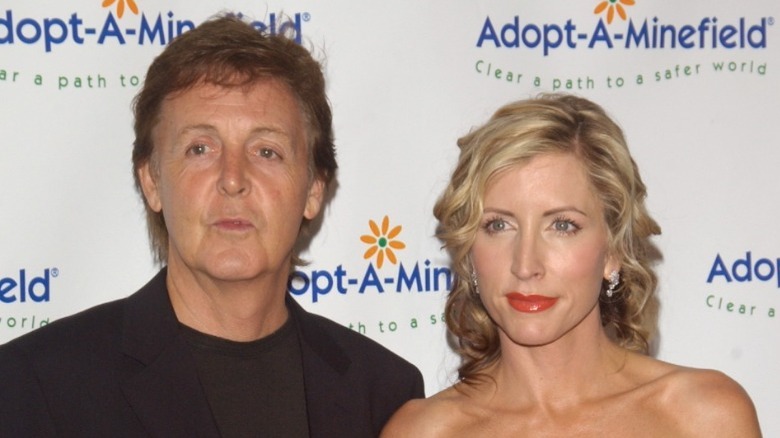 Paul McCartney married Heather Mills in 2002 and the couple went on to have a child together. But when the former Beatles star and former model ended their marriage in 2006, it became one of the most expensive divorces in history, according to People. Mills accused the British pop star of a slew of offenses. Some of the details were extremely grisly, revolving around McCartney's alleged violent behavior, drug and alcohol abuse, selfish tendencies, and a general lack of sympathy, per TMZ.
Mills asked for $250 million in the settlement. According to People, her "proposed yearly budgets" included "$400,000 for private flights, $80,000 for wine and $250,000 for clothes." The judge reportedly called her requests "unreasonable" and "exorbitant." While she didn't get the $250 million she hoped for, she did walk away with $33 million and several properties, including a seaside condo and an English country home that were worth $15 million. McCartney also reportedly had to pay $70,000 in child support each year, a sum Mills thought far too low, stating her daughter shouldn't be expected "to travel B class while her father travels A class."
As for McCartney, when Q Magazine (via the Daily Mail) asked if the marriage was his biggest mistake, he said, "I suppose that has to be the prime contender," adding, "But I tend to look at the positive side, which is that I have another beautiful daughter out of it."
Eddie Fisher and Debbie Reynolds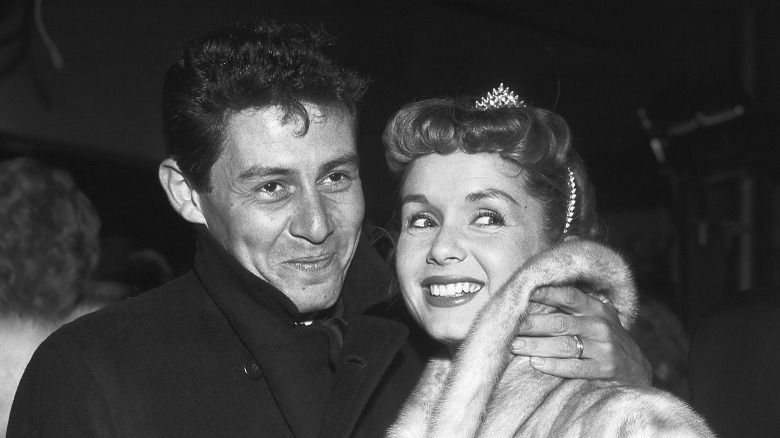 She was a Hollywood darling, he was a successful singer. It was the 1950s and Debbie Reynolds and Eddie Fisher were known as "America's Sweethearts," she explained in her memoir, "Unsinkable." The couple had two children, Carrie Fisher, who would go on to become Princess Leia in "Star Wars," and Todd Fisher, a director and cinematographer. They seemed like the Hollywood version of the ideal nuclear family of the 1950s. That is, until their lives took a dark turn.
In 1958, Mike Todd, who was Fisher's best friend and movie star Elizabeth Taylor's husband, was killed in a plane crash. According to Reynolds' memoir, she encouraged him to console the mourning Taylor while she stayed home and took care of the children. "Then Eddie left our two small children and me for Elizabeth," she bluntly explained. It was the most shocking tabloid scandal at the time. Reynolds and Taylor had been friends, so the whole world felt devastated for the "Singin' in the Rain" star.
Reynolds resisted divorce for nearly a year, but eventually decided it would be best for everyone to move on and accept the relationship between Taylor and her husband. In an interview with the Saturday Evening Post in 1960, she explained, "Because it was dumped in the public's lap by the other people involved, I had no choice." While the scandal reportedly boosted both Reynolds' and Taylor's careers, Todd Fisher told Yahoo! News that "it literally ruined" his father's career.
Elizabeth Taylor and Richard Burton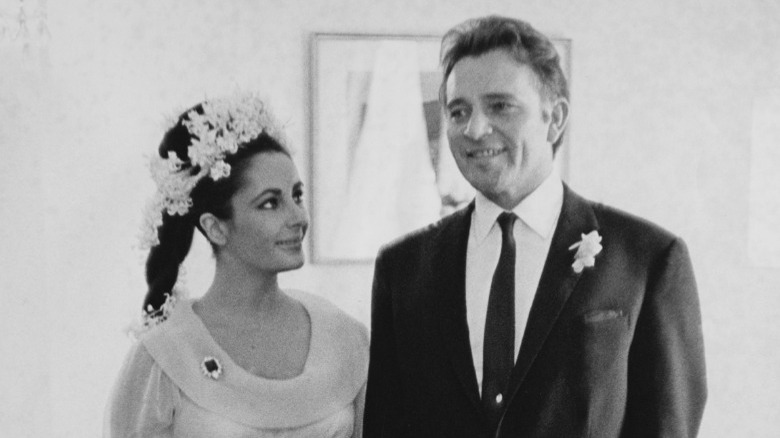 As they say, what goes around comes around. After Eddie Fisher left Debbie Reynolds for Elizabeth Taylor, it wasn't long before Elizabeth Taylor left him for another man. 3 years into her marriage with Fisher, Taylor began an affair with her "Cleopatra" co-star Richard Burton, per Biography. She tied the knot with Burton only nine days after the ink was dry on her divorce papers with Fisher. Their marriage was passionate but violent.
According to the BBC, Burton compared their relationship to living "on the edge of an exciting volcano," adding, "I'm not easy to be married to or live with. I exploded violently about twice a year with Elizabeth. She would also explode. It was marvellous. But it could be murder." Like many Hollywood romances that begin in scandal and boil in passion, their union was bound for an end. The combination of intense arguments, alcohol, drugs, and extramarital affairs, led Taylor to file for divorce in 1974, telling the judge, "life with Richard became intolerable," according to an excerpt from "Furious Love: Elizabeth Taylor And Richard Burton And The Marriage Of The Century" by Sam Kashner and Nancy Schoenberger, via the Daily Mail.
What sets this divorce story apart from the rest — and makes it extra messy — is the fact that history repeated itself. Taylor and Burton didn't just go through one divorce; they famously remarried in 1975. Their second marriage didn't even last a year though, and ended with another divorce in 1976.
Sonny and Cher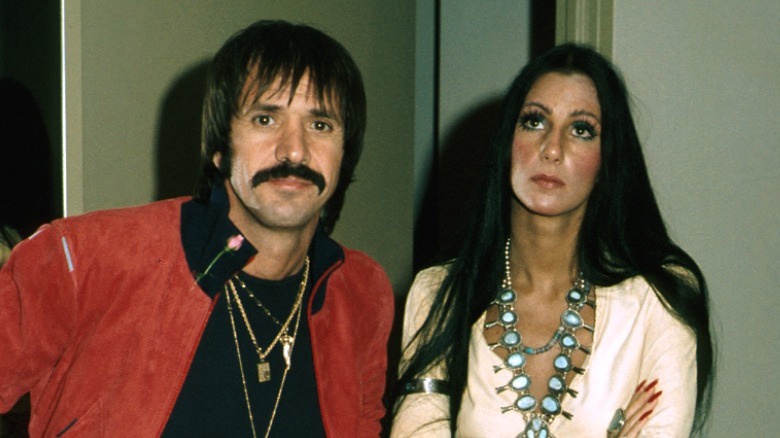 Cher was just 16 when she met 27-year-old Sonny Bono. Their relationship soon progressed from a friendship to a romantic and professional partnership. Though they had presented themselves as a married couple since their "I Got You Babe" success in 1965, they didn't legally marry until 1969, per Biography. However, by the early '70s, they had already begun to seek out other relationships.
Even after their romance fizzled out, though, Cher was tied to Bono by professional contracts. In 1974, she filed for divorce, citing "involuntary servitude" as the reason. She told Vanity Fair that he treated her "more like the golden goose than like his wife." And when they began the divorce process, she soon learned that she didn't even own a stake in their business, "Cher Enterprises." Bono owned 95% and the other 5% belonged to the couple's lawyer. She confessed to Vanity Fair, "If he had agreed to just disband Cher Enterprises and start all over again, I would have never ever left."
Bono blamed Cher's new beau, record executive David Geffen, for encouraging her to move on to a solo career. In his memoir, "And the Beat Goes On" (via The Washington Post) Bono accused Geffen of "orchestrating Sonny and Cher's demise like a ruthless takeover artist." When he saw the divorce papers' mention of "involuntary servitude," he wrote, "I recoiled in shock. Cher's charge was a callously legal way of saying that she had been my slave." The divorce was finalized in 1975 and the 1960s "it couple" was no more.
Christie Brinkley and Peter Cook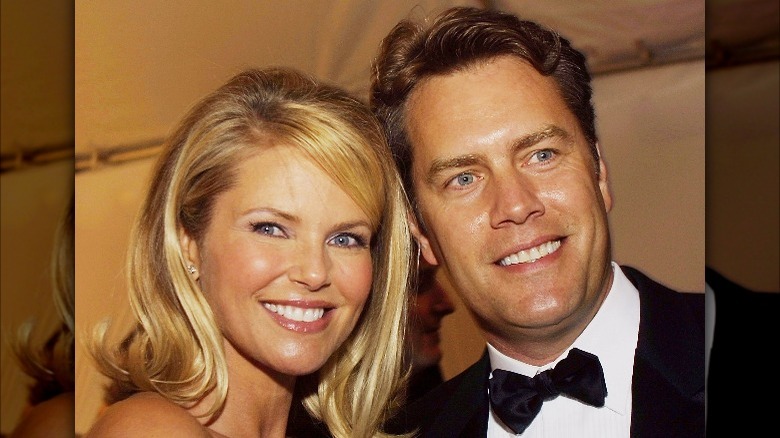 Model, actor, and entrepreneur Christie Brinkley was married to architect Peter Cook from 1996 to 2008. During their divorce trial, some scandalous accusations came to light. At the heart of the scandal was his affair with an 18-year-old and an allegedly voracious internet porn habit, per ABC News. "I was devastated, and I was in this emotional tug of war where I was discovering more and more every day. ... It was a nightmare," Brinkley said during the divorce hearing.
Brinkley's goal was sole custody of their children, which she achieved, in addition to 18 properties. Cook received over $2 million in the settlement, per The Guardian. But the war wasn't entirely over yet. In 2012, the former couple re-entered a court battle over child support disputes, according to CBS News. In a statement posted on her Facebook page (via the news outlet) Brinkley wrote, in part, "It has been an odyssey of frustration as I have navigated the court system with one goal to find peace and protection for my family from the various forms of abuse at the hands of a narcissist."
Cook's legal team fired back, stating, "Ms. Brinkley brought a meritless lawsuit against Mr. Cook for the sole purpose of causing pain and suffering to him." At the time, Cook also reportedly claimed he was raising their children by himself and accused Brinkley of using the lawsuit to garner publicity for her Broadway show.
Steve Harvey and Mary Vaughn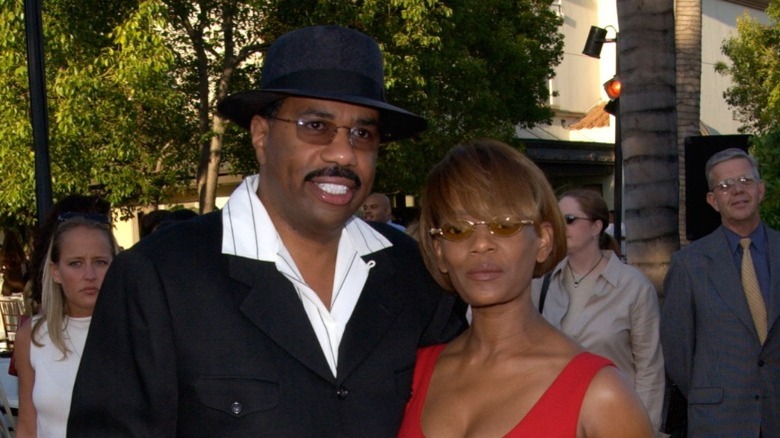 Steve Harvey and his ex-wife have been feuding since their 2005 divorce. The "Family Feud" host married Mary Vaughn in 1996, and they have one child together. After they split, Harvey reportedly gained full custody of their son. According to TMZ, Vaughn was also court-ordered to keep quiet about the divorce after she took to social media to make several claims against Harvey, including an allegation that he left her homeless. TMZ reported that the court documents stated the opposite was true: That Vaughn had actually gained multiple houses in the divorce settlement, as well as $40,000 a month in spousal support.
After allegedly breaking the gag order, the former Mrs. Harvey was arrested and spoke to Fox 4 from jail, stating, "I didn't violate any court orders. ... This is about 'You're not supposed to be talking to anybody about your divorce.' That's what they're saying." In a statement to the news outlet, Harvey's legal team alleged otherwise, claiming that the YouTube videos in question contained "false, misleading, derogatory, defamatory, disparaging and malicious information about Mr. Harvey, his wife, and children," and thus violated the previous court order.
This wasn't the last of their legal battles. In 2018, Vaughn sued Harvey for $60 million, citing "child endangerment," "torture," and "kidnapping" as only a few of the reasons, per ET. Harvey's lawyer didn't take the lawsuit seriously, however, and the judge was quick to dismiss the case.
Jesse James and Sandra Bullock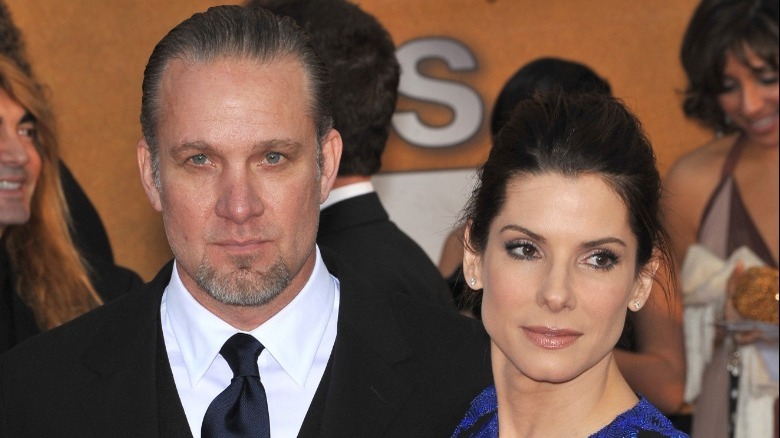 Sandra Bullock and Jesse James met in 2003 when the "Miss Congeniality" actor took her godson, who was a fan of James' reality show, "Monster Garage," to tour his business, West Coast Choppers. Bullock and James eventually hit it off and the surprising match led to marriage. They were married for almost five years until James became embroiled in a cheating scandal after several women came forward to claim they had relationships with James during his marriage, per People.
"I married America's sweetheart, and she's one of the biggest stars in the world, but I'm still this f***ed up kid from Long Beach. ... I really did have real feelings for her. The problem was me," he told Howard Stern in a 2011 interview, via Us Weekly. He released a public apology shortly after the tabloid scandal went down, but Bullock was already making plans to opt out of their relationship. They officially divorced in 2010 and, due to the prenuptial agreement, he reportedly received no money in the split, according to Radar Online.
They were in the process of adopting a child together before their separation and Bullock followed through with the adoption on her own after the divorce was official. She told The Independent that, at first, she struggled with the idea of being a single parent, but learned to embrace and appreciate it, explaining, "I felt less than. I felt: 'I'm not the complete package.' And then I realized ... this is the complete package."
Britney Spears and Kevin Federline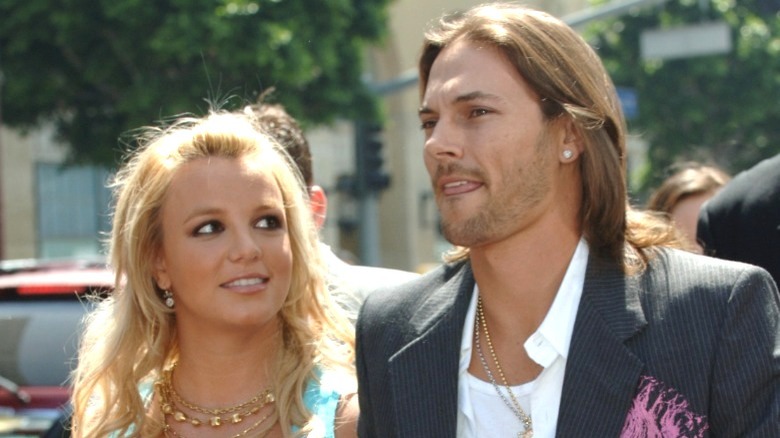 Britney Spears and Kevin Federline said "I do" in 2004 and had two children together during their two-year marriage. Spears filed for divorce in 2006 and media outlets at the time speculated why the star might have been fed up with Federline, citing his party-boy behavior and parenting skills as possible reasons, per Bustle. Federline, however, told MTV News that he was "blindsided" by the divorce, explaining, "I was trying to work stuff out with her, and she didn't even talk to me or anything and went behind my back and filed [for divorce]."
When they first split, Spears sought sole custody of their children. In 2007, however, they reached a divorce agreement that included shared custody, per Reuters. But after Spears experienced struggles with mental health that led to a public outburst, subsequent media firestorm, and eventually her conservatorship, Federline took her to court again to gain full custody of their sons and won, according to The New York Times. Though the exact amount of money Federline received was unclear for years, the former back-up dancer confirmed in an interview with ET that he did in fact receive $20,000 a month for child support.
In 2018, he reportedly asked for a sizable increase in child support money, with one source claiming (per ET) that "Kevin wants a raise in money and he can't account for where the $20,000 is going." The new bout of child support drama ended with Spears agreeing to pay her ex-husband a higher monthly sum.
Gwen Stefani and Gavin Rossdale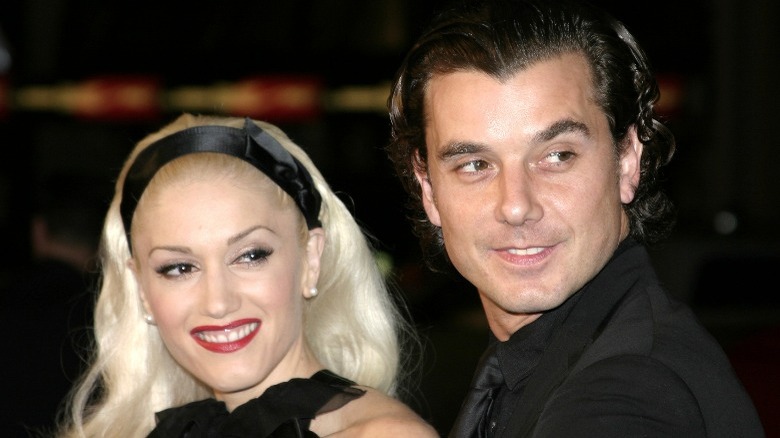 Ska punk-turned-pop star Gwen Stefani and Bush frontman Gavin Rossdale married in 2002, but their relationship was riddled with messy surprises and secrets from the get-go, like when Rossdale found out he had a teenage daughter, news that left Stefani "devastated," according to People. Despite the hiccup, however, they went on to have three children of their own.
Nonetheless, during their 13-year marriage, Rossdale reportedly cheated repeatedly. Courtney Love admitted to an affair with him, telling Howard Stern (via Us Weekly) that "a few other people" were also sleeping with Rossdale at the time. In 2015, media outlets reported that Rossdale had been cheating on her with their nanny for years. Per Us Weekly, Stefani allegedly came across explicit text messages between her husband and the nanny on a shared iPad, which led to the couple's divorce. Looking back on the experience, Stefani told Harper's Bazaar, "My dreams were shattered." To add to the pain of the divorce, she could now only see her kids half of the time, due to their custody agreement.
She told Glamour that filing for divorce made her face feelings of shame and embarrassment: "[Marriage] was the one thing I didn't want to fail at. People can say whatever they want to about me. ... But I didn't want them to think I was a failure." For Rossdale's part, he also described the divorce with shame, admitting to The Guardian that the "gross and lopsided specter of the crumbling of my marriage" was his "most embarrassing moment."