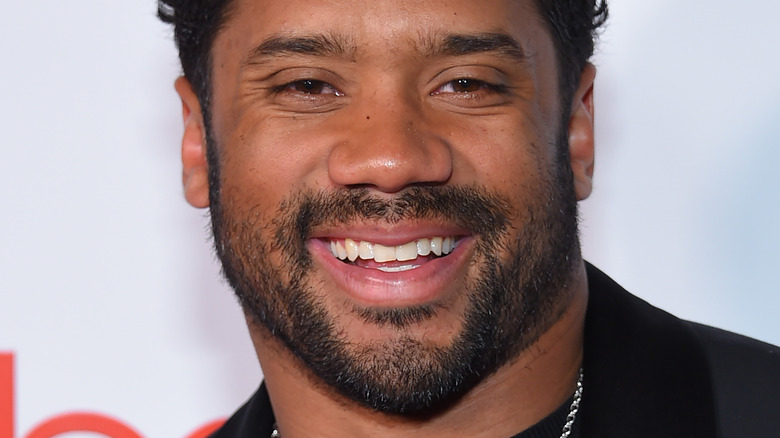 In the pantheon of elite professional athletes, few are paid more, or garner such lavish salaries than those playing in the National Football League (NFL). With players like Tampa Bay Buccaneers quarterback Tom Brady, Denver Broncos' quarterback Russell Wilson, and Kansas City Chiefs QB Patrick Mahomes all scoring multi-year, multi-million dollar contracts, it's difficult to tell just who the highest paid person is in the NFL.
With terms like "$450 million for 10 years" or "guaranteed $160 million" being bandied about, it's not easy for your average Joe to show off to his buddies who the highest paid athlete is in the league. Quantifiers abound when determining just who the highest paid athlete is, including career length, largest average salary, or single largest contract, just to name a few. That's the only way we'll fully understand if there truly is one single individual to hold such a massive honor as highest paid in the NFL.
Highest paid by career: Tom Brady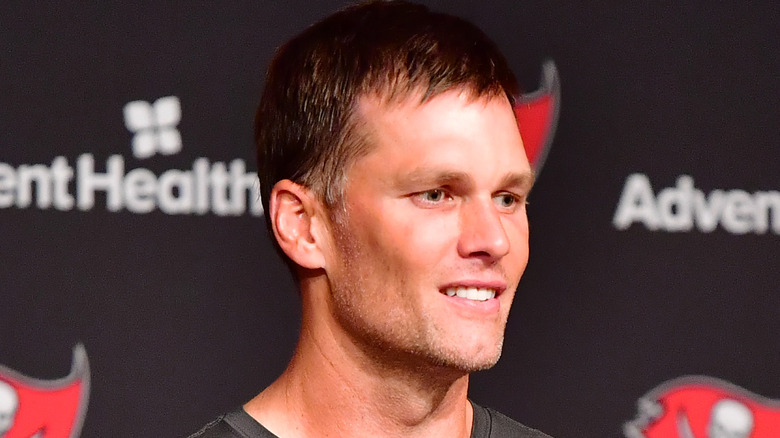 When it comes to the highest paid athlete over the course of a career, who else would top this list other than Tom Brady, himself (per Insider)? Selected by the New England Patriots in the 2000 NFL draft as the 199th pick – yes ... 198 other athletes were selected in the 2000 NFL draft before who is arguably not only the GOAT of football, but maybe of all sports — Tom Brady was actually selected so late in the draft, that many believed he would have little to no effect in the NFL. And while the Patriots wanted to select Brady at a higher position, the Pats had too many other problems with the team that were more of a priority. According to Insider, the Patriots already needed 14 other players to be prepared for the 2000 season. With then-28-year-old Drew Bledsoe in the prime of his career quarterbacking for the Patriots, the team clearly did not need Tom Brady at that given moment.
Still, history was made that fateful weekend back on April 15, 2000 when Brady was finally selected by the Patriots (via Football Database). Since then, along with collecting a record-breaking seven Super Bowl wins, Tom Brady has also managed to accumulate well over $300 million in overall career earnings. In fact, according to The Analyst, Tom Brady has managed to acquire $302,962,392 in his 23 seasons as quarterback (via NFL).
Drew Brees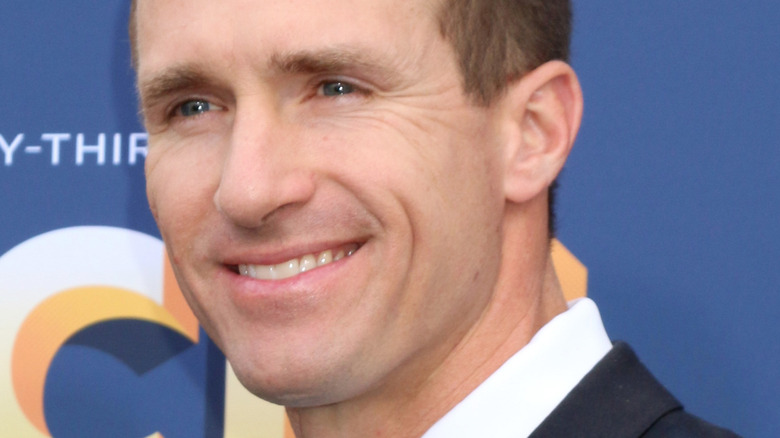 Lagging way behind the GOAT in overall career earnings comes New Orleans Saints quarterback Drew Brees. Retiring from football in 2021 with a massive $269 million in the bank (per HITC), Brees more than deserves his second place career earnings honor. And lest you think he spends his fortune unwisely, recall his $5 million donation to combat COVID-19 in 2020, telling Hoda Kotb of "Today," "There are so many people in need right now ... When [wife] Brittany and I think about New Orleans and people's greatest needs ... that is to make sure they and their family are fed."
Drafted by the San Diego Chargers in the 2001 NFL draft, Brees led the team as quarterback in his second professional season, only to lose the role to long time veteran Doug Flutie later in the 2003 season. In the last year of his rookie contract with the Chargers, Brees opted to take his chance as a free agent rather than sign any kind of extension on his current contract. And in 2006, Brees signed his fateful contract with the New Orleans Saints (per SI). The rest, as they say, is history, with Brees leading the Saints to victory in Super Bowl XLIV with the soul-crushing 31-17 defeat of the Indianapolis Colts back in 2010.
Ben Roethlisberger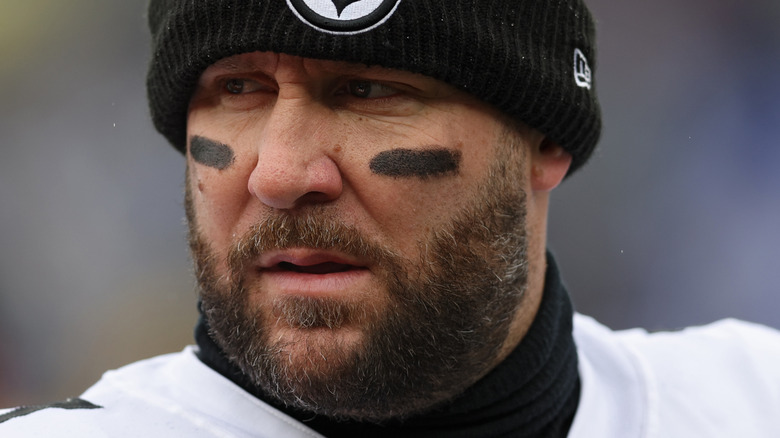 Breathing down the neck of Drew Brees in all-time career earnings comes Pittsburgh Steelers quarterback Ben Roethlisberger. With career earnings of $267 million, Roethlisberger's achievements in the NFL have only been eclipsed by Brees and Brady. Affectionately known as "Big Ben," Roethlisberger was drafted by the Steelers in the 2004 NFL draft. In less than two seasons' time, Roethlisberger became the youngest quarterback to lead a team to a Super Bowl win. On February 5, 2006, Big Ben led the Steelers to a crushing 21-10 defeat of the Seattle Seahawks. Three years later, Roethlisberger led the Steelers back to the Super Bowl in 2009, beating the Arizona Cardinals by less than a touchdown (per ESPN).
And while Big Ben would retire from the game after 18 seasons of play, in January of 2022, some of Roethlisberger's alleged off-field troubles have tarnished his legacy. However, Big Ben's ascent into the NFL's mythical Hall of Fame — when he comes eligible for the honor in 2027 — still seems all but inevitable (per Yahoo! Sports). In an interview with the Pittsburgh Post Gazette in 2022, Roethlisberger reflected on his career and a HOF induction, saying, "I did it for a long time. I know doing it for a long time doesn't mean that you get in, but, again, you look at the wins and losses. I think I did it at a high enough level for a long enough time that I think it would be pretty cool to get in. It is a special thing."
Matt Ryan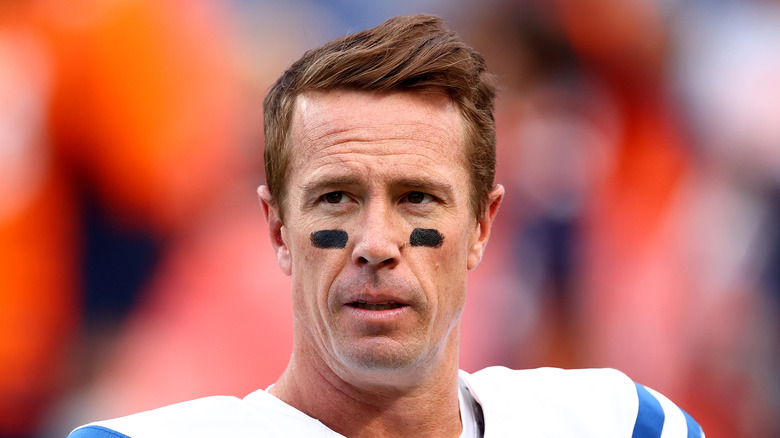 Rounding out the list of athletes earning the most over a career comes Indianapolis Colts quarterback, Matt Ryan. In 2008's NFL draft, Ryan was selected third overall by the Atlanta Falcons (per Bleacher Report) signing a six-year deal to the tune of $72 million (per ESPN), giving Ryan the third largest rookie contract in the NFL. In a 2018 interview with Rich Eisen, Ryan talked his contract with the team, saying, "[I'm] very excited, one, for myself, for my family. It's just extremely special, but two, to be a part of this organization for the next six years and hopefully beyond that ... it's nice to know that there's continuity here."
After an incredible 14 seasons with the Falcons, even leading the team to one of their two Super Bowl appearances in 2017 — ultimately losing to Tom Brady and the New England Patriots 28 – 3 – the Falcons did the unthinkable and traded Ryan to the Indianapolis Colts at the end of the 2021 season (per Bleacher Report). None of this drama seems to have affected Ryan, who over the course of his career has managed to squirrel away a hefty $267,007,749, according to The Analyst, putting Ryan just behind Big Ben ($267,286,864) in total career earnings.
Largest annual salary: Aaron Rodgers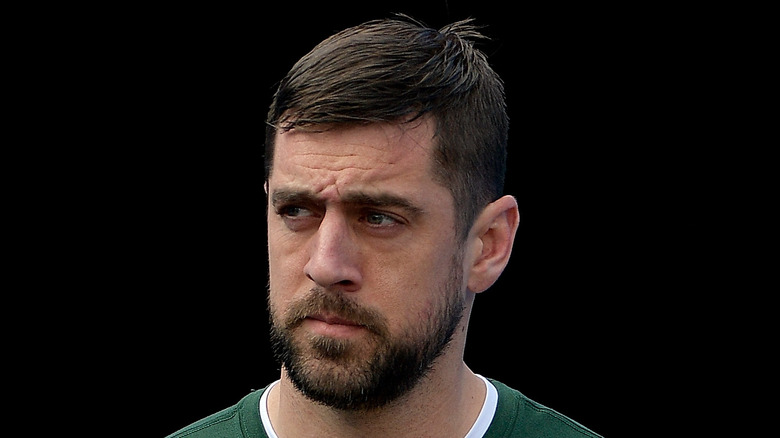 With the problem of which NFL player having accumulated the most wealth over the course of their career solved, the next logical step is to look at which player has earned the single largest annual salary in the NFL. With the average annual salary being $2.7 million as of 2022 (via NBC), it may seem that players are living extravagant lifestyles.
But that $2.7 million average has nothing on the salary that Aaron Rodgers will earn in the 2022-2023 season. According to SI, the Green Bay Packers quarterback earns an impressive $50.2 million a year. The ayahuasca-smoking football tosser has owned the top honor of highest annual salary since signing a new contract extension in March of 2022 (per NFL). Who knows if the psychoactive plant Rodgers has admitted to taking is responsible for his top-level playing, but he has some philosophical thoughts on it, saying in an interview with NBC Sports, "I think I just fell in love with [football] a little bit deeper. Again, I think a lot of that is due to the work that I've done on myself. It hasn't all been just the ayahuasca journey. It's been therapy. It's been meditation. It's been changing habits that weren't giving me any type of joy."
According to the terms of his new contract, Rodgers will garner $150 million over the next three years.
Russell Wilson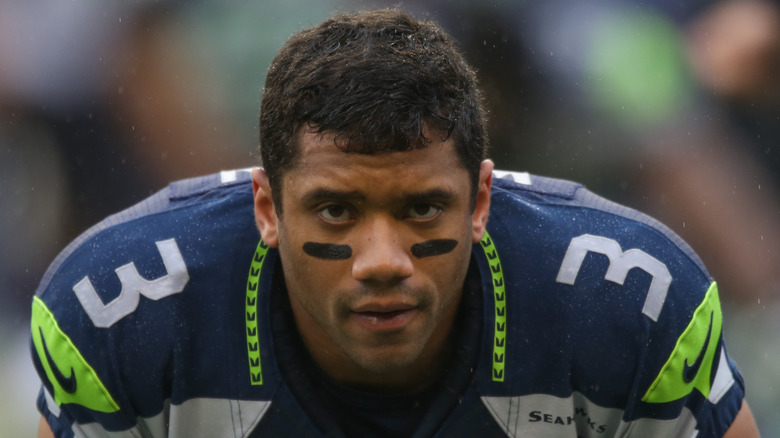 Just behind Aaron Rodgers in the highest annual salary category comes recently signed Denver Broncos quarterback Russell Wilson. In September 2022, Wilson managed to squeak out of the Broncos a contract extension to the reported tune of $245 million over five years. Amongst all the incentives, bonuses, and other contract add-ons, Wilson's contract includes a $50 million signing bonus and an annual salary of $48 million. According to NBC Sports, Wilson is set to earn an amazing $296 million over the next seven seasons.
Selected 75th by the Seattle Seahawks in the third round of 2012 NFL draft (per The Denver Post), Wilson was one of six quarterbacks selected that year. In just two seasons, he led the Seahawks to their first Super Bowl win in 2014, beating the Denver Broncos an incredible 43-8. Wilson did the unheard of and brought the defending Super Bowl Champs back to the big game the following year in 2015. This time, however, fate would not be so kind, as Tom Brady and the Patriots topped the Seahawks in a mythical gridiron match-up ending in a 28 – 24 win.
Kyler Murray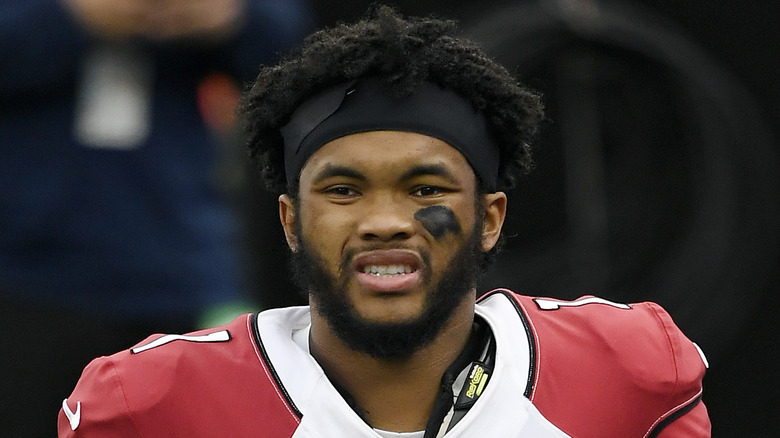 Then there's the curious case of Arizona Cardinals quarterback Kyler Murray. According to ESPN, Murray signed a five-year deal with the Cardinals for a then-unheard of $230 million back in July 2022. The deal gave Murray the short-term honor of the highest annual salary in the NFL, clocking in at $46 million a year (via Spotrac). That is, until a few short months later, when Russell Wilson signed his new deal, creating a new record annual salary for the NFL.
Signed by the Arizona Cardinals in 2019 and selected no. 1 overall, Murray signed an initial four-year deal, with a 5th year extension in 2023, for a guaranteed $35.1 million (per NFL). And while Murray still has yet to secure a Super Bowl win or even an appearance to the big show for that matter, the quarterback still has managed to secure a new deal with the Cardinals. According to AZ Central, the Cardinals have extended Murray's contract for another five years in exchange for $230 million, of which $165 million is guaranteed, no matter what.
Deshaun Watson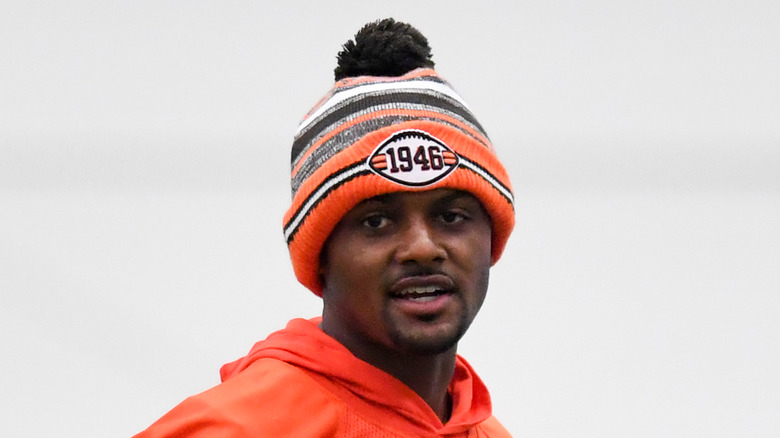 Rounding out the list of NFL players with the highest annual salary comes Cleveland Browns quarterback Deshaun Watson. Selected overall 12th in the first round of the 2017 NFL draft by the Houston Texans in 2017 (per 24/7 Sports), Watson managed to get out of the Texans a cool $46 million per season. Even with the fact that Watson led the team to just one playoff victory in the five years playing quarterback for the Texans. In March of 2022, the Texans ended their relationship with Watson, trading him to the Cleveland Browns for a bunch of picks in the upcoming NFL drafts.
Watson, meanwhile, goes to the Browns with a lot of baggage. According to SB Nation, Watson has been leveled with over 20 accusations of sexual abuse dating all the way back to 2019. With the first allegation of abuse surfacing in early March of 2021, by that month's end, more women had come forward with accusations of assault against the quarterback. Since then, Watson has been issued an 11-game suspension by the league, that began August 30, 2022 (per SI), along with a $5 million fine (per The Athletic). Watson can return to the gridiron on Week 13 of the season, December 4, 2022.
If you or anyone you know has been a victim of sexual assault, help is available. Visit the Rape, Abuse & Incest National Network website or contact RAINN's National Helpline at 1-800-656-HOPE (4673).
Largest contract: Patrick Mahomes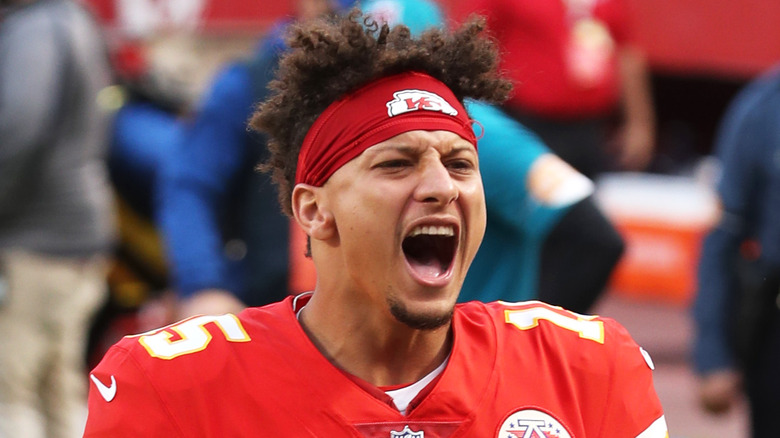 Ultimately, though, which players in the NFL have the largest contract? According to The Analyst, that honor is bestowed upon none other than Kansas City Chiefs quarterback Patrick Mahomes. Drafted 10th by the Chiefs in 2017, Mahomes quickly made a huge impact not just on the Chiefs, but also on the NFL. So much so that the team signed a new contract with Mahomes in 2020, extending his stay in Kansas City another 10 years. He discussed how everything came about in an interview with "SportsCenter," saying, "It came together with great relationships from my team and the Chiefs, as always ... We went in with an open mind, wanting to do whatever we could to have a chance to have a good football team for my entire career and also have me financially secure for the rest of my life."
He replaced his rookie four-year deal worth $16.1 million a year with a $10 million signing bonus to an astounding $450 million, 10-year deal with the Chiefs (via Spotrac). Mahomes, in fact, made so much money that he was able to buy his way as an owner of another Kansas City institution, the Kansas City Royals. Spending $503 million on the deal, Mahomes became a minority stake owner in the baseball club, back in July of 2020, with the added recognition of being the youngest team owner in MLB's history.
Josh Allen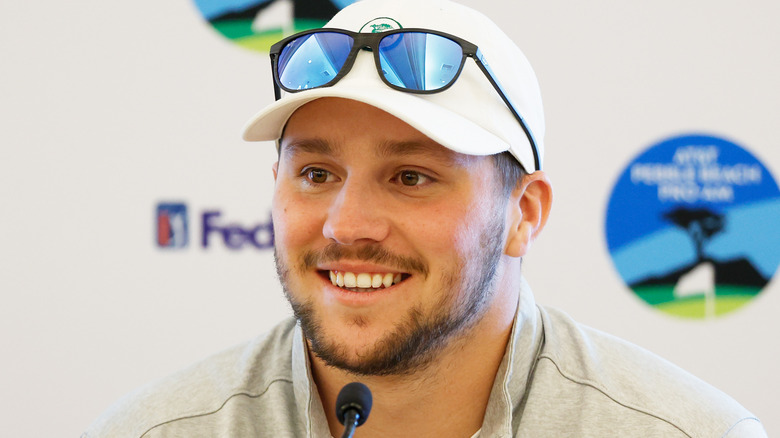 Right behind Patrick Mahomes in the largest contract contest comes Buffalo Bills quarterback Josh Allen with his $258 million contract. On the hook with the Bills for six years, Allen's contract also has a guaranteed payout of $150 million, according to Boardroom. And what did Allen do to earn such a large contract? Well, perhaps being the first quarterback in NFL history to throw for 4,000 yards and rush for another 750 in a single season (per CBS Sports), not to mention leading his team to three playoff wins. In an interview with "Bills Pod Squad," Allen addressed celebrating the deal, saying, "I get a call at three o' clock in the morning, like, 'Hey, it's done, you're gonna sign it tomorrow.' So it was pretty cool ... It hadn't been announced yet. I was actually playing Catan with some of the boys ... and Dawson goes, 'Oh my gosh, Josh, congrats!'"
Allen was selected by the Buffalo Bills in the 2018 NFL draft. Chosen in the first round, 7th overall, Allen's first two years helming the team proved to be a bit lackluster, ending the 2019 season with a 10-6 record (per Pro Football Reference). Things would turn around in 2020 for Allen, as he led the team to a 13-3 season and even a playoff berth, ultimately losing to the Texans in a wild card match-up, 22-19 (per Stat Muse).
Russell Wilson back again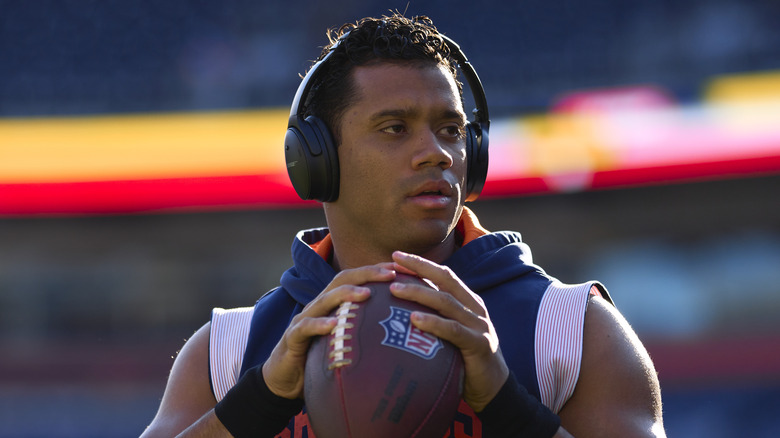 The third-largest contract in the NFL brings us back to Denver Broncos quarterback Russell Wilson. According to CBS Sports, Wilson and the Broncos reached a $245 million over five years contract extension in September 2022. According to the terms of the contract, Wilson is guaranteed a $160 million payout if the deal ever goes bust. In a press conference, Wilson noted that he viewed his relationship with the team as a marriage, adding, "My goal is to be able to finish my career here."
Interestingly enough, even with bringing his former team, the Seattle Seahawks, to the Super Bowl twice — beating the daylights out of his soon-to-be future team, the Denver Broncos, an astounding 43-8 — and being selected to the Pro Bowl an amazing nine times (per Rookie Road), Russell Wilson has never received an MVP honor in his 10+ years in the league. Much like Susan Lucci's 18-year Emmy snub-fest, Wilson appears to be everyone's favorite, except for the 50 sportswriters that decide who the NFL's MVP will be every year (per Sportscasting).
Kyler Murray, again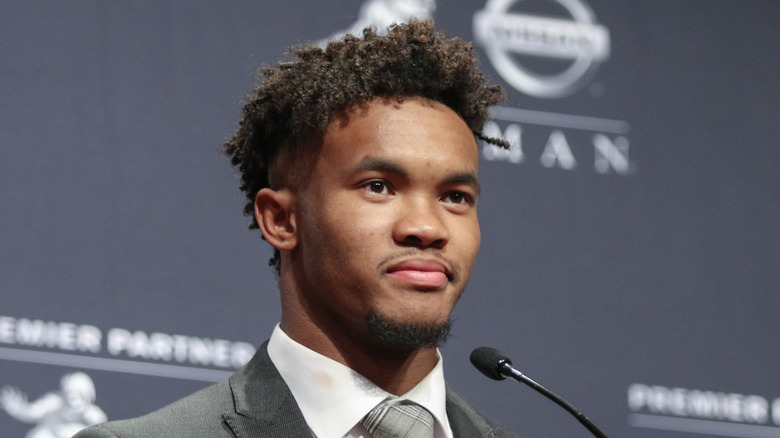 And finally, there's Kyler Murray once again. This time around, Murray's the player with the fourth-largest contract in the NFL. According to The Analyst, Murray's deal with the Arizona Cardinals looks a little something like thus: $230 million paid out over five years with Murray entitled to a guaranteed payout of $160 million and the aforementioned $46 million annually (per AZ Central).
What's most interesting about Murray's new deal isn't so much what's been included, but what's been removed. Shortly after signing his brand-spanking new contract, Murray faced a landside of criticism in regards to his study habits, or ... the lack thereof (per USA Today), especially with the inclusion of the verbiage in his contract that states Murray is required to spend four hours a week studying films of his past performances. Setting off a firestorm of controversy, critics openly attacked Murray about his habits (per The Washington Post), all of which Murray vehemently denied.
At his team's facility, he addressed reporters, saying, "To think that I can accomplish everything that I have accomplished in my career and not be a student of the game, and not have that passion and not take this serious, is disrespectful, and it's almost a joke ... I refuse to let my work ethic, my progression, be in question." The Cardinals agreed, and after all the controversy which had erupted, decided to remove all the language regarding Murray's film-watching habits from the contract.