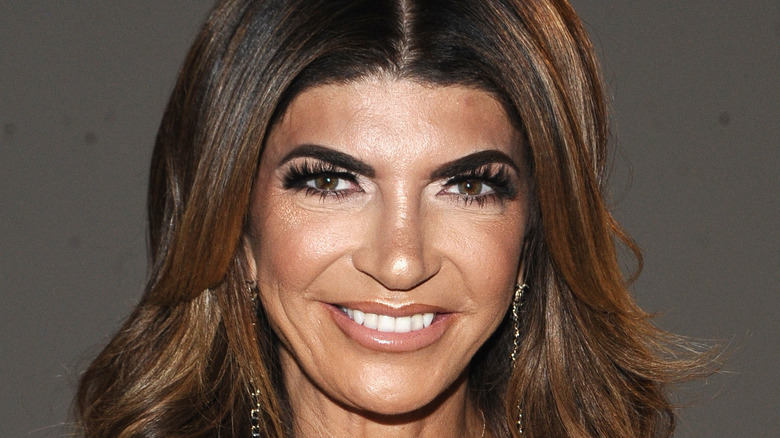 Teresa Giudice's life continues to evolve and it seems to be our impossible task to try and keep up with her. "The Real Housewives of New Jersey" star married Luis Ruelas in August 2022 and the event was as major as we've come to expect from her. Her hair, which deserved a ceremony in and of itself, cost $10,000, per Page Six. Yes, you read that right. Bethenny Frankel of "The Real Housewives of New York City" felt it captured Teresa's vibe to a T. "She got her hair done from her Jersey hairstylist and she's the same Teresa that walked in with the cash to pay for the furniture, so yes, I am here for it, I want more," Frankel said of the new Mrs. Ruelas on a "Just B" podcast episode called "Teresa Hair-ver After."
While the Bravo icon went for all the bells and whistles when it came to her hairdo, she kept the legal side of things relatively simple. Teresa opted out of a prenup with Ruelas, sharing that signing one with her first husband, Joe Giudice, left a bad taste in her mouth. Nevertheless, Teresa stays on decent terms with her ex-husband, something that's no doubt necessary as they co-parent their four daughters. Things are looking up for our New Jersey prima donna, but it hasn't always been $10,000 hairdos. She's faced some tough and traumatic things but continues to shine and we've gotta respect a gal who won't stay down.
Teresa Giudice struggled after her parents died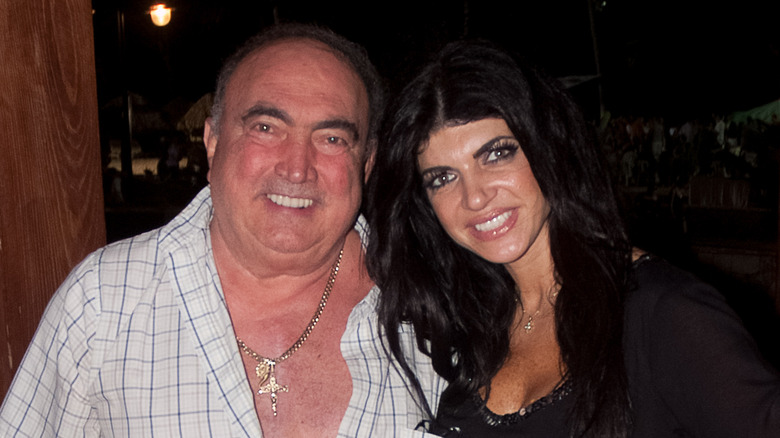 Fans of "The Real Housewives of New Jersey" know that Teresa Giudice was close with her parents, Giacinto Gorga and Antonia Gorga. Sadly, Antonia died of pneumonia at the age of 66 in March 2017. The loss hit the Bravolebrity hard. That October, Giudice told Bravo's The Daily Dish, "It's really like a bad dream, and I'm still kind of numb over it. I don't know if I'll ever get used to it." Around that same time, the reality television star said on ABC News, "I'd take going to jail 10 more times than not losing my mom."
Following the death of his wife, Giacinto moved in with his daughter's family and was frequently featured on the show cooking incredible meals and offering hilarious commentary. In April 2020, he died at 76. "I didn't want my dad to leave me, but I know he was suffering," Giudice said in an episode of "Housewives," as recapped by ET. "He couldn't walk, and that was so hard. That, like, broke my heart. He wouldn't want to live just laying in a bed."
Losing both of her parents in the span of three years was tough for Giudice, especially since she had a lot of other problems happening at the same time. (More on those in a moment.) "I miss my dad so much," she went on. "I feel like an orphan now. I feel like I'm all alone, but I'm happy he's with my mom."
Teresa and Joe Giudice's legal problems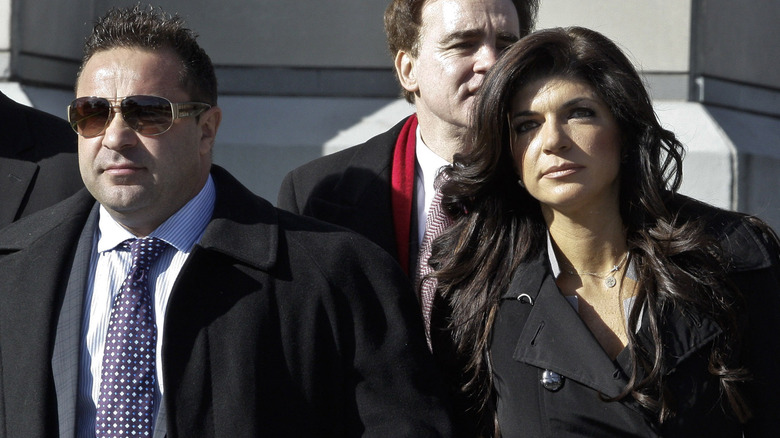 Teresa Giudice and ex-husband, Joe Giudice, faced a litany of money-related legal issues. The New York Post reported in 2010 that the couple was $11 million in debt, which included $104,000 in credit card debt, $85,600 in home renovations, and a vague $5.8 million debt for Joe's various investments. Several of their homes foreclosed and they filed for bankruptcy. In their filing, Teresa and Joe claimed their respective salaries plus money from family brought in $16,000 a month. They also claimed to spend $400 a month on clothing for their family when there was Bravo documentation of Teresa spending thousands of dollars per shopping trip.
However, it appeared that this bankruptcy filing didn't match up with reality. In July 2013, Teresa and Joe were hit with multiple fraud charges, as reported by E! News. As the outlet noted, they were indicted for hiding income when filing for bankruptcy, as well as for committing mail, wire, and bank fraud. Joe was also accused of failing to file taxes for four years.
In March 2014, they pled guilty to fraud. "Today, I took responsibility for a series of mistakes I made several years ago," Teresa declared in a statement, per a later publication by E! News. "I have said throughout that I respect the legal process and thus I intend to address the court directly at sentencing."
Teresa Giudice spent time in prison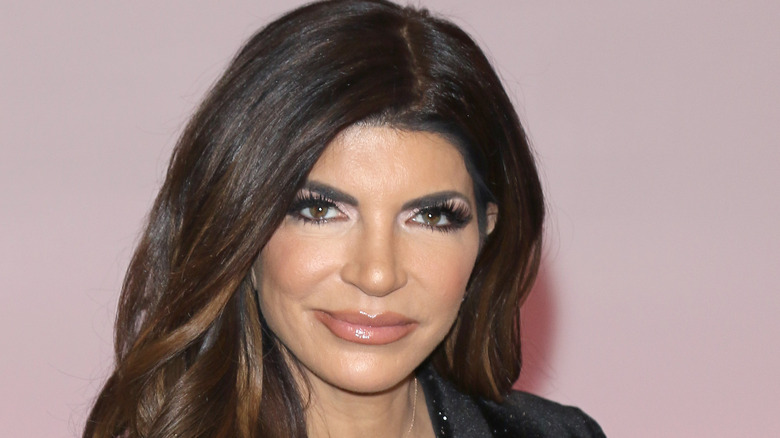 Teresa Giudice began her 15-month prison sentence on January 5, 2015. Her then-husband, Joe Giudice, was sentenced to 41 months, according to E! News. She served her time at the Federal Correctional Institution in Danbury, Connecticut, and her lawyer, James J. Leonard Jr., told ABC News that she was understandably eager to get the experience over with. "I think she was anxious to get in, get this thing started, get it behind her, and get back to her family. Her four girls are her primary focus," he said. Teresa was allowed to complete her sentence from home and returned to her family in December 2015, spending just shy of a year at the correctional institution.
Teresa has been candid and forthcoming about her time in prison after her release — but it wasn't always that way. Chatting with Andy Cohen on SiriusXM in January 2022, she acknowledged that she used to try to sugarcoat what happened, but she's since taken a more transparent route. "I'm fine with saying I went to jail," Teresa said. "I'm good with it now. Remember Andy? I didn't want to say the word before. ... It bothered me for a long time because I know in my heart I was not supposed to go there. And I know I only went because I'm in the public eye." She went on to claim she only signed on two homes that Joe purchased without realizing things weren't on the up and up, but beyond that, wasn't involved in the goings-on.
Their daughters struggled after Joe Giudice was deported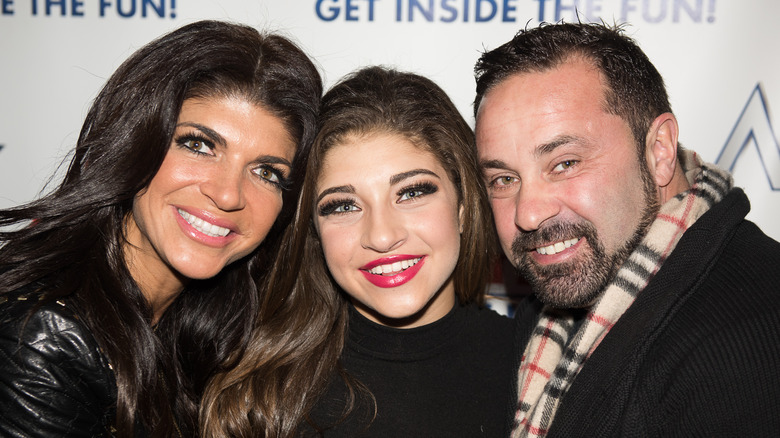 After Teresa Giudice served her prison sentence, then-husband, Joe Giudice, served his 41 month prison sentence, beginning in March 2016, at the Fort Dix Federal Correctional Institution in New Jersey. While Joe was in prison, a judge decided that he would be deported to Italy following his sentence, and while he tried to appeal this decision, his efforts proved unsuccessful. In 2019, he was sent to Italy.
The news was deeply distressing to Joe and Teresa, but especially to their four daughters: Gia, Gabriella, Milania, and Audriana Giudice. On top of all of this, Teresa lost both her mom and dad during these three years. On October 25, 2021, Teresa spoke on the podcast "Knockin' Doorz Down" about how challenging it was to parent alone but, more importantly, how unthinkable the experience was for her kids. "Listen, I have two of my daughters that do see therapists," she began, "and I'm not embarrassed of it. You know, listen, they went through something really traumatic at a young age." Teresa referenced her own time in prison then added, "Joe went away, then their grandfather passed away then their other grandmother passed away and then my dad passed away." She also stressed how close her daughters were to all of their grandparents, noting it was all such an overwhelming amount of loss in only a few years. "So it's a lot to deal with," Teresa said of her daughters' experiences.
Teresa Giudice's financial woes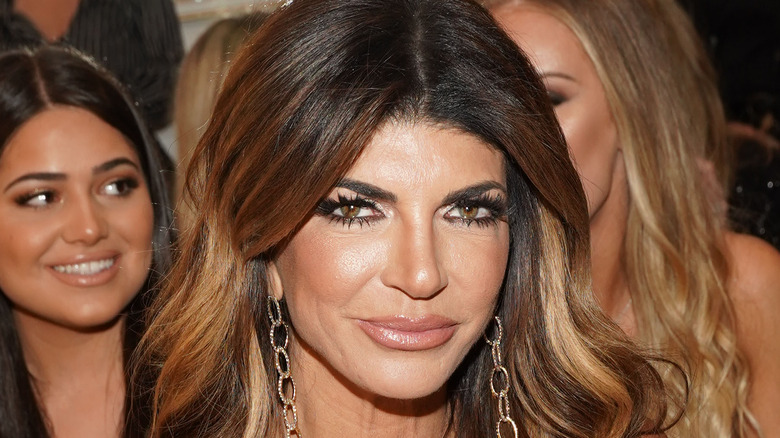 Teresa Giudice had long-lasting financial woes after her time in prison and Joe Giudice's subsequent deportation back to Italy. As People noted in a recap of a 2020 episode of "The Real Housewives of New Jersey," Teresa admitted, "I'll be honest, I stress about money all the time." During the episode, she also said that she feels resentful towards Joe because she funneled plenty of money towards his efforts to stay in the United States after his prison sentence. Dolores Catania also mentioned in the episode that Teresa never said no to Joe when he needed funds for their bankruptcy case.
While money matters haven't been smooth sailing for Teresa, that's not to say she isn't hustling. In addition to her reality TV career, she launched Fabellini Wines, has a hair care line called Milania, and has put out a number of hit books.
In February 2022, the New York Post reported that Teresa sold her New Jersey mansion for just shy of $2 million, after it was listed for $2.5 million in September 2020. In a March 2021 episode of "RHONJ," she got into how bittersweet this move was. "It's hard for me to sell the house," Teresa said, per a New York Post recap. "Joe and I built the house together; we raised our four daughters in that home." The sale price cut probably didn't make things much easier, but it was time to start a new chapter in a new home with Luis Ruelas.
She gets mom-shamed by viewers and RHONJ co-stars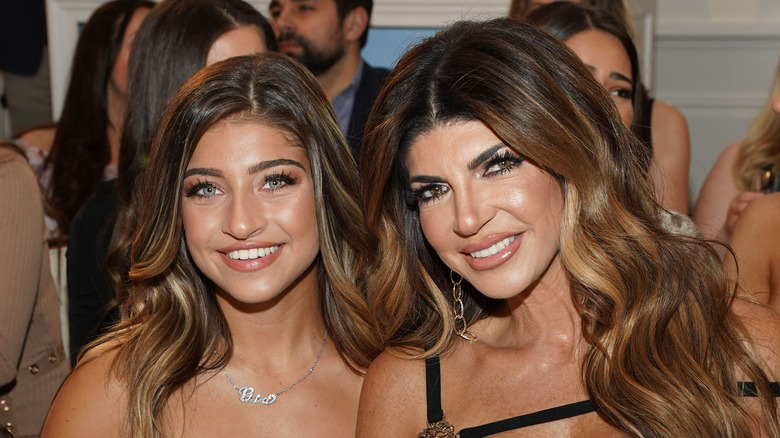 With as public a life as Teresa Giudice has, people are bound to have opinions about what she does. While this goes with the territory, Teresa has faced what might seem a little too much mom-shaming. In 2018, for daughter Audriana Giudice's ninth birthday, Teresa was heavily criticized because Audriana was wearing makeup and sporting a crop top. Teresa has since deleted the post but iHeart captured screenshots of the critical response. "Nice outfit for a nine year old!" someone wrote, adding a frowning emoji. "She's so cute," someone wrote of Audriana, "but why the makeup and sexy outfit?? The rest of the children at the party look like children except for her." Another person commented, "How old is she turning that it's ok to show her belly?????"
Teresa then got roasted for providing a larger cake for Audriana than there was for cousin, Gino, who was celebrating his 11th birthday at the joint party. "Is the larger cake for Audriana necessary," someone asked. "It makes you look petty. How does Gino feel?"
But this critique of Teresa extended even to the "Real Housewives of New Jersey" when in April 2022, she faced criticism from costars for allowing her daughter, Gia Giudice, to appear on the show during some drama-fueled scenes. Margaret Josephs told Page Six that it was inappropriate. "I think that's absolutely insane," Josephs said. "Teresa could defend herself and none of Teresa's friends are ever going to argue with her daughter."
Teresa Giudice's scary emergency hospital visit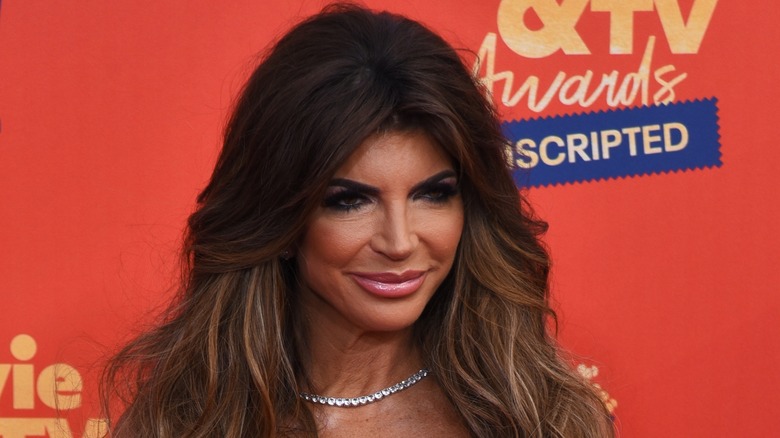 In March 2022, Teresa Giudice had to make an emergency visit to the hospital. At the time, the reason for Giudice's visit was kept a secret but her lawyer told ET, "Teresa was admitted to the hospital last night and had a non-cosmetic emergency procedure this morning." Daughter Gia Giudice as well as ex-husband Joe Giudice posted on social media about her hospitalization and asked for prayers. "Such a trooper. I love you. Pray for a speedy recovery. I love you @teresagiudice," Gia wrote on her Instagram stories. The next day, a representative told Us Weekly, "She is in recovery, currently resting, and she thanks everyone for their prayers and well-wishes," so things had clearly gone well.
Fans were kept in the dark about what happened for some time, but later that month, Dolores Catania told E! News what had really gone down. "She had her appendix out," Catania said. "Now it just takes time to heal. But it was emergency surgery so she's in a lot of pain." Catania said she had been in touch with Teresa since her surgery. "She's not feeling good at all. It's bad," Catania added. "She's in a tremendous amount of pain."
Thankfully, Teresa made a full recovery and went on to have a remarkable 2022, including her wedding to Luis Ruelas and their lavish looking European honeymoon, per the Daily Mail, where they stopped at Mykonos, Greece, as well as Positano and Capri in Italy, looking very happy at each stop.