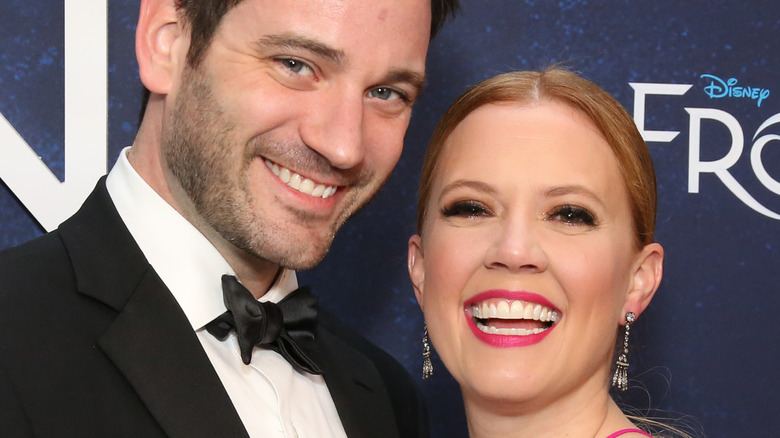 Celebrity couplings are often the stuff of tabloids — whirlwind romances eventually marred by scandal and heartbreak. But star couple Colin Donnell and Patti Murin have an enviable relationship that has stood the test of time. Fans of "Chicago Med" will recognize the couple as Dr. Connor Rhodes and Dr. Nina Shore, but Donnell and Murin knew each other long before the show even aired.
Both actors have backgrounds in musical theater, which ultimately led to their falling in love. Colin Donnell, a native of St. Louis, MO, has appeared in many stage productions, including an award-winning role in Broadway favorite "Anything Goes." Patti Murin, who grew up in Hopewell Junction, NY, starred as Princess Anna in the Broadway adaptation of Disney's "Frozen." She referred to it as a role she was born to play. And the two have tackled projects together, appearing in 2021's "Breathe," a musical inspired by an event that's affected millions — COVID-19. The couple lent their talents to the number "The Lucky Ones," which touched on an aspect that many families were familiar with during the height of the pandemic. Let's take a look inside the relationship of Patti Murin and Colin Donnell, one of Hollywood's and Broadway's cutest couples.
It was not love at first sight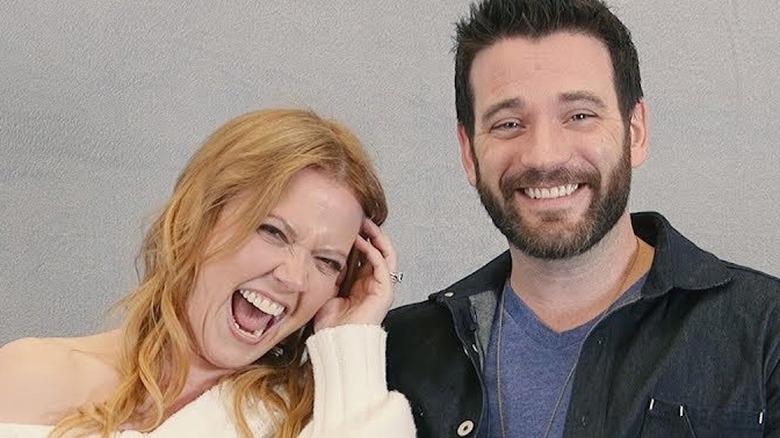 For a couple so entrenched in the magical world of stage and screen, Colin Donnell and Patti Murin's relationship had a decidedly mundane start. She was previously married to fellow actor Curtis Holbrook, but it appears they split sometime during 2012-2013.
As for Murin and Donnell, they initially met at the birthday party of a mutual friend, but it would be eight years before a romantic relationship blossomed between them. The pair hit it off, but only on a friendship level at first. And it was not even a particularly close friendship. Donnell and Murin lived in the same neighborhood at the time and were always happy to run into each other, but that was the extent of it. In fact, Murin wasn't feeling the chemistry at all just yet. In addition, she wasn't looking for a relationship. In an interview with Playbill, she admitted, "Everyone was always like, 'Colin is so good looking, he's so hot...' And I was like, 'Really? I just don't see it.'" If Donnell had eyes for Murin back then, he kept it to himself.
Shakespeare and fate brought the couple together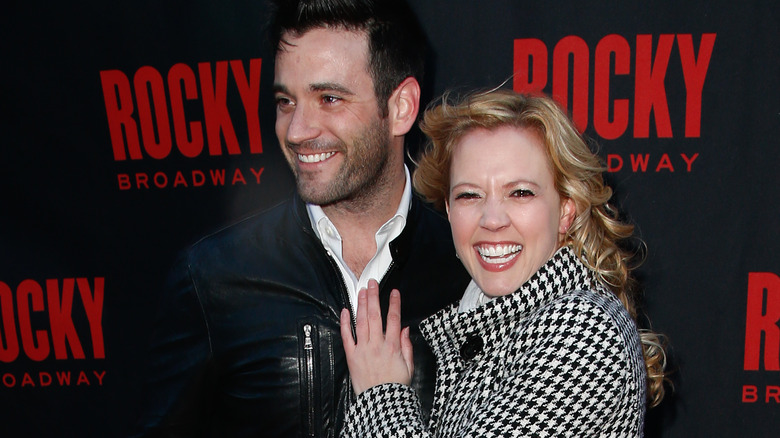 In 2013, Colin Donnell and Patti Murin were both cast in an updated musical adaptation of Shakespeare's "Love's Labour's Lost." Sparks flew at a party Murin threw prior to rehearsals for the play. The couple shared a drunken kiss, and according to Murin, "I went back into my apartment that night ... and I was like, 'I see it now. I get it.'" Donnell chalks it all up to fate, stating in an interview with Broadway World, "Everything has just kinda worked out! From the time that I spent on 'Arrow' and if that run hadn't ended for me at the end of Season 1, I never would have worked on 'Love's Labour's Lost' in the park. And then I never would have really met Patti."
Still, the couple took their time before becoming official. The deciding factor was a cross-country road trip they took to attend pilot season in Los Angeles. Murin said, "Even though neither of us talked about it like it was a test, it was. But when we were halfway through, I was like, 'Oh yeah this is really a thing. This is good.'" Donnell agreed, "We took a really big chance on that first road trip going really well — which it did." Luckily, no love was lost on the open road, and the relationship continued to bloom.
Patti Murin and Colin Donnell share the stage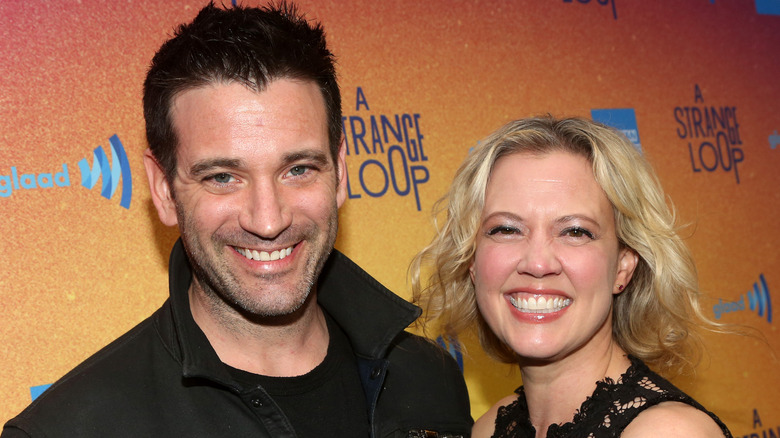 The couple, who occasionally shared screen time on "Chicago Med," each have flourishing careers, but they seem to always enjoy the chance to work together. In 2015, Donnell and Murin appeared opposite each other in Broadway's "Lady, Be Good." Murin said in an interview with Broadway World, "We like each other a lot, so we like spending a lot of time together!" Donnell agreed, adding, "Yeah we've definitely been helping at home ... We've been able to go through lines with each other. That sounds totally dorky ..." Not so much dorky as it is sweet.
The pair, who each have plenty of acting credits under their belts, are extremely supportive of each other's career trajectories. In 2019, when it was announced that Donnell would be leaving "Chicago Med" after four years, both fans and critics were disappointed (via PopCulture). Murin took to Twitter to show support for her man, writing, "I am so proud of my husband. Four wonderful years on this incredible show. I can't wait to see what is next for you, Colin Donnell. I love you so, so much."
A wedding and the final rose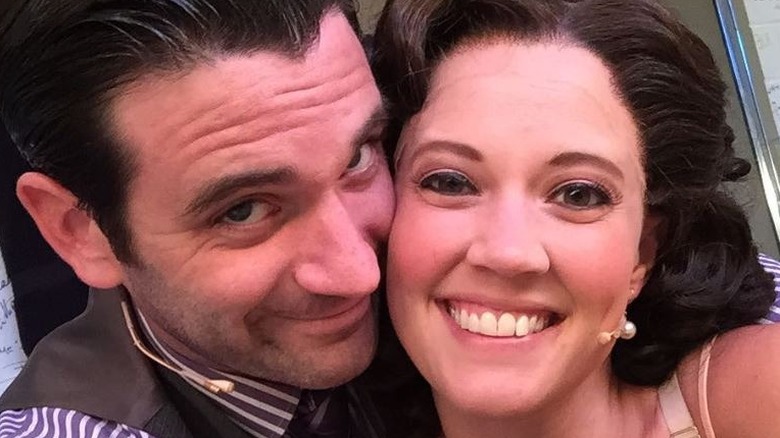 Once Colin Donnell and Patti Murin decided to get married, things progressed quickly from there, with a December proposal turning into a June wedding. The two married in 2015 and had a super fun "Bachelorette"-style reception following their nuptials. The couple reenacted the reality TV show's notorious rose ceremony with actor pal Andrew Rannells standing in for "Bachelorette" host Chris Harrison (via Us Weekly). Murin is such a fan of the show that she even recapped several seasons of it on her blog, Literally Patti Murin.
Though the spoof delighted guests and showcased the couple's sense of humor, the wedding itself was as romantic as could be. The newlyweds took to social media to share their love for each other with the world, with Murin tweeting a wedding photo captioned simply, "Welcome to forever." Donnell's reply was, "This. All of this." Murin also posted on Twitter a photo of her and Donnell's hands intertwined, their wedding rings on display. "All I want to do is talk about our wedding last night so please bear with me for a few days. We are officially hitched!" was the adorable caption.
Murin and Donnell have a bumpy road to a baby bump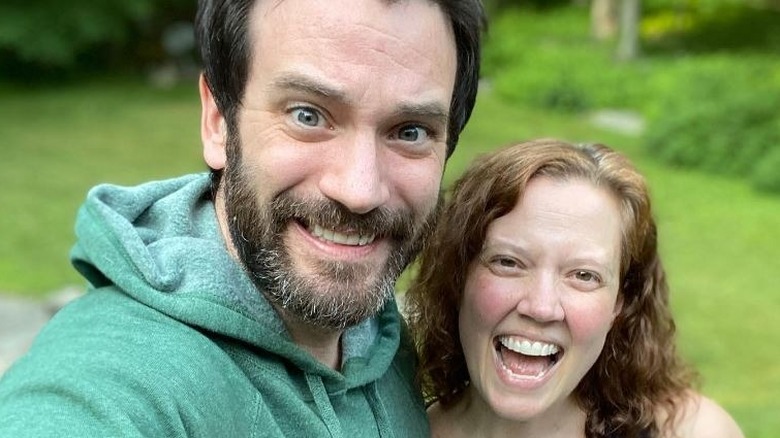 The path toward starting a family was difficult at first for Colin Donnell and Patti Murin. Murin revealed that she was pregnant after auditioning for the stage version of "Frozen" but suffered a miscarriage after eight weeks. While this was a devastating turn of events, it did push Murin to take on the role of Princess Anna. She had initially planned to abandon the part, not wanting to juggle the grueling work schedule with a pregnancy. She told People, "That was a really hard choice to make at the time. I was not in the emotional or physical place to do it. I was in the headspace of, 'Okay, now I know I do want to have a baby and that seems like it should be the plan.' But Disney called ... and Colin and I had to make that decision together — 'If you're doing this, you're not doing that.'"
Murin played Anna in "Frozen" for three years, and just after her stint was over in 2020, she learned she was pregnant again. She credits working with the young actors in "Frozen" for helping her prepare for motherhood. Murin gushed about her co-stars, telling People, "I love them to pieces. I feel ready to raise a girl because I'm in a place as a woman where I feel like I know something about how I want them to turn out. It's made me excited to have a little spitfire of a daughter of my own."
The TV doctor and the ailing Disney princess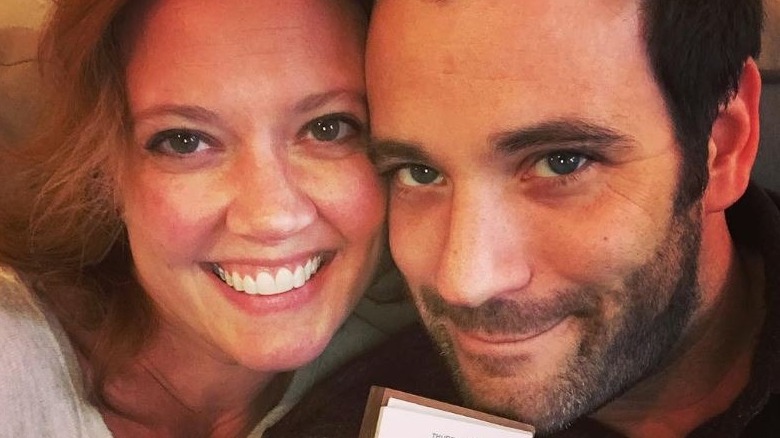 Colin Donnell and Patti Murin were delighted to find out they were having a girl, but Murin's pregnancy came with its fair share of issues. One of which was the fact that while pregnant, Murin contracted COVID-19. This was in April of 2020 when the pandemic was in full swing and the world was trying to figure out how to handle the virus. Murin remained upbeat, and credited husband Donnell with helping her get through it.
In an Instagram post which began, "Even Disney princesses can get sick!" the actress wrote, "Colin is taking excellent care of me. His TV doctor experience combined with his huge heart and love for me make for the best partner I could ask for, for this moment and for forever." She went on to say, "I'm so lucky. There are so many others who are not. Please keep turning your attention to them, and to the essential workers and the insanely brave and strong medical personnel, and to the people who are stocking your grocery shelves and delivering your food." Spoken with the grace of a Disney princess indeed.
Cecily Philips Donnell is born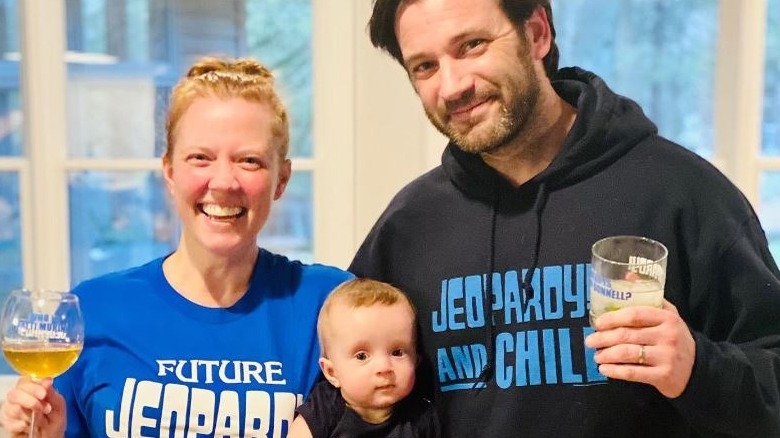 Colin Donnell and Patti Murin's daughter, Cecily, was born on July 14, 2020. The couple was over the moon with joy, but with that joy came another difficult hurdle for the family. At just 10 weeks old, Cecily underwent open heart surgery to repair a congenital defect. Baby Cecily was born with a hole in her heart, a condition called ventricular septal defect.
Murin discussed this at length in an Instagram post, which pictured her daughter in a Halloween costume, dressed as Captain Marvel. The mom wrote, "[Cecily's] a real life, true superhero." The family rallied, and Cecily recovered just fine with her doting parents by her side. It seems these trials and tribulations have only made Donnell and Murin's bond even stronger. In an interview with People, Donnell said, "We've definitely found ways to deal with everything, kind of found our groove in the face of some difficult situations. That I think has been really great for the two of us. It has brought us closer, which is awesome." And despite Cecily being born in the midst of a pandemic, Murin revealed that her daughter came along at just the right time. "Colin and I were able to spend time with her that we would not have normally gotten if the world was 'normal,'" she said to Broadway Direct.
Sharing the screen ... again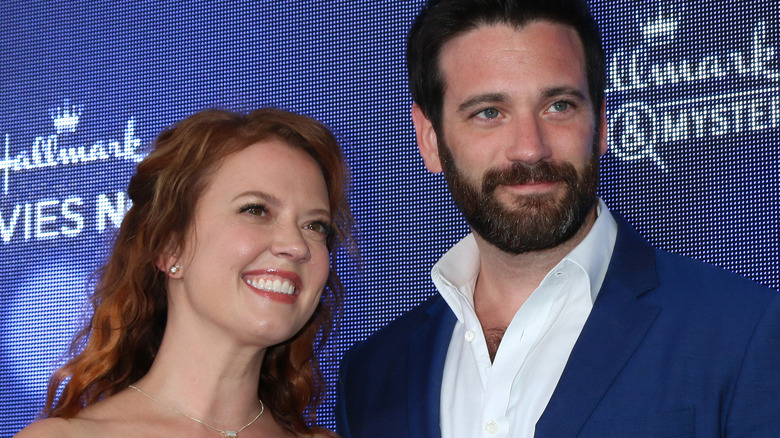 Colin Donnell and Patti Murin starred together in two different movies for the Hallmark Channel, 2020's "Love on Iceland" and 2021's "To Catch a Spy." In 2021, Murin spoke about the couple's filming schedule, telling People, "It's sort of nice to both work at the same place, but we're not spending 24/7 together constantly, giving each other a chance to be sick of each other." In the same interview, Donnell and Murin discussed working together and how they prepped for their roles. Murin shared that while each had their particular process, they were also always happy to help their partner prepare, such as running through lines with them.
Donnell agreed and added, "I think we both kind of have our own ways of working that complement each other very, very well when we're working opposite each other, and working together. But it allows us a lot of freedom and the space to kind of just do our own thing ... it helps us maintain a little bit of a work-life separation and balance." Wise words from a couple that has many years of experience striking that balance, and this includes how they spend time when not working. When they weren't able to be together while he was filming "Chicago Med," she would sometimes visit him in the Windy City, where the couple did normal things like visit bookstores and catch up over coffee.
The actors share their secret to lasting love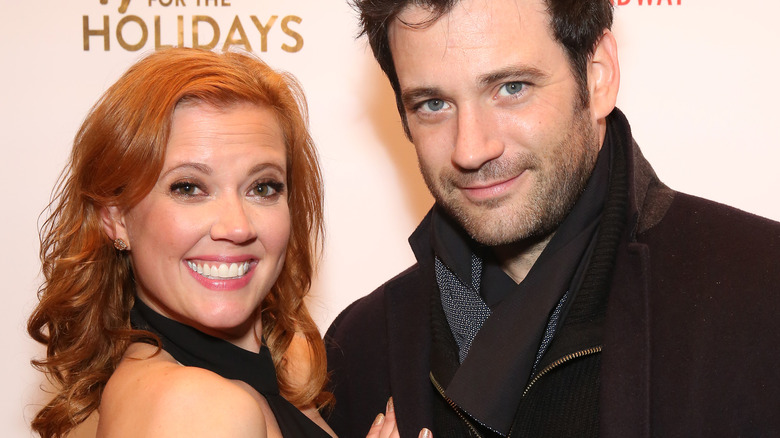 As of this writing in 2022, Colin Donnell and Patti Murin are still going strong, both professionally and as a couple. Murin is currently appearing as Paulette in "Legally Blonde The Musical" at the Muny in St. Louis, while Donnell is starring in Netflix's new crime drama "Irreverent." Donnell and Murin are active on social media, and recent Instagram posts show the couple attending events, goofing around at home, and hanging out with their adorable 2-year-old daughter, Cecily.
So, what is the secret to long-lasting love like Donnell and Murin's? It seems to be a combination of supporting each other's careers, balancing work and home life, and simply enjoying each other's company. In a 2014 interview with Playbill, a year into the couple's relationship, Murin stated, "I think we're really good at communicating." Donnell responded by saying, "What?," prompting laughter from Murin. Whatever the key to a healthy, loving relationship is, these two seem to have it figured out.