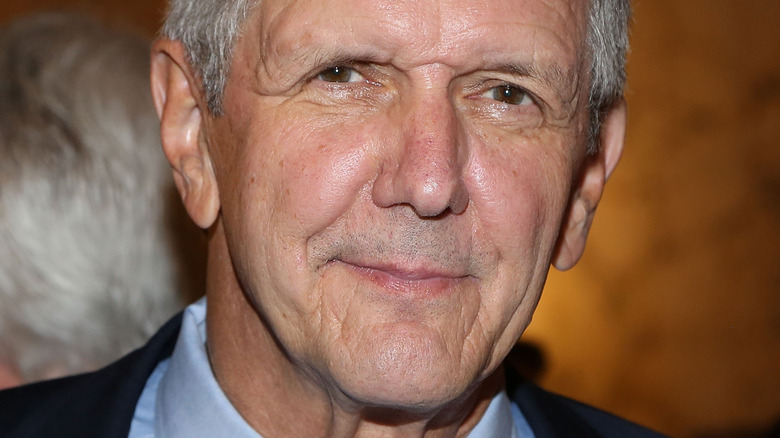 Charlie Gibson was one of the most recognizable names in TV news for over three decades before he seemed to disappear. The Emmy-winning anchor and journalist got his start at ABC News in 1975 and stayed there for the rest of his career, working his way up to the helm of "Good Morning America" and, later, "World News Tonight." There was a brief period in 1998 when he was replaced on "GMA," but he returned just one year later and his broadcasting star continued to shine brightly. When he eventually retired in 2009, he was still a household name who managed to garner impressive viewership.
These days, however, we don't hear much from him, which has left many wondering: Whatever happened to Charlie Gibson? As it turns out, he's been busy enjoying time with family, time on the road, and the occasional guest appearance on television. In short, he's been busy living his best life and spending the fruits of his labor — more specifically, the impressive fortune he banked during his time as a top-watched newscaster. Keep reading to find out just how much Charlie Gibson is really worth and how he made all that money.
Charlie Gibson refused to give up on his dream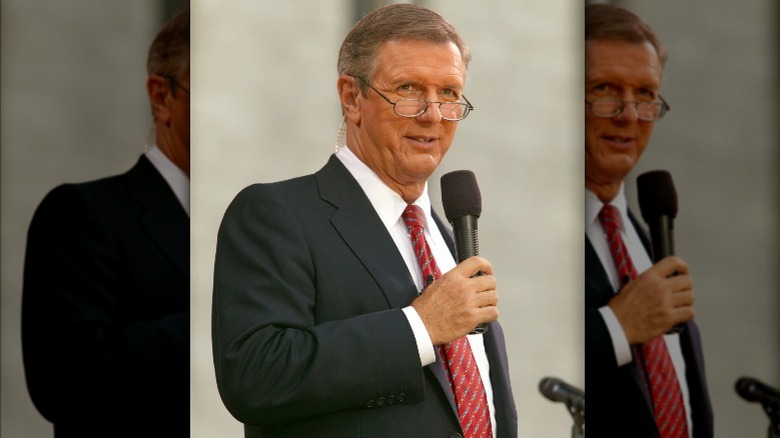 Charlie Gibson had a bumpy road to journalistic success. He studied history at Princeton University and, as a sophomore, began hosting a morning radio show on the student-run WPRB. He eventually worked his way up to become the station's news director, per Princeton Alumni Weekly, but was torn about his future, as he originally planned to pursue law. After graduating in 1965, he reportedly gave himself an ultimatum: Succeed as a journalist by 30 or go back to law school. Interestingly, The Washington Post tells the story slightly differently, noting Gibson chose journalism only after he failed to get into Yale Law School.
Whatever the reason, Gibson got serious about broadcasting and started landing short-lived gigs as a reporter and anchor on various small stations, per Princeton Alumni Weekly. One of those was WMAL in Washington, D.C., and his job was anything but glamorous. As Gibson told The Washington Post, "There was a kids' show called 'Clare and Coco' and I got hired to clean up after the dog." While there, he was also told to focus on radio, because he was "too preppy to be on television." Again, he didn't give up. Gibson landed a yearlong journalism fellowship at the University of Michigan, then a job at Television News Inc., which would change his future. While there, he covered the Watergate trials and was soon poached by ABC correspondent Sam Donaldson. He joined ABC News in 1975 and never left.
He earned millions behind the newsdesk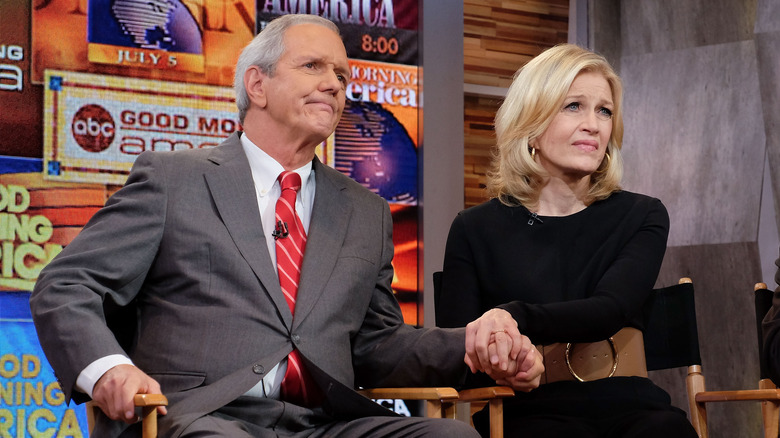 Charlie Gibson came a long way from his days as a student radio host at Princeton University. After joining ABC News in 1975, he became a White House correspondent in 1976 and slowly worked his way up to a seat behind the anchor desk on "Good Morning America." He joined the show in 1987 and stayed on for a whopping 19 years. According to Celebrity Net Worth, he had no reason to leave, as he was earning $7 million a year.
He eventually shook things up in 2006, when an equally lucrative offer came along. ABC News tapped Gibson to anchor "World News Tonight" and, according to Business Insider, it was another plush gig. The legendary newsman was reportedly paid $7 to $8 million a year until his retirement in 2009 and he had the ratings to justify it. As The New York Times reported in May 2007, "World News" viewership was growing under Gibson. Indeed, the show had a year-to-date average of 8.88 million viewers per night, an increase of 450,000 viewers per night compared to the same time in 2006. Another big milestone came in the second week of February 2007, when the show beat its two biggest ratings rivals — "NBC Nightly News With Brian Williams" and "CBS Evening News With Katie Couric" — for the first time since August 2005, per The New York Times. Not surprisingly, The Orange County Register proclaimed that "Charles Gibson is the best thing ABC has going."
Charlie Gibson's luxury tastes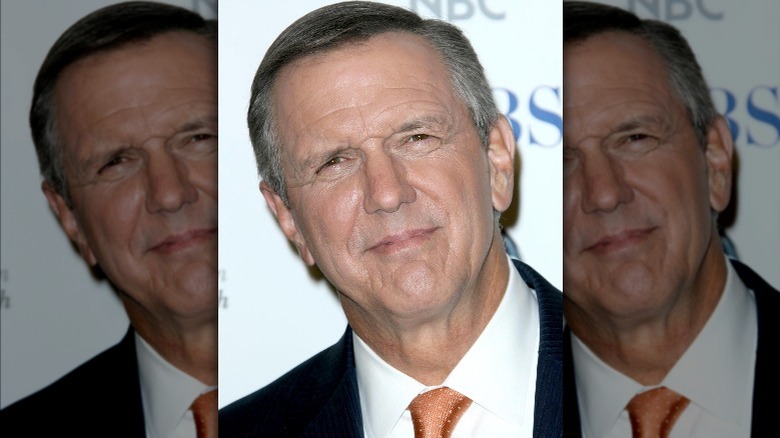 Charlie Gibson has expensive taste. When it comes to real estate, he owns several properties, including homes in Manhattan, NY and North Falmouth, MA. As The Boston Globe learned, he bought his house in Cape Cod in 1991, after he began running in the local Falmouth Road Race in the '70s and fell in love with the town. Speaking with the outlet, he called it his favorite place to unwind, gushing, "Every day here is like a vacation." While on the subject of vacations, Gibson also shared his swanky travel tastes. He and his wife love a good getaway, no matter the cost, and have frequently set sail with Regent Cruises, which boasts about having the "world's most luxurious fleet." As he explained, "Cruises aren't cheap, but the memories are worth every penny." They've also fallen in love with African safaris, which can cost anywhere between $5,000 and $100,000, per Forbes. Yet, the price tag hasn't stopped them from going on four sub-Saharan safaris in six years.
Perhaps some of their travel budget comes from the sale of their Park City, UT ski chalet, which was listed for $9.4 million in December 2018. As realtor.com learned, it was actually designed by Gibson's brother to look like a glass-covered ellipse and was built in 1995. Five bedrooms and seven bathrooms were spread across three floors set on 8,507 square feet. With endless nature views, it's no wonder Gibson dubbed it "the happiest place on earth."
Is Charlie Gibson cashing in on commencement speeches?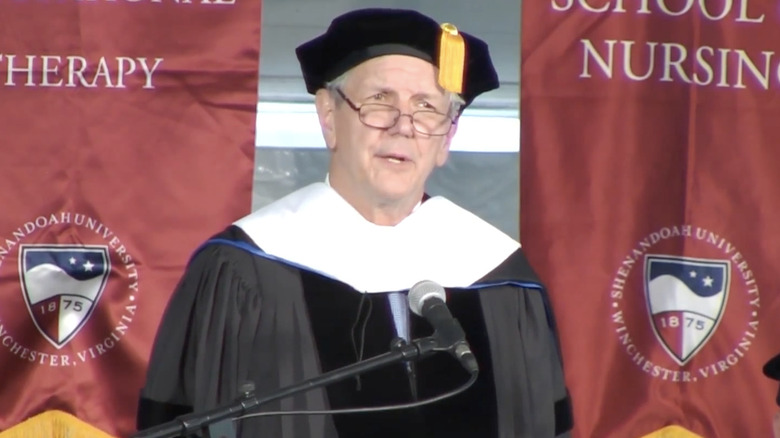 Commencement speeches may seem like an unlikely source of income, but according to the Chicago Tribune, famous personalities can earn quite an impressive sum simply by speaking to college grads. As the outlet revealed, Katie Couric was once paid $110,000 by The University of Oklahoma, while fellow journalist Bill Moyers earned $35,000 for speaking at Rutgers University. While we can't confirm if Charlie Gibson is also adding to his bottom line by cashing in on his celebrity, he is one of the most recognizable journalists in America and he has delivered quite a number of commencement speeches. These include a 2014 address at Lawrence University, plus 2015 speeches at Shenandoah University and the Keck School of Medicine of USC.
Whether or not he's being paid for speaking, Gibson has made it a point to help students in need. Most notably, when he was invited to give a commencement speech at New York's Union College in 2007, he took the opportunity to launch a scholarship. As the college explained, Gibson's father, Burdett, was actually an alum and that inspired the anchor to donate $75,000 to start the annual Burdett Gibson Class of 1923 Scholarship. Interestingly, Gibson himself was the inspiration behind his own scholarship as well. Upon his departure from "Good Morning America" in 2006, ABC News launched the Charles Gibson "Good Morning America" Scholarship to help up to two journalism students a year with financial assistance, plus an internship at the show.
Charlie Gibson's impressive net worth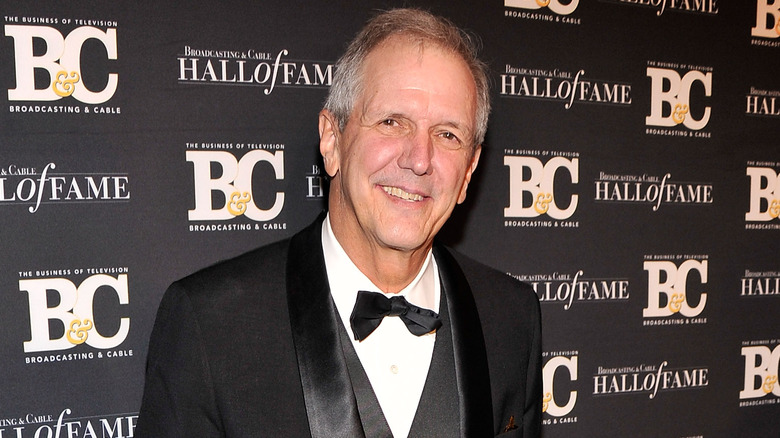 Charlie Gibson officially retired from ABC News in 2009 after a successful 34-year career at the network. As he admitted, it was hard to leave because, despite the hard work his job required, it was always fulfilling. As he told "Good Morning America" during a 2017 guest appearance, getting up at 3:21 a.m. to co-host the show often left him feeling tired, but it was worth it. "To be able to say good morning to the entire country is a rare treat," he enthused. However, after so many years on-air, he didn't fully leave TV behind. Following his retirement, Gibson returned to "Good Morning America" a few times as a special guest, plus his IMDb page reveals he's also appeared in a handful of documentaries, stopped by "Entertainment Tonight" on numerous occasions, and even acted in a 2016 episode of "House of Cards."
In addition to occasionally popping up on the small screen, Gibson told The Boston Globe that he and his wife, Arlene, have been filling their schedule with family time (they have two daughters), travel (they're already planning their first post-COVID safari), and simply unwinding in their various homes. As Celebrity Net Worth confirms, they're able to pamper themselves in retirement thanks to the veteran anchor's impressive net worth, which reportedly clocks in at $50 million.