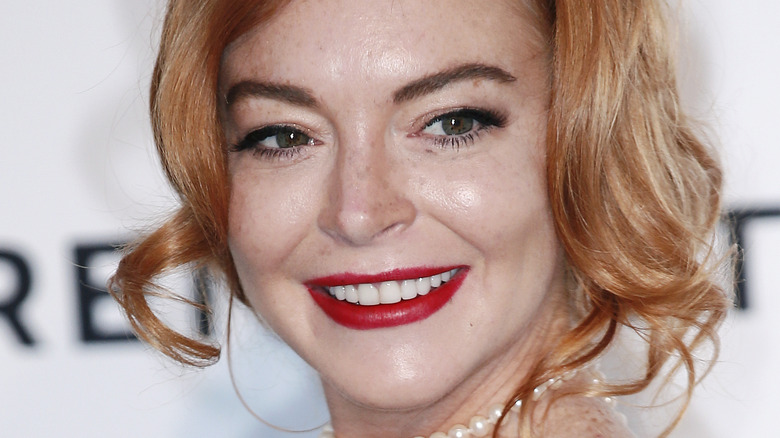 Celebrities: they're just like us, right? They live, they die, and of course, they fight. With new rivalries starting up every day (Will Smith and Chris Rock, anyone?), it's hard to keep up with all the drama. Luckily, the internet is forever, so keeping track of all the profanities, diss tracks, and hurt feelings caused by your favorite celebrities has never been easier. Most notably, Twitter has provided an amazing platform for these messes, giving fans a front row seat to all the drama, along with the opportunity to give their two cents about the situation in real time.
While some celebrities fight about money, others fight about status, movie premieres, boyfriends, and everything in between. A few of these bickering stars eventually grew up, patched up their differences and became friends, though others have fought long, bitter battles that have no apparent end in sight.
From Nicki Minaj to One Direction to Kanye West, here are some celebrity feuds you probably completely forgot about.
Lindsay Lohan vs. Hilary Duff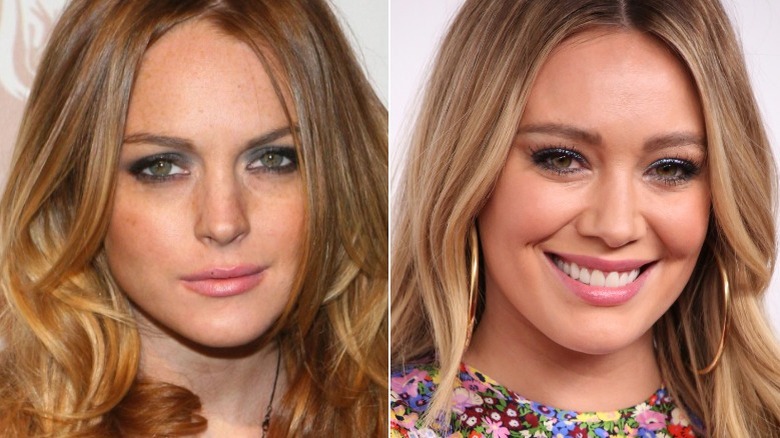 In the early 2000s — at the height of low rise jeans and tabloid drama — Hilary Duff and Lindsay Lohan engaged in a petty love triangle over Aaron Carter. It all started in 2003. After two years of dating, Carter suddenly decided he was "bored" with Duff and started cheating with Lohan. Eventually, he broke things off with Lohan long enough to focus on Duff's "Lizzie McGuire Movie" premiere, but the pair called it quits for good when he cheated on her again, this time with a different girl.
Fueled by Carter's betrayal, the teens began showing up to each others' movie premieres with the sole intention of stealing the spotlight. Duff went to the "Freaky Friday" release and Lohan retaliated by dazzling at the "Cheaper By The Dozen" premiere. Things only escalated from there. While Duff was working on "A Cinderella Story," Lohan called Duff's co-star, Chad Michael Murray, to talk trash and spread rumors. That same year, Lohan made fun of Duff in a "Saturday Night Live" skit. Duff was unimpressed, telling Access Hollywood: "I'm not here to talk bad about her like she talks bad about me all the time." Even Duff's then-boyfriend, Joel Madden, got involved. The Good Charlotte singer infamously refused to give Lohan's little brother an autograph until his sister publicly apologized.
In 2007, it seemed like things finally started to cool down. "We are both adults, and whatever happened, happened when we were young," Duff told People. "It's over."
One Direction vs. The Wanted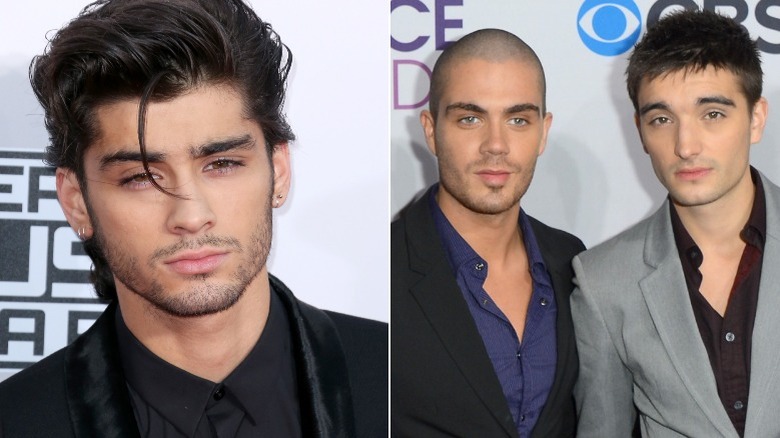 One Direction took the early 2010s by storm with their dreamy accents and perfectly coiffed hair. Their success marked the beginning of a British invasion in the U.S. that brought in stars like Cher Lloyd, Pixie Lott, and, of course, The Wanted. While things were initially pretty calm between 1D and TW, the boy bands began publicly feuding, encouraging fans to pick a side.
In 2012, Max George of The Wanted tweeted a photo of himself, to which 1D's Zayn Malik replied, calling him a "geek." The men tweeted insults back and forth, with TW member Tom Parker coming to George's defense. To onlookers, it was unclear if they were actually fighting or if this was just a bit of "banter" between the boys. Eventually, the spat ended with Malik calling George "chlamydia boy." Later, George and his bandmates challenged 1D to a boxing match and drinks to settle their differences, and George joked that "a fight wouldn't last long" between them.
In 2013, things heated up again in the Twitterverse. At a concert, Louis Tomlinson of 1D mocked the idea of indie rocker Jake Bugg supporting TW instead of 1D. This led Parker to throw some shade that escalated into a full blown war between the two bands, their fans, and even their girlfriends. As of 2022, the groups seem to be at peace. When Parker sadly died on March 30, 2022 from a brain tumor, Liam Payne publicly offered his condolences.
The Chicks vs. George W. Bush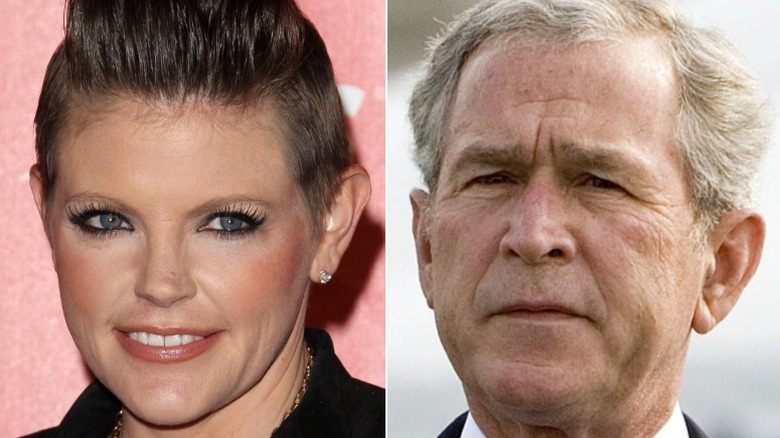 The Chicks singer Natalie Maines made a comment about George W. Bush that blackballed the band for the next 14 years. On March 10, 2003, a day vividly remembered by country fans nationwide, Maines told a London crowd that she was "ashamed the president of the United States is from Texas" in reference to Bush. The comment was made shortly after the U.S. invasion of Iraq. Despite the cheering approval of the crowd, the comment would cause some major backlash and before long, radio stations all over the nation were banning all Chicks records, even "renting steamrollers and hosting parties" to destroy any merchandise they could get their hands on. Fellow country music star Toby Keith famously joined the chaos by performing in front of a large photo of Maines beside Saddam Hussein.
Maines was shocked at the reaction to her words, especially given that the full quote was actually: "Just so you know, we're on the good side with y'all. We do not want this war, this violence. And we're ashamed the president of the United States is from Texas." The former president responded simply, stating: "The Dixie Chicks are free to speak their mind. They can say what they want to say."
In 2020, after a 15-year hiatus, the Chicks released "Gaslighter." That same year, they announced they were changing their band name to the Chicks. They had previously been known as The Dixie Chicks.
Jay Z vs. Kanye West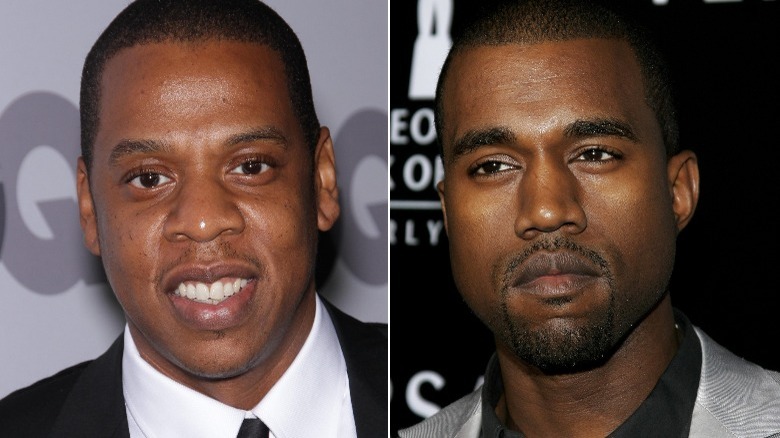 After nearly two decades of friendship, Jay Z and Kanye West had a brutal falling out. The rappers first met in the 2000s to collaborate on "This Is The Life." West was initially quite intimidated by Jay, but the men quickly formed a friendship and mentorship.
Things shifted when West married Kim Kardashian in 2014. The widely publicized event was notably missing two guests close to the groom: Jay Z and his wife, Beyoncé. While the reason for their absence is still unclear as of this writing, many speculate it had something to do with the infamous elevator fight between Jay and Beyoncé's sister, Solange, at the Met Gala weeks before. West was hurt by Jay's absence and spoke publicly about his pain multiple times. Four years later, his feelings hadn't subsided. "I understand they were going through some things, but if it's family, you're not going to miss a wedding," he told "The Breakfast Club," via The Independent.
In 2017, Jay Z opened up to the podcast​​ Rap Radar about the feud: "What really hurt me was, you can't bring my wife and my kids into it. ... Like, Kanye is my little brother. He's talked about me a hundred times. ... We've gotten past bigger issues. But you brought my family into it, now it's a problem." Despite the drama, it seems that, in 2019, things had gotten better, as the two were photographed embracing at Sean Combs' 50th birthday party.
Mariah Carey vs. Nicki Minaj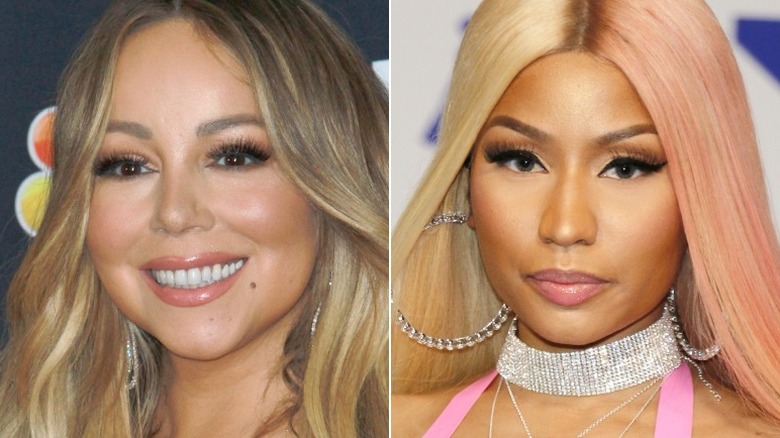 R&B legend Mariah Carey and rap icon Nicki Minaj famously feuded during their time as judges on "American Idol." The rivalry came as a surprise, because the women had recently collaborated on "Up Out My Face," with the music video going No. 1 on YouTube in just one day. When Minaj was first approached for the collaboration, she was very surprised. Fresh on the scene with no album out, she couldn't believe the R&B icon wanted her on "Memoirs of an Imperfect Angel." "She's an icon, I've loved her since I was little, like 'Vision of Love,' 'Someday.' I was one of those little girls in the mirror singing her songs with my mother," Minaj gushed. Two years later, the women would work together again on the "American Idol" set.
Before long, rumors spread that Minaj and Carey were fighting behind the scenes. Both artists had a reputation for being divas, and public speculation helped escalate the animosity. Long after they left the show, Minaj told Ellen Degeneres: "I heard them saying 'Mariah doesn't want you on the panel' but I was like, 'No. I am friends with Mariah.' [...] And so I went there and I started to feel a bit of the shade. And I just kind of overcompensated by being crazier." Carey later called the experience one of the "worst" she's ever had.
While it seems like the dust has settled on their feud, the icons are still not exactly friends.
Kendall and Kylie Jenner vs. Selena Gomez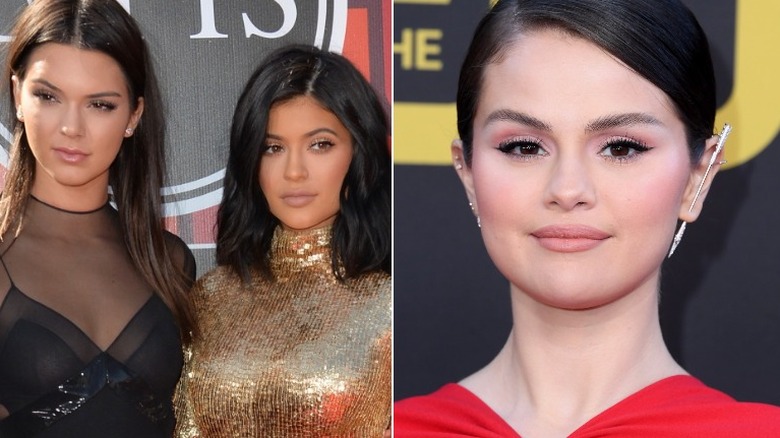 In the 2010s, teen idols Justin Bieber and Selena Gomez had the world at their fingertips. Gomez was shedding her Disney image and both artists had successful careers in music. The couple engaged in an on and off again relationship for many years.
One of those off times was late 2013. Gomez was first photographed with Kendall Jenner in March 2014, and from then on, the girls (and Kylie Jenner) were seen exploring Los Angeles together several times. According to fans on Reddit, Gomez and the Jenners formed a fast friendship, frequently posting each other on their Instagrams.
However, everything fell apart the weekend of Coachella. Though the two were broken up, Gomez and Bieber were photographed getting cozy on the second day of the festival. After this reunion, the two allegedly got back together the week after Coachella. That same week, according to the Daily Mail, Gomez went through Bieber's cellphone and found racy texts from the Jenners, which were all sent the weekend of Coachella. Gomez "flipped out" and on April 22, she unfollowed both the Jenners and Bieber, deleting all photos of her with the sisters in the process. Later that day, Gomez made a cryptic post about self love that seemed to be aimed at the Jenners. On April 25, Gomez told TMZ the sisters were "toxic" and bad influences.
Katy Perry vs. Taylor Swift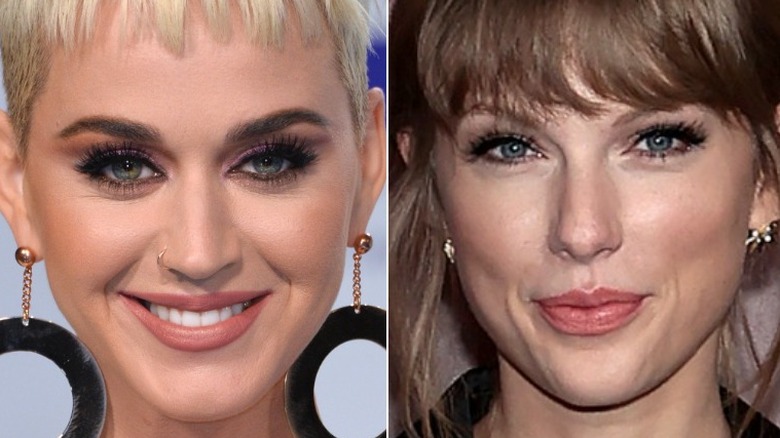 Despite being friendly, Katy Perry and Taylor Swift fell out over drama with their backup dancers. It began when three of Perry's "California Dreams" tour dancers were offered spots on Swift's "Red" tour. Before Swift's tour ended, the same dancers left to join Perry on her "Prismatic" tour, which Swift took as a direct attack. "[The fight] had to do with business," she told Rolling Stone. "[A female pop star] basically tried to sabotage an entire arena tour. She tried to hire a bunch of people out from under me." Shorty after, Perry cryptically tweeted: "Watch out for the Regina George in sheep's clothing..." and many interpreted this as shade toward Swift (which Perry later confirmed to be true).
The incident prompted Swift to write "Bad Blood," and the song was confirmed to be about Perry when one of Swift's backup dancers joined her in a shark costume — directly referencing Perry's viral Super Bowl performance.
The two women beefed for years when, finally, in a 2017 Carpool Karaoke video, Perry told James Corden: "I tried to talk to [Swift] about it, and she wouldn't speak to me. [...] It was a full shutdown, and then she writes a song about me. And I'm like 'Okay, cool, cool. That's how you wanna do it? Karma.'" Perry later claimed that Swift tried to "assassinate her character." It was only after she sent Swift a literal olive branch in 2018 that the two mended their relationship.
Perez Hilton vs. Lady Gaga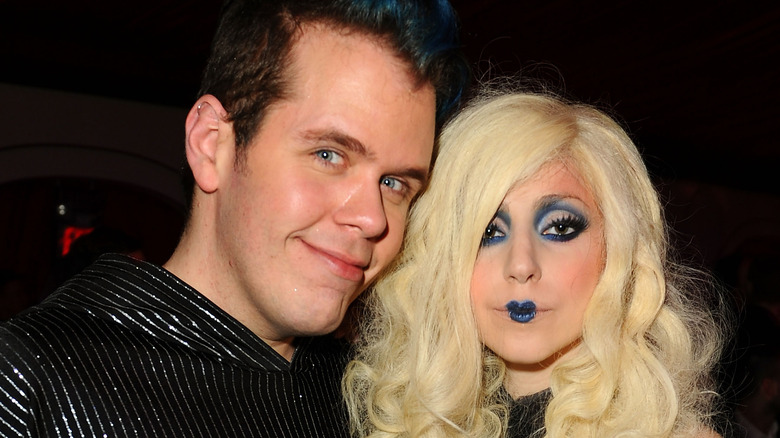 Gossip blogger Perez Hilton and singer Lady Gaga were close friends for nearly a decade until some distasteful comments from Hilton caused a rift between the two.
Things got messy between the unlikely duo when Hilton criticized Gaga's third studio album, "ARTPOP," calling it a failure. He even told his Twitter followers to listen to Christina Aguilera's "Bionic" album instead of Gaga's new project. "He started asking me really terrible questions, and he was being very negative about 'Born This Way,' and we had a lot to drink," Gaga told Howard Stern in an interview (via the Los Angeles Times). "He was supposed to be my friend and I felt betrayed, so I started crying. And then my [other] friend had to come in and pull the camera out, they wouldn't turn the cameras off."
Despite supposedly wanting to stop spreading negativity online, Hilton continued to publicly trash Gaga by retweeting negative tweets about "ARTPOP" and sending mean tweets to the singer. When asked about his worst celebrity feud on "I'm A Celebrity ... Get Me Out Of Here!" Hilton blamed their falling out on Gaga's newfound fame, instead of offering empathy or a genuine apology. He stated he was "'hurt and betrayed and stabbed in the back" by the singer and that he didn't miss her company.
Rob Kardashian vs. Blac Chyna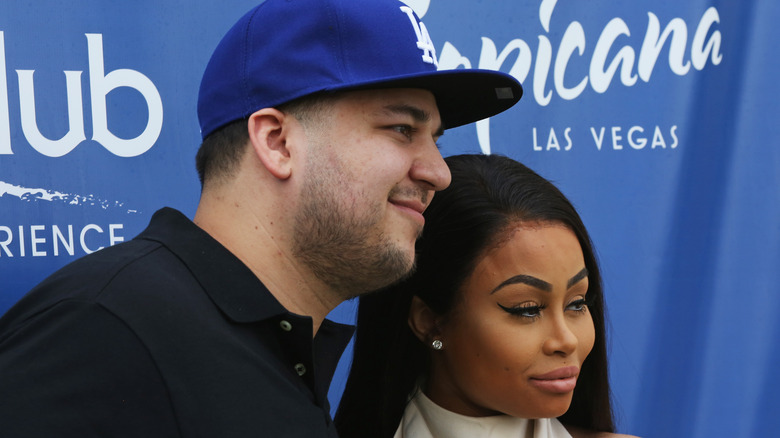 When Kylie Jenner stole Tyga from Blac Chyna, Chyna knew exactly how to get revenge. She began dating Jenner's brother, Rob Kardashian, in January 2016, and the two went on to have an incredibly tumultuous relationship. At the time, Rob was living with his sister, Khloé Kardashian, who was quite vocal about her distaste for Chyna. When things started heating up between the couple, Khloé kicked Rob out, leading him to move in with Chyna. Rob later proposed with ​​an impressive seven-carat diamond ring worth $325,000.
Soon after, the couple announced Chyna's pregnancy via Instagram. Trouble struck when the Kardashian sisters planned to film the baby shower for "KUWTK." Rob was completely against it, and evidently, neither him nor Chyna attended the shower.
That year, the couple broke up and got back together multiple times. Things escalated when leaked screenshots of Chyna calling Rob "lazy," "fat," and "insecure" were made public. Right before Christmas, they physically fought in a nasty argument broadcast on Instagram Live. Rob then posted an NSFW dump of private photos of Chyna, prompting her to take legal action against him for violating revenge porn laws. "The moral of the story is, he doesn't respect me, so if you can't respect me, you have to respect the law," she told ABC News. In February 2022, Rob announced he'll be dismissing the assault and battery lawsuit he initiated after their Christmas blowout. Now, it seems the pair are quietly co-parenting their daughter, Dream.
Lindsay Lohan vs. Paris Hilton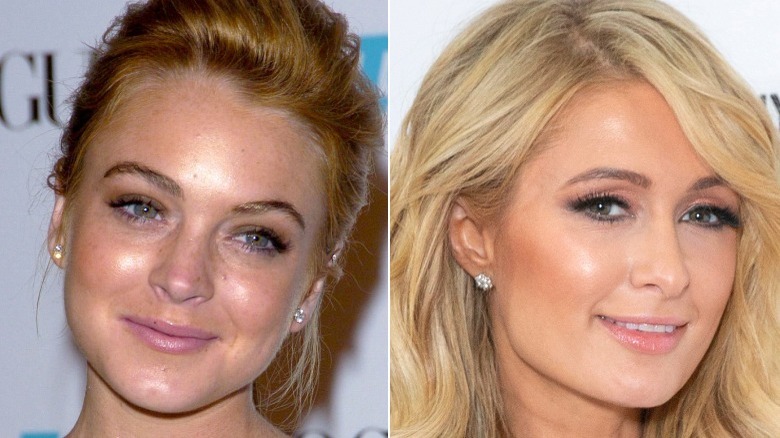 In the mid-2000s, Lindsay Lohan and Paris Hilton were close friends. The socialite and actor both loved to party and be in the spotlight, so naturally, they were seen shopping and socializing together a lot before eventually falling out. The high-profile feud allegedly started in 2006, when Lohan was linked to Hilton's ex, Greek shipping heir Stavros Niarchos. Days after they were spotted together, Hilton laughed as her friend, Brandon Davis, trashed Lohan to the paparazzi, making gross comments about her body, finances, and branding her a "fire crotch." Hilton's publicist tried to damage control the situation by claiming that Hilton didn't necessarily agree with what was said, as she wasn't the one who said them. Lohan then responded by making snide comments about Hilton's sex tape. "Obviously, she's very comfortable making videos," she told Elle.
By November of that year, things escalated further. Lohan called Hilton a "c*nt" in front of paparazzi before immediately denying it, saying "I never said that. I love Paris. Paris is my friend." Days later, the two were photographed together on a night out with Britney Spears in the front seat of Hilton's car. The photo became an iconic symbol of their party-girl ways.
The two socialites fought on and off for years, but as of 2021, it seems they have reconciled their friendship. ​​"Things have happened but I'm an adult now. I just realize that a lot of that was just being immature," Hilton said on her podcast.
Drake vs. Kanye West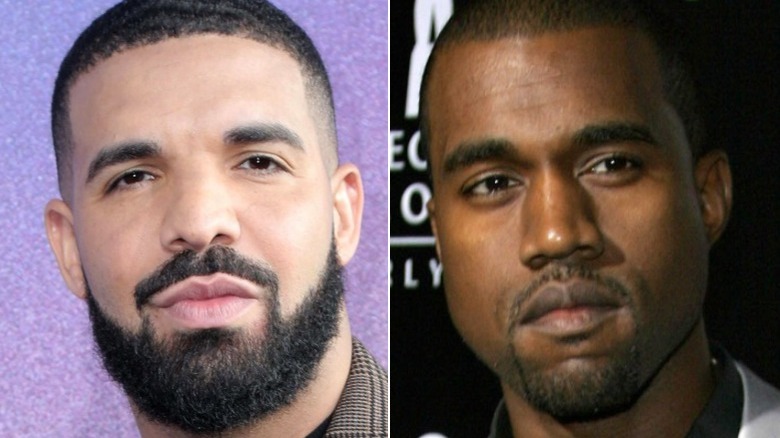 The two rap moguls started as friends, with Drake often citing Kanye West as an inspiration in his early days. They collaborated on several projects together, including "Find Your Love," Drake's breakout single from his 2010 album, "Thank Me Later." While the men engaged in friendly competition over the years, things took a left when Pusha T called out Drake on his 2018 single, ​​"Infrared." The single, produced by West, insinuated that Drake's latest album was ghostwritten by Quentin Miller. There was also speculation that West told Pusha T about Drake's secret child, as Drake had recently confided in him about his relationship trouble. "I tell [Kanye] I'm having trouble with my son's mother. We had a conversation," Drake told HBO's "The Shop." "I wake up, and all these dates are out ... Then the next two days, whatever, I wake up now to this text from him, passive like, 'Yo, I love you brother.'"
Pusha T then dropped another diss,"The Story of Adidon," which accused Drake of being a deadbeat dad and forced the rapper to confirm the existence of his son. West offered a half-baked apology on Twitter, but reignited the feud with his 2021 single, "Pure Souls." Drake responded on Trippie Red's "Betrayal," leading West to leak his address. "You will never recover. I promise you," West said in a since-deleted post.
The rappers reunited in November 2021 with friendly photos on Instagram. "It's time to put [the feud] to rest," West noted.
50 Cent vs. Lala Kent & Randall Emmett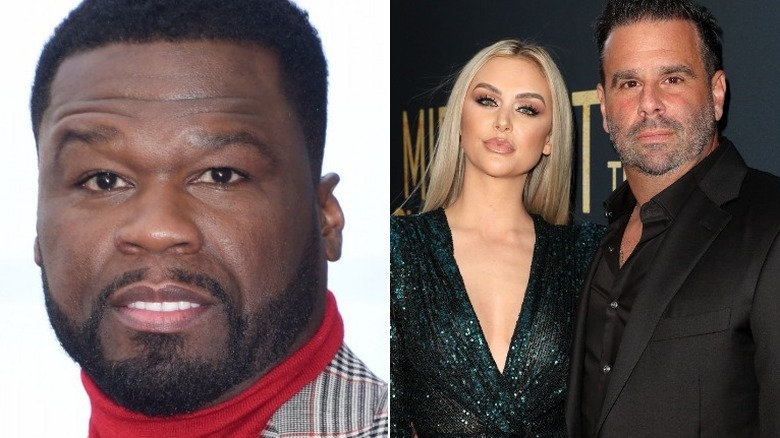 50 Cent and television producer Randall Emmett were longtime friends when the two fell out over a $1 million loan and actor Lala Kent. Kent, who stars in "The Row," dated Emmett on and off for several years after the producer helped her land her role in the film. In 2019, 50 Cent and the couple got into it on Instagram over the alleged loan, with 50 Cent threatening physical violence.
"Keep playing with me and get ya f***ing head cracked in front of everybody," 50 Cent wrote to Emmett, in screenshots of a conversation the two had over text. "You took my kindness for weakness. Now I'm [going to] show you what [I've] been [trying] not to do to you dumb motherf***er." The rapper then shared a series of memes mocking Emmett and Kent, all while counting down to the debt's due date of April 29. "Money Monday right around the corner," he teased. "I'm going to bed early." Later, 50 fired at Emmett again, this time comparing him to disgraced film producer Harvey Weinstein, due to the way him and Kent started dating.
"I'm disgusted," Kent responded in a since-deleted comment on 50's Instagram. "We've sat up at dinners solo with you, you showing mad love, while begging Rand to put one of your new talentless bitches in a film, and this is how you come for me? On the gram?" Emmett eventually paid off the loan, ending their feud.
Nicki Minaj vs. Cardi B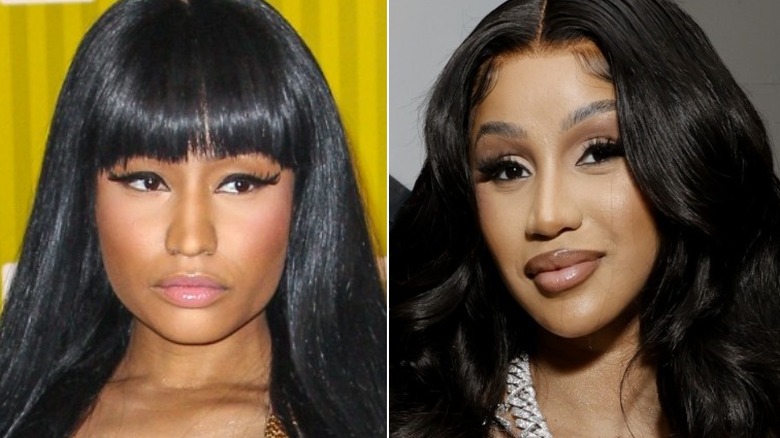 Cardi B and Nicki Minaj were cordial until their media-fabricated feud turned very real. Fans picked up on some animosity when Minaj allegedly liked an Instagram post shading Cardi B's rapping style. While the screenshot turned out to be photoshopped, the incident caused a media frenzy, where the female rappers were constantly pit against each other. Later that year, they both featured on the Migos track "MotorSport." Fans speculated even more when it looked like Minaj had filmed her music video parts on different days than everyone else. A month later, Cardi B revealed that Minaj had changed her verse and implied she might've done so to one-up the newcomer. Minaj told Apple Music's Beats 1 that the accusation "really hurt my feelings."
"The first interview [Cardi] did after 'MotorSport' came out, it just really hurt me 'cause she looked so aggravated and angry," Minaj tearily shared. "I kind of felt ambushed."
The quarrel came to a head on September 7, 2018, when the two women had a physical altercation during New York Fashion Week. According to several sources, Cardi B became upset when she heard Minaj criticizing her parenting skills. Cardi B lunged at Minaj, throwing her shoe, though she ultimately left the party with a large knot on her head, while Minaj left unscathed. Minaj also firmly denying any wrongdoing. A source told Us Weekly: "Nicki really respects Cardi and will always root for the success of other female artists and MCs."