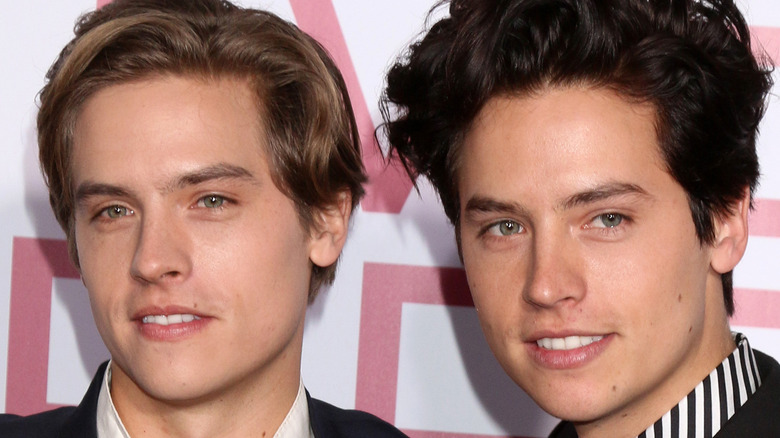 Of all the notable twins in Hollywood, Cole and Dylan Sprouse are a most refreshing pair. Some viewers met them when the Sprouses took over a certain fictional hotel on the Disney Channel. Others watched them grow up on camera long before that. And some probably remember them from the Danimals yogurt contest.
About the contest, Cole recalled to GQ, "We were told we were going to have a nice gift to give to the kid who just turned 16 and got himself a truck. But Danimals gave us a skateboard, which was weird because he already had a means of locomotion that was much better than skateboarding around. He had just gone hunting. I'm pretty sure there was a dead deer in the back of the truck. That was a strange period of my life." And when their yogurt collab came up in an interview with iHollywoodTV, Dylan shared his very special memory: "Drank way too much Danimals back then. I still have Danimal hangovers." It's nice that the brothers can look back on times like these and laugh.
They are multitalented stars — renaissance men, one might say. Cole and Dylan Sprouse have established themselves within and outside of the entertainment industry through their education and work experiences. It's fascinating to see where their careers have taken them, or perhaps more accurately, where they've taken their careers. The transformation of these famous twins is ongoing and surprising.
Dylan and Cole Sprouse had an Olsen-style start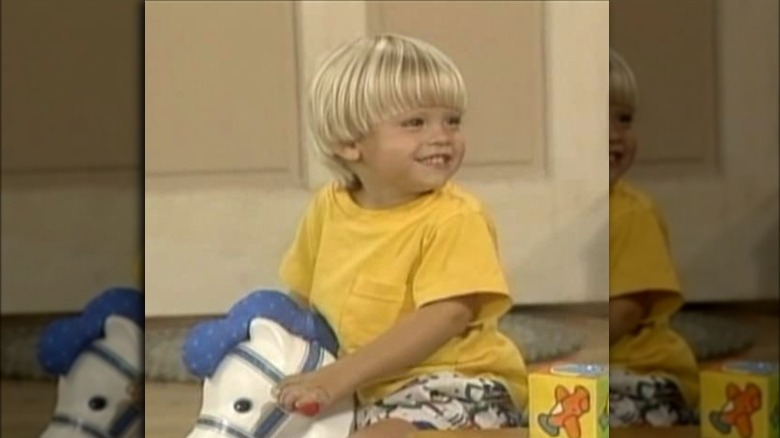 Per the Chicago Tribune, the Sprouse twins "were born on Aug. 4, 1992, in Italy, and raised in Southern California." Dylan is 15 minutes older than Cole, but the boys were in sync from the early days, embarking on their acting careers when they were still infants. Cole and Dylan took turns playing Patrick Kelly on ABC's "Grace Under Fire" from 1993 to 1998. "As Grace's 8-month-old, it's impossible to tell at this point if Dylan and Cole Sprouse are the Olsen twins of tomorrow," Tim Gray mused in Variety.
Cole told the New York Post in 2017, "Twins work really well in the industry because child labor laws dictate a baby, as an example, can only work for, like, an hour a day. So [with twins], the production doubles the amount of time they can work with a kid. So having two identical twin boys, my mom was, like, 'All right, you golden ticket — let's sell it!'" Though Cole had memories of his life on the "Grace Under Fire" set, he didn't watch the series.
The Sprouse brothers continued to "sell it" as they matured into loquacious lads with loads of personality.
Cole and Dylan Sprouse's big screen debut was with Adam Sandler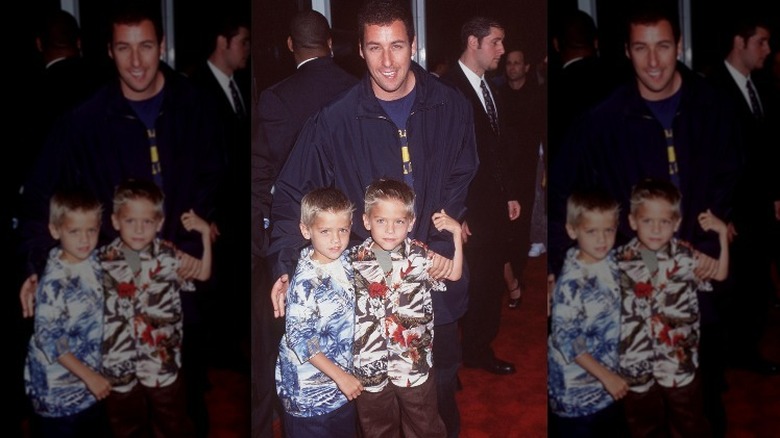 Dylan and Cole Sprouse made it to the big screen in 1999 as Julian in "Big Daddy," opposite Adam Sandler. The film grossed $234,801,895 worldwide, per Box Office Mojo.
In 2018, Dylan Sprouse reacted to his and Cole's childhood "Big Daddy" press interview with MTV. "It's funny how different we really are at this age. We had our own language, too, we would speak to each other...just babble back and forth." The little Sprouses can be seen in the old MTV clip making flatulent armpit noises and arguing over who "did the most scenes." Aww.
Cole certainly remembers that time in his life, as well. In Vogue's "73 Questions with Cole Sprouse," the actor shared that Adam Sandler was one of his mentors "when I was younger... It was the way that he was always in love with production, and he worked with his friends and his family and was still able to turn and do more independent films and artistic films while balancing commercialism." Cole also said of "Big Daddy," "It was this huge production, and I was six, and I got to see New York City for the first time." He agreed in the "73 Questions" interview that "Big Daddy" might have been an inspiration for his "return to New York later."
The one where Cole Sprouse was Ben Geller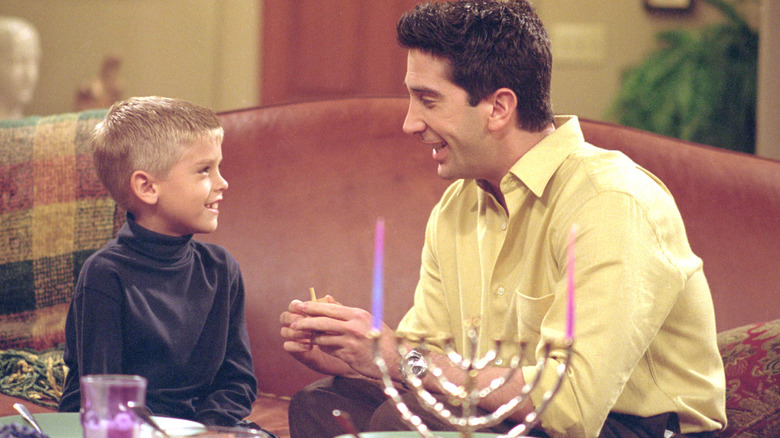 The next popular Sprouse project actually only featured one twin: Cole. Beginning in 2000, Cole Sprouse took up the recurring role of Ben Geller, Ross' first child, on a very big '90s sitcom. It might seem odd that Dylan Sprouse wasn't included, but Cole explained some logistics of the casting situation for "Friends."
In a witty GQ video interview, Cole answered questions undercover on the web. He explored a Wikipedia entry about his solo gig on "Friends" and stated, "Honestly, our appearance as the same character was sort of dependent on how much screen time we had. In 'Friends,' for example, my role was not too present. They really only needed to hire one twin because both of us were incredibly expensive."
Cole Sprouse has also made the news for revealing his childhood crush on Jennifer Aniston. "I was teased a little bit by the crew, because they saw it, and I would just forget and be looking at her...the whole world had a crush on Jennifer Aniston," Cole said on "The Drew Barrymore Show." Barrymore responded, "Well, the whole world has a crush on you, too, Cole." So, what about Dylan? Even though he wasn't on the sitcom with his brother, the two still found plenty of work together.
The Sprouse brothers focused on the small screen in the early 2000s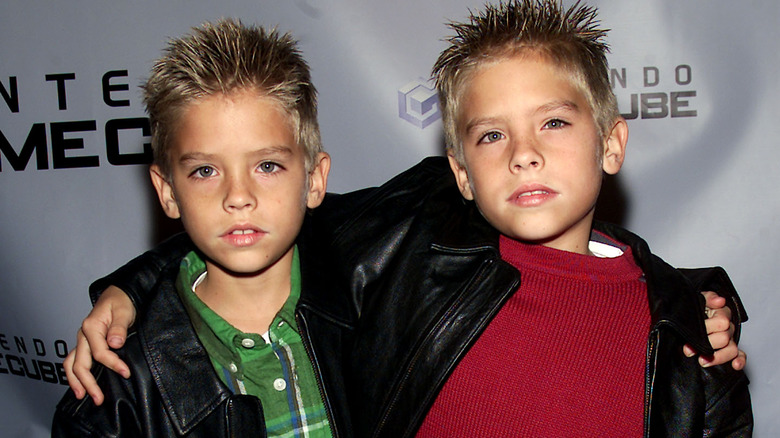 As grade school kids, Cole and Dylan Sprouse were in a few movies together and started growing into young stardom. They split the part of Justin in "I Saw Mommy Kissing Santa Claus" in 2001. The same year, they enjoyed gaming alongside Lil' Kim at the Nintendo GameCube launch party. The energetic actors shared their excitement with MTV at the event. "We fall asleep playing that game and we're still winning. That's how good we are at it," young Dylan declared. The shindig must have made an impression on the twins. "GameCube launch with Lil Kim was [lit]," Cole tweeted with a fire emoji in 2017.
In 2003, the Sprouses played twins in "Just for Kicks," a direct-to-video release that they've also tweeted about. A fan started it with a photo of the DVD in 2016, writing, "@dylansprouse @colesprouse this is just in my garage." Dylan Sprouse replied to the fan and tagged Cole with, "right where it belongs!" Cole chimed in with a real zinger: "did you misspell garbage*." Following their least favorite soccer film, Dylan and Cole Sprouse would become known to an even wider audience of kids.
Finally, the Sprouses were living the suite life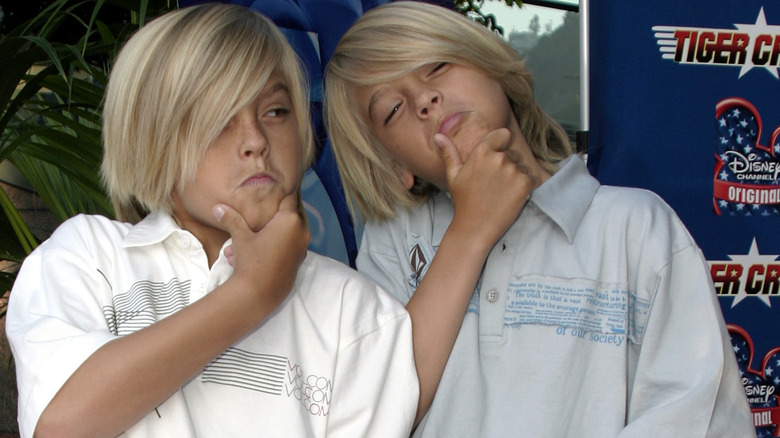 Ah, "The Suite Life of Zack & Cody." As Dylan Sprouse told The New York Times, "So, we finally get to work together." This sitcom enchanted young Disney Channel viewers by bringing them into the world of The Tipton, a luxury hotel in Boston managed by Marion Moseby. Mr. Moseby is met with the twin antics of Zack and Cody Martin, who live on the twenty-third floor with their mother, Carey, who is the hotel's resident cabaret singer.
The rambunctious boys interact with the hotel staff on a daily basis and befriend teen heiress London Tipton and candy counter girl Maddie Fitzpatrick. There's always a new comedic scenario for the twins as they make the hotel their home sweet home.
Beginning in 2005, amused fans loved watching Dylan and Cole Sprouse as Zack and Cody, respectively. As their Disney Channel days were just starting, Dylan told the Chicago Tribune what "a normal day" was like: "Get up, go to work, which isn't really work because it's more fun than work, go home, play some video games, feed the cats and then go to bed." Cole added, "Besides working on the show, it's just a normal, typical day. On the weekends, we see our friends. We're not secluded from the world."
Doing business with Mary-Kate and Ashley Olsen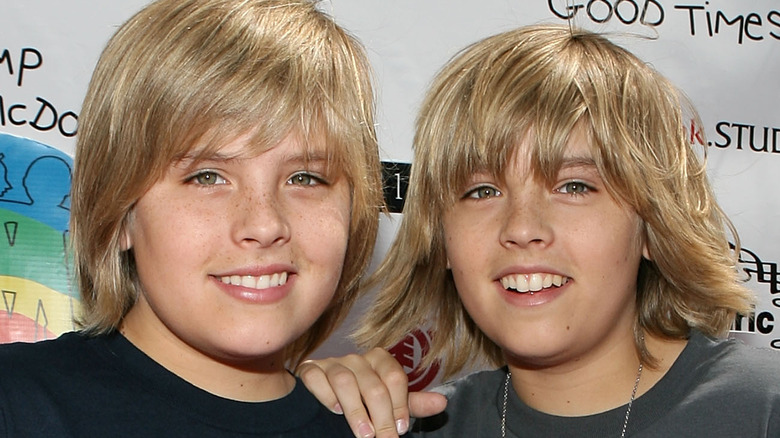 The Sprouses' popular series rolled on, and they filled their plates with as many opportunities as the entertainment buffet offered. It was no coincidence that their hard work and charisma matched that of another famous set of twins.
Mary-Kate and Ashley Olsen were role models for Dylan and Cole Sprouse. "Mary-Kate is exactly like Cole and Ashley is exactly like me," Dylan told The New York Times in 2006. Beyond personality similarities, both sets of twins were interested in business. The Olsens' limited liability company, Dualstar, invested in Cole and Dylan Sprouse as the boys built their brand. The Sprouse twins launched their own magazine for guys, Sprouse Bros. Code. They considered the social anthropology of their day: "We want to reach out to the nerd group and the cool group, and the surfers and the skaters. There should be something that will appeal to everybody," said Dylan. They sold both physical and digital media and targeted their male demographic with hygiene products and a clothing line.
In 2007, Cole and Dylan Sprouse released "47 R.O.N.I.N.," an anime book series. An archived Parade feature on the twins reported, "The boys' books will revolve around brothers who, while searching for their missing father, find out he is part of an ancient crime-fighting organization." The Disney stars may not have been hitting the recording studio (well, except for that Circle of Stars "A Dream is a Wish Your Heart Makes" moment), but they became entrepreneurs.
A new series kept Dylan and Cole Sprouse aboard at Disney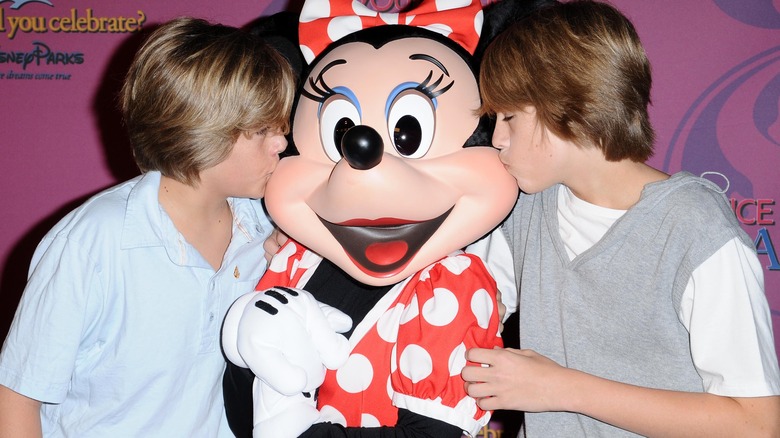 When one elevator door closes, another opens. Such was the fate of the Sprouses' suite life. Fans were excited that they wouldn't have to bid Zack and Cody farewell just yet. "The Suite Life on Deck" premiered a few weeks after the series finale of "The Suite Life of Zack & Cody" in 2008. The spin-off took the teenage twins out to sea on the S.S. Tipton. Mr. Moseby (Phill Lewis) made the jump to the fancy cruise liner, as did London Tipton (Brenda Song). The gang was joined by new faces like Bailey Pickett (played by Debby Ryan) and later, Maya Bennett (Zoey Deutch).
"This move really is an acknowledgment that the boys have changed, from rambunctious moppets to full-fledged teenagers," Disney Channel President Gary Marsh told The New York Times. He expected the teen characters' increased freedom to interest audiences.
"We wanted to keep the same vibe and really show fans that it's still Zack and Cody, but just growing up a little bit more," Cole Sprouse told People. Cole and Dylan had already spent many years with their characters, and Dylan said he and his brother were "a gentle blend of both" Zack and Cody.
What was the end of an acting era like for Cole and Dylan Sprouse?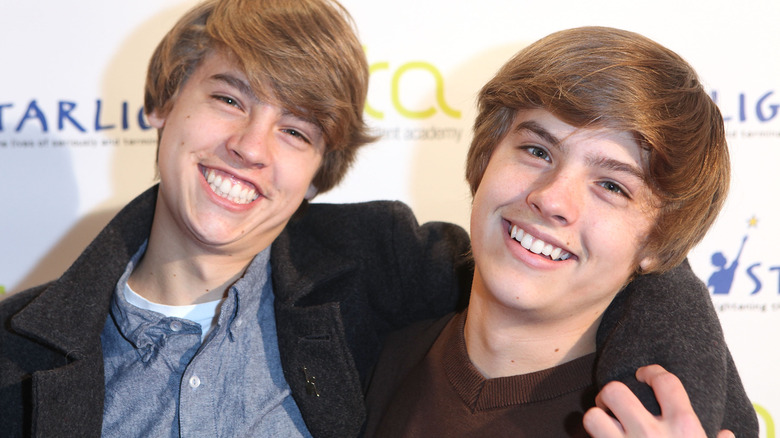 "The Suite Life on Deck" continued to ride the waves of the late 2000s when "Wizards on Deck with Hannah Montana" debuted in 2009. This Disney Channel triple crossover took after the original "Suite Life," which included an iconic special called "That's So Suite Life of Hannah Montana" in 2006.
2010 marked five years of the "Suite Life" franchise. The original fans, much like the stars on screen, had matured considerably. The Disney Channel was nearing a necessary pivot as its key talent prepared for new ventures. Like other shows of its ilk, "The Suite Life on Deck" got its own Disney Channel Original Movie. "The Suite Life Movie" premiered in March 2011, and the last episode of the series aired in May of that year — a high school graduation theme, of course.
"In the year between 'The Suite Life on Deck' and my foray into higher education, my brother and I both worked as interns at [LA comics store] Meltdown, where I started doing some photography, and I also worked behind the counter selling comics for a bit," Cole Sprouse told GQ. After so many years aboard the S.S. Tipton, it seemed that Dylan and Cole were ready to brave the sea changes life brings.
Cole and Dylan Sprouse stuck together for college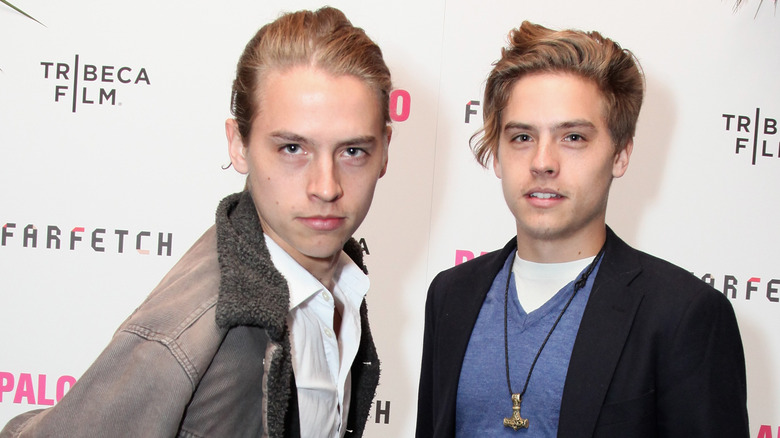 College was next for Cole and Dylan Sprouse. According to Teen Vogue, the brothers considered splitting off and heading to different schools, but they stayed together in the end. "We really wanted to get out of LA and we wanted to study in city. We chose NYU because their arts program was great and they're a prestigious institution... You're involved in a completely different way of life, Cole said. "Right after the show had ended, we were being hounded. So we really wanted to step out and fade away from the industry and, you know, we were pleasantly surprised at how often people reached out wondering what we were doing and where we were."
The Sprouses were immersed in New York City and college life, but that didn't stop people from noticing them, especially a Seventeen writer who lived right next to one of the twins: "Dylan Sprouse, star of 'The Suite Life of Zack & Cody,' nodded and said 'hey,' then breezed past me down the hall. It all happened so fast I barely had time to come to grips with what was happening." It sounds like the beginning of a romance novel, but Dylan turned out to be a pretty typical hall mate. Cole kept busy with his photography and launched a (now-archived) website. He used Tumblr (also archived...by fans) for sociological experimentation. Per BuzzFeed, a flurry of fans expressed their "trust issues" on social media after Cole's Tumblr project.
The Sprouse twins embraced their lives at NYU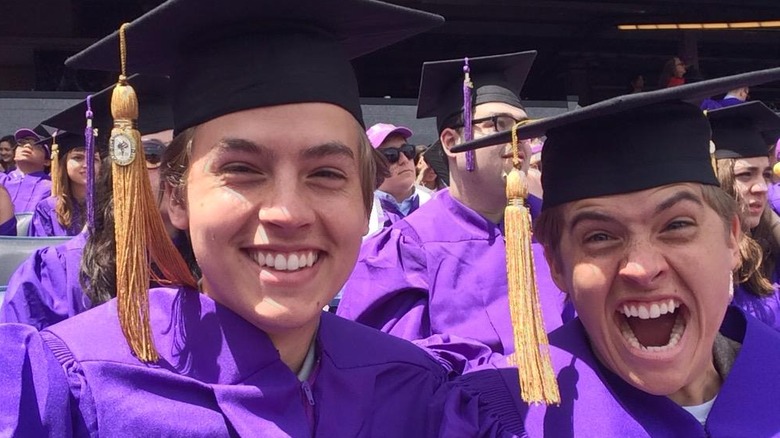 Dylan and Cole Sprouse knew they had chosen NYU wisely. It was a welcome departure from everything they'd ever known in the acting world. "Many of the jobs we were taking were the things that were keeping my small family afloat, so there was this constant pressure to secure jobs, which in turn were money," Cole said in describing his child actor life to GQ.
Speaking of jobs, Dylan Sprouse was seen working in a cafe in 2013, and he found fan responses "surprising because in no way do I look at any other job as a step down," Dylan explained to Access. He continued, "For a variety of reasons, it's just a step in a new direction — try my hand at something else." He and his dad and brother were considering a restaurant venture at the time, so Dylan was eager to gain experience at an establishment he had often visited. According to Vulture, he also had an internship in Brooklyn at a Bourbon distillery (fitting, since he would later open a meadery).
In 2015, Dylan Sprouse earned his bachelor's degree in video game design, and Cole earned his in archaeology. "My grandpa was a geologist, and it was a discipline that combined a lot of my mutual interests," Cole Sprouse told Vogue. The Sprouses both graduated with honors, Cole tweeted, and the twins later told Teen Vogue that they switched places to accept one another's diplomas.
Cole and Dylan Sprouse made acting comebacks in different ways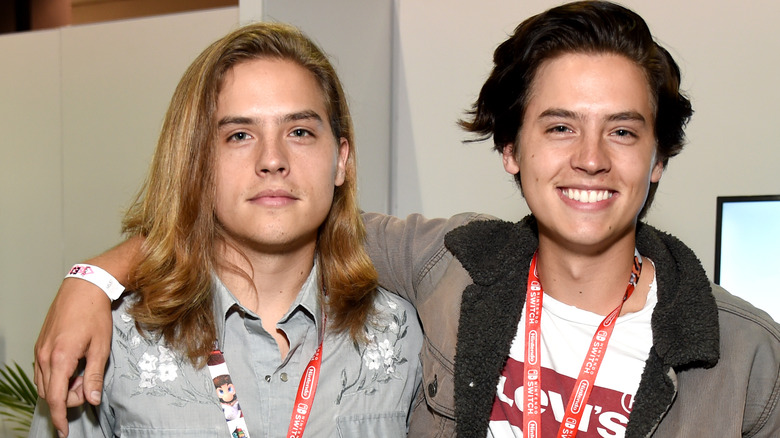 Following his college graduation, Cole Sprouse was archaeological assistant to a Brooklyn artifact laboratory. "I was working in a basement, and there was no sun. I was like a little treasure goblin, and I ended up getting a request to fly out to L.A. and audition for Archie," Sprouse told Glamour. At the "Riverdale" reading, he fell in love with Jughead's character, and the rest is history — the star was announced as Jughead Jones in 2016, with "Riverdale" debuting in 2017.
Dylan Sprouse came back to acting, too, just in a different arena. "I think Cole's in a place where he's very happy right now...whereas I would be happiest doing more films with a lower budget — independent, expressive, really small-scale. I tend to enjoy roles that I very closely identify with: fringe people and complicated characters, who might even be bad guys, or bad characters that have one redeeming quality. That's closer to my idea of what my acting trajectory should be," Dylan outlined to Vulture. He was a voiceover artist on video games and worked on independent films.
The brothers couldn't resist poking fun at each other about their acting careers. Cole tweeted in 2017, "@dylansprouse were you Zack or Cody?" Dylan replied to Cole, "I don't remember actually. I was too busy carrying the show on my back." The twin, who played Zack, was also busy crafting All-Wise Meadery in 2017, officially launching the label in 2018.
Cole Sprouse finds Lili Reinhart, Dylan Sprouse finds Barbara Palvin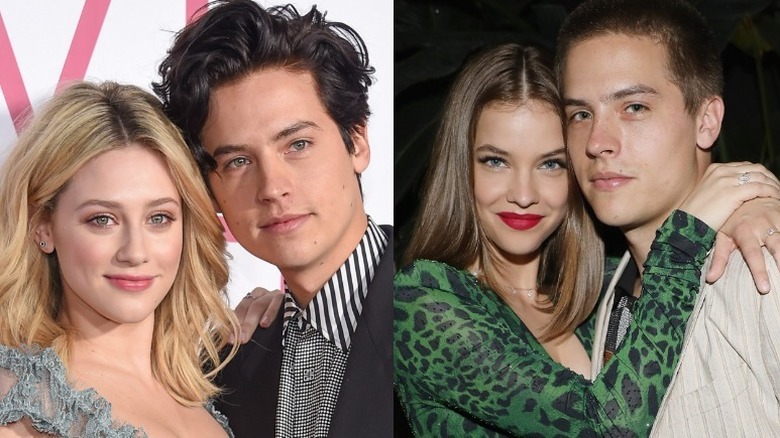 Cole Sprouse's on-again, off-again relationship with Lili Reinhart from "Riverdale" was highly publicized, but they tried to keep it under wraps as much as possible. "Until you go through the paces and the dating stages and know that something is right for you, I don't think it's appropriate to bring others in," Cole told W magazine. He acknowledged the fans' interest in his relationship and countered, "But in all honesty, my own happiness and her happiness come before caring about what people are saying." Later in a 2019 Coveteur interview, Reinhart used the words "my boyfriend, Cole."
Meanwhile, Dylan Sprouse and Barbara Palvin met at a party. He messaged her on instagram, Palvin told W magazine. Dylan said the Hungarian model followed him on the app, "so I was like, I guess I'll give her something. And I slid into her DMs. ... And she didn't message me for six months."
Barbara Palvin's response finally arrived when Dylan was away filming a movie called "Turandot" in China. She even followed him out there after her work in China was canceled. The couple eventually lived together in Brooklyn, happily cooking and watching anime. Palvin is proud of All-Wise Meadery, telling W that Dylan Sprouse was "the youngest master brewer." "It's something that I've been brewing in my bathtub since I was 16 and finally took to this scale...it's created a community of people. That's very, very special," Dylan added.
The Sprouses live separate adult lives, but still brothers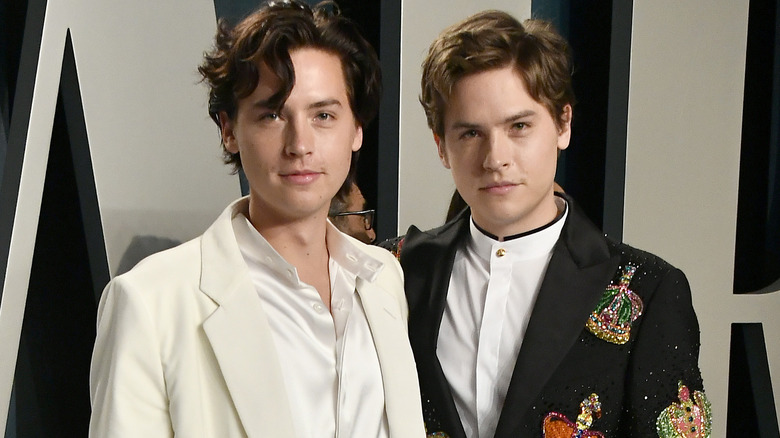 In 2020, Cole Sprouse confirmed the end of his relationship with Lili Reinhart, writing in part on Instagram, "Lili and I initially separated in January of this year, deciding to more permanently split in March. What an incredible experience I had, I'll always feel lucky and cherish that I had the chance to fall in love. I wish her nothing but the utmost love and happiness moving forward."
As for Dylan Sprouse and Barbara Palvin? They took a big step by documenting their rural land purchase and ownership from 2020 to 2021 in an Instagram series called "Breaking Ground." Dylan's had many other projects on the rise and told the Daily Beast in 2021, "I feel like my voice is louder than it has been, but I don't feel like people are fully seeing me for who I am as a creative yet." In addition to films like "Tyger Tyger" and "After We Collided," the actor created a comic book series for Heavy Metal called "Sun Eater."
"It was inevitable that my brother and I eventually decided to pursue different parts of the industry...he and I don't really look too similar anymore, so we can't really do the whole kitschy twin thing," Cole told Variety in 2019. The "Five Feet Apart" star added a horror podcast called "Borrasca" to his resume in 2020. He and his bro are individuals, but they're also twins who appreciate one another.