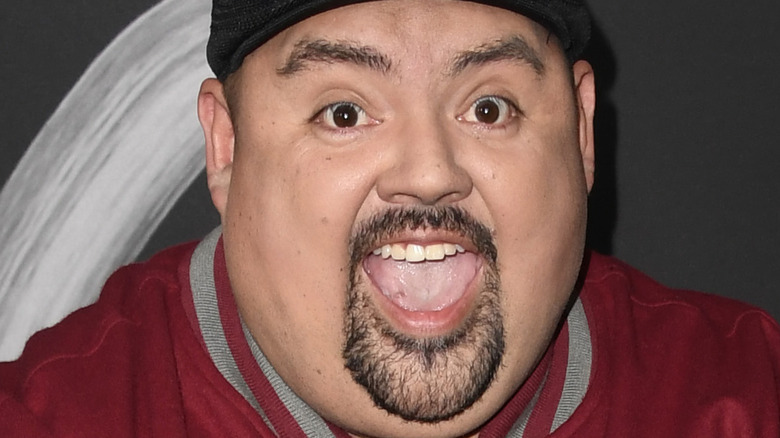 There are few figures in the world of comedy more familiar than Gabriel Iglesias. One of the most successful and in-demand standup comics of his generation, the comedian nicknamed "Fluffy" has been cracking audiences up since 1997 and shows no signs of stopping.
As Iglesias' roster of screen credits on IMDb attests, in addition to headlining multiple comedy specials, he's also started to carve out a career as an actor. Iglesias was in "Magic Mike" and its sequel and went on to play the title role in his own Netflix sitcom. As Iglesias explained in an interview with Forbes, he thinks of himself fundamentally as a comic who occasionally acts. "I still feel like I have a lot of dues to pay as an actor...I still have to go through the process."
There's no denying that this multi-talented comedian and on-the-rise actor is at the top of his game, yet there's so much more to discover. With that in mind, keep on reading to delve into the untold truth of Gabriel Iglesias.
Gabriel Iglesias got his start alongside future stars Amanda Bynes and Nick Cannon on All That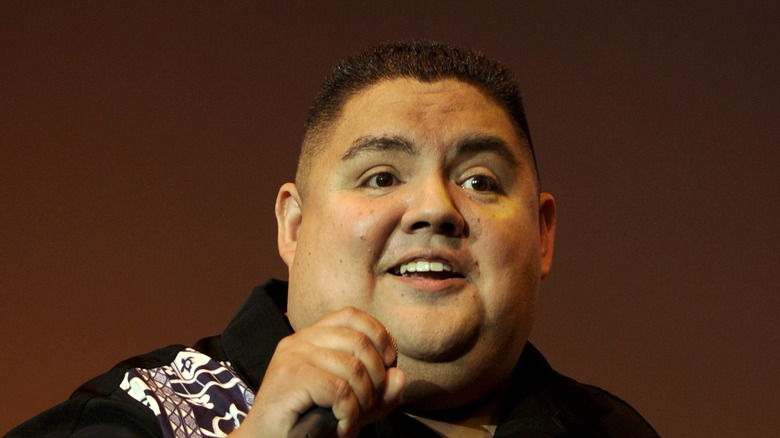 Gabriel Iglesias was an aspiring standup comic when he joined the cast of Nickelodeon's teen sketch-comedy series "All That" for the show's sixth season. "At the time, I was 20," Iglesias told Complex. "I was already the oldest in the cast."
Iglesias recalled that some of his fellow cast members were "cool," while "some were just pains in the butt." Nick Cannon, he told Complex, was among the "super cool," while Amanda Bynes (who later went on to headline her own Nickelodeon series "The Amanda Show") was decidedly not. "It really was strange being pulled aside by Amanda Bynes and told, 'You don't know how to be funny.' That was hysterical," Iglesias reflected. "I was, 'OK, I won't be talking to you anymore.'"
Iglesias also looked back on the time he was costumed as a cheerleader for a sketch, his wig obscuring his view and causing him to accidentally slam into a beam that "knocked [him] unconscious." This created a minor panic, he joked, when news broke "that an entertainer named Iglesias was suffering a head injury and was at the hospital," and everyone assumed "it was either Julio or Enrique that got hurt."
Gabriel Iglesias was disqualified from Last Comic Standing for a weird reason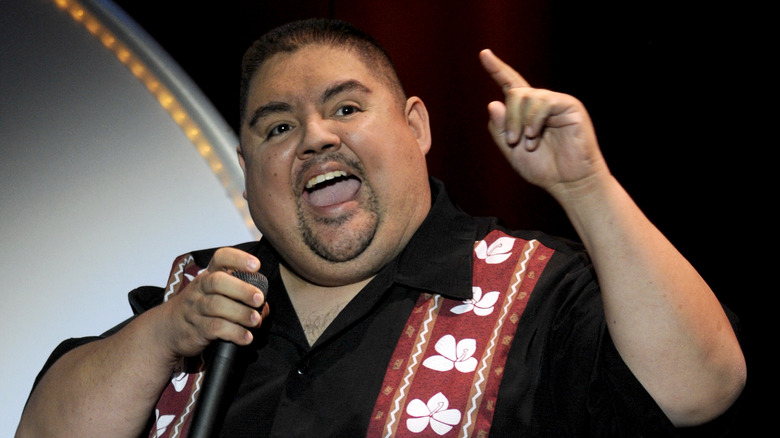 Back in 2006, Gabriel Iglesias was a star on the rise when he was among the many comedians to compete in the fourth season of NBC's comedy competition "Last Comic Standing." According to a report at the time from Reality TV World, Iglesias was disqualified and sent home when he was caught red-handed using his Blackberry to communicate "with a loved one." He reportedly violated his contract with the show, which forbade him from communicating with the outside world during the course of the competition.
"I tell people I made history: I was the first Mexican to be deported off of television," Iglesias joked to Las Vegas Weekly about his disqualification.
Recalling the incident with Arizona's East Valley Tribune, Iglesias was circumspect. "Everybody was doing something sneaky, and I just happened to be the one that got caught," he said, presciently predicting that being tossed from "Last Comic Standing" would not be a career killer. "The only thing I had to gain was the title and a big ego," he said. "Comedy Central is already giving me a one-hour special in February, and the money will come."
Voice acting has become a key piece of Gabriel Iglesias' professional repertoire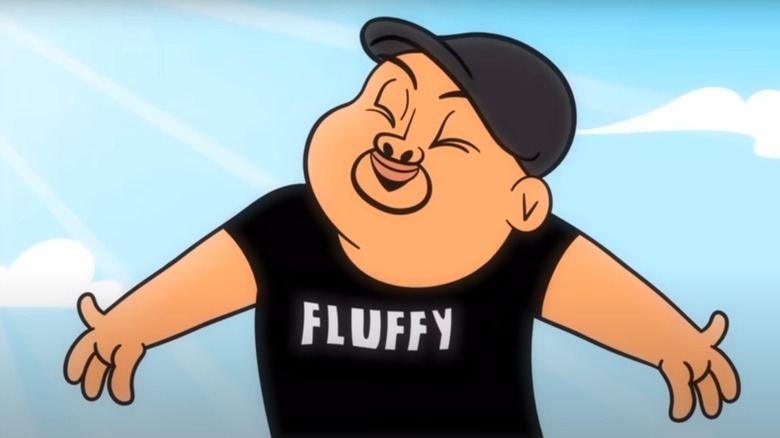 In addition to packing 'em in at his standup comedy shows, Gabriel Iglesias has also carved out a niche as a voice actor in a variety of animated projects. As his list of IMDb credits demonstrates, he's lent his voice to Pixar's animated feature "Planes," as well as "The Nut Job," "Coco," "UglyDolls," and "Smurfs: The Lost Village." He also voiced every single member of a Mexican family in a 2007 episode of "Family Guy." "By the way, I only got paid for one character," he noted in the "Everything Comedy" podcast.
Iglesias voiced Speedy Gonzales in 2021's "Space Jam: A New Legacy," imitating the accent originated by the legendary Mel Blanc. As Iglesias told Screen Rant, concerns about racial sensitivity led producers to tell the comedian he could use his regular voice instead of trying to imitate the stereotypical Mexican accent that Blanc used. "Everybody's so sensitive right now, so I get it," Iglesias admitted, but ignored the advice. "I told them, 'Look, I think Speedy Gonzales should sound like Speedy Gonzales.'"
In August 2021, Iglesias debuted "Fluffy Bits," a new animated series on his YouTube channel.
Gabriel Iglesias' nickname came from his mother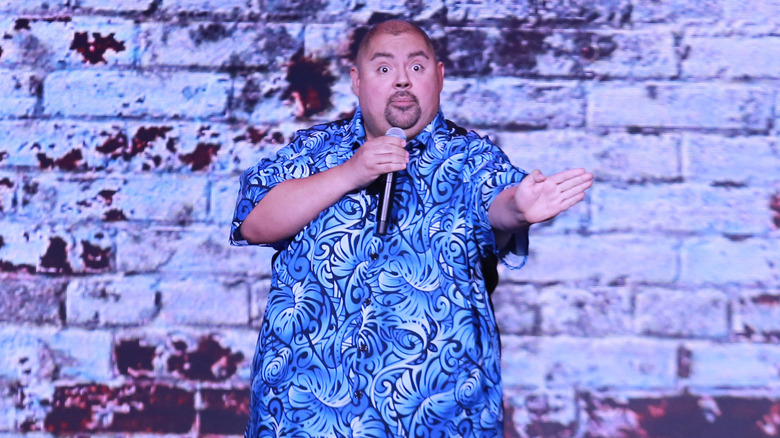 For years, Gabriel Iglesias has used the nickname "Fluffy" to describe his physique. As the comedian explained during an appearance on the "Rachael Ray Show," the moniker came from his mother. "One time I called myself fat around my mom, and she was like 'Mijo, you're not fat, you're fluffy!'"
Iglesias elaborated in an interview with Las Vegas Weekly, sharing his belief that the phrase "was an old saying back in the day and I just kind of rehashed that one." When his mother described him as "fluffy," he said, "I just kind of took that and ran with it. It's basically snowballed to the point where if you Google the word fluffy, my name will pop up in the top three. I think I'm behind pillows and cotton candy."
According to Iglesias, he finds "fluffy" to be "a cute word and socially a lot more acceptable than someone saying is fat or obese [sic]." This is particularly true, he added, when referring to a female. "If you call a girl fat, yo, she'll raise hell, but if you say, 'Aw girl, look at you, you're fluffy,' there's almost a sexy appeal to it," he explained.
Blindfolded fast food identification is Gabriel Iglesias' superpower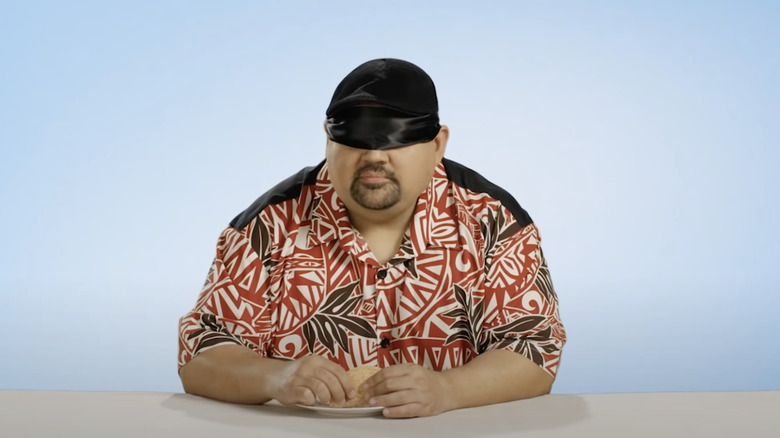 While promoting his Netflix comedy special "Gabriel 'Fluffy' Iglesias: One Show Fits All," Gabriel Iglesias appeared in a video that showcased a skill his fans didn't realize he possessed. "I'm gonna eat stuff without seeing it," he said at the start of the promotional video. "Just like those people that can drink the wine and tell you where it came from, and the name of the Mexicans who picked the grapes — I can do the same thing with fast food."
Iglesias proved to be skillful at identifying fast food while blindfolded, expertly detecting a McDonald's Filet-O-Fish sandwich, although he stumbled on a Wendy's chicken sandwich, which he guessed came from either Carl's Jr. or Chick-fil-A. However, he redeemed himself by expertly distinguishing fries from In-N-Out Burger and McDonald's, and then correctly guessed that the chicken nuggets placed before him came from Chick-fil-A.
Ultimately, Iglesias correctly identified five fast food items with just three incorrect guesses. "If anyone can do better, I will give you my fast food sommelier title," he quipped at the video's end.
Gabriel Iglesias lost 100 pounds after discovering his sugar levels were so high he was 'basically peeing honey'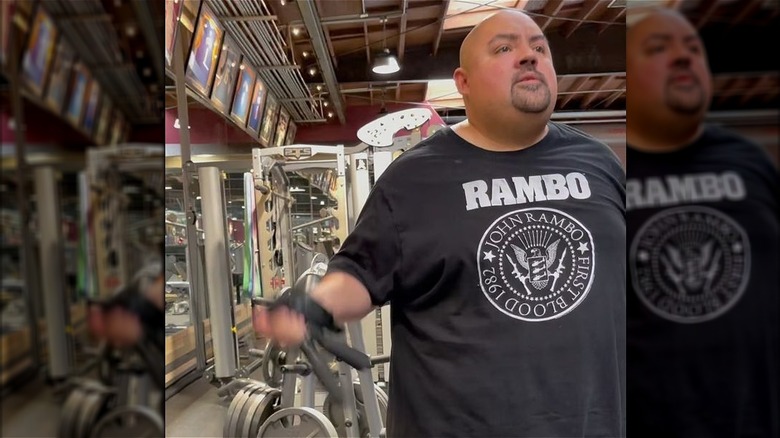 Back in 2014, fans of Gabriel Iglesias noticed there was a lot less of their favorite comedian to love. "I'm down a hundred pounds. I have a lot more energy," he told NBC's "Cafecito." When asked what inspired his decision to lose weight, Iglesias offered a sobering response. "Death, bro! I didn't want to die," he said. "When you're young, you don't think about stuff like that, you're invincible."
As he explained in an Instagram Live interview with reporter Geoff Edgers (via The Washington Post), Iglesias had come to realize that the excessive weight he was carrying was also accompanied by some serious health issues. "I went to go see an endocrinologist and my sugar level was through the roof. I was basically peeing honey, that's what the doctor told me," he revealed.
One way that Iglesias took control of his diet was by cooking for himself. "...I had never done that before. Preparing my own meals, I was able to control the amount of sugar going in, the carbs and everything," he said. "That's been a big help."
Fluffy Breaks Even is Gabriel Iglesias' unique spin on the standard food show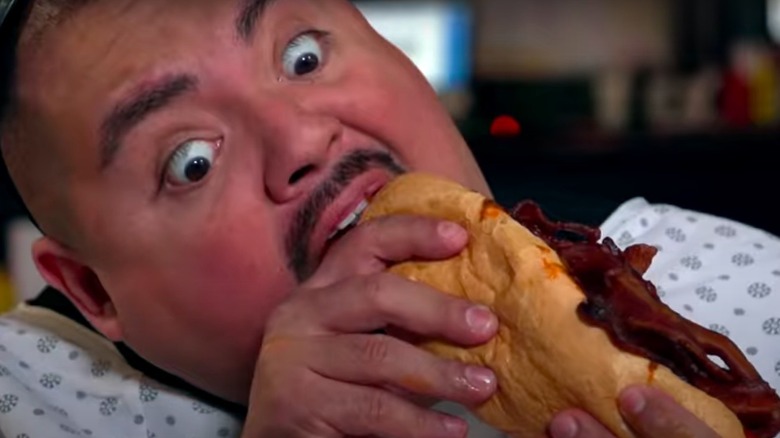 It's no secret that Gabriel Iglesias loves food, and he celebrated that affection for cuisine with his Fuse TV series "Fluffy Breaks Even." "I love shows like 'Diners, Drive-Ins and Dives' or 'Man v. Food' where they get to go eat," he told the Los Angeles Times in 2015. "They get to go eat. They don't have to tell jokes or nothing. I said to myself, 'I want that gig.'"
"Fluffy Breaks Even" also served up a unique twist, hinted at in the title: in each episode, Gabriel Iglesias enjoys a hearty meal at a notable eatery in a particular city with Martin Moreno and Rick Gutierrez. Then, the three comedians undertake a specialized exercise activity with the goal of working off all the calories they've just gobbled up. As the Times noted, these workouts ranged from training like a UFC fighter to learning how to pole dance.
While the show itself boasted a lighthearted tone, Iglesias was adamant that he was as committed to the show's exercise component as he was to its culinary enjoyment. "I don't want the fans to think, 'Oh he's messing around. He eats like he's serious, but he doesn't take that workout like it's serious,'" Iglesias said.
Gabriel Iglesias' Netflix sitcom is truly art reflecting life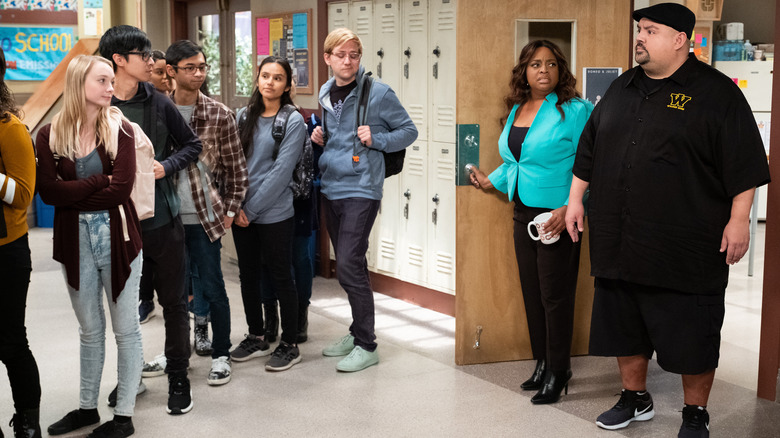 In 2019, Gabriel Iglesias showcased a whole new side of his comedic talents when he debuted his first-ever sitcom, Netflix's "Mr. Iglesias." With a premise reminiscent of 1970s TV comedy "Welcome Back, Kotter," Iglesias' was cast as a high school teacher employed at the same school where he was once a student.
In an interview with the AP, Iglesias described the show as essentially an "alternate" version of his own life. As he explained, "Mr. Iglesias" took a what-if look at the direction his life would have taken had he not embarked on a career in comedy but instead accepted an offer for a full scholarship to pursue an education degree and become a teacher.
However, Gabriel Iglesias told CinemaBlend that when he first pitched the show, his character was an auto mechanic, not a teacher. Iglesias didn't love it. He met with producers and suggested, "How about we not make the Mexican lead a mechanic? How about we do something that's not so, you know, stereotypical of a role." He then shared his own near-foray into a teaching career; producers loved the idea, and "Mr. Iglesias" was born.
Gabriel Iglesias is obsessed with the VW Bus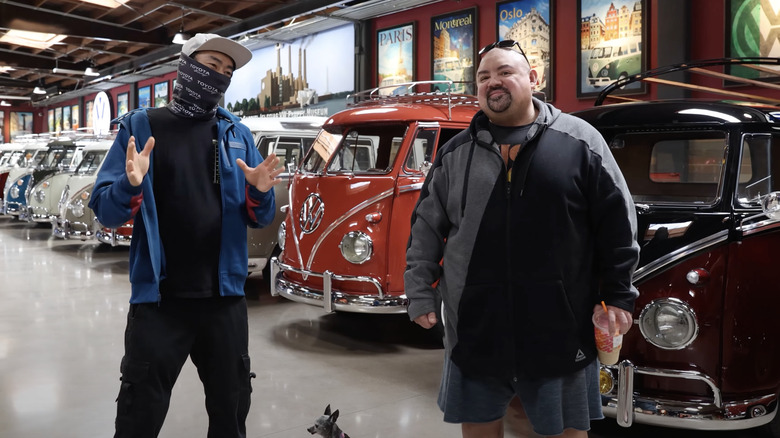 If fans happen to encounter Gabriel Iglesias behind the wheel, there's a very high chance that the vehicle he's driving is a Volkswagen Bus. In a video for Hoonigan AutoFocus, Iglesias opened up his garage to display his stunning VW Bus collection, all of which have been meticulously restored to pristine condition. "This is the home of the incredible Fluffy Volkswagen collection," he declared.
As Iglesias explained, his compound contains numerous VW Buses in addition to assorted muscle cars and a variety of memorabilia. "It's the Fluffy compound," he said. "It's the ultimate man cave. I call it the one-bedroom 87-car garage." The facility, he said, is where he keeps his "toys," while it also serves as the command center of his business empire, "so everything gets run out of here."
The video also featured an appearance by Henry Marchena, who restored most of the vehicles on display. "He knows a lot. He's well-versed," Marchena said of Iglesias. "He loves cruising in these things. He actually drives them on the street," host Larry Chen said. Added Marchena, "...everything is driven. That's why [Iglesias] has a collection, is to enjoy. He likes to enjoy his cars; he just doesn't like them sitting around."
He's not his son's biological father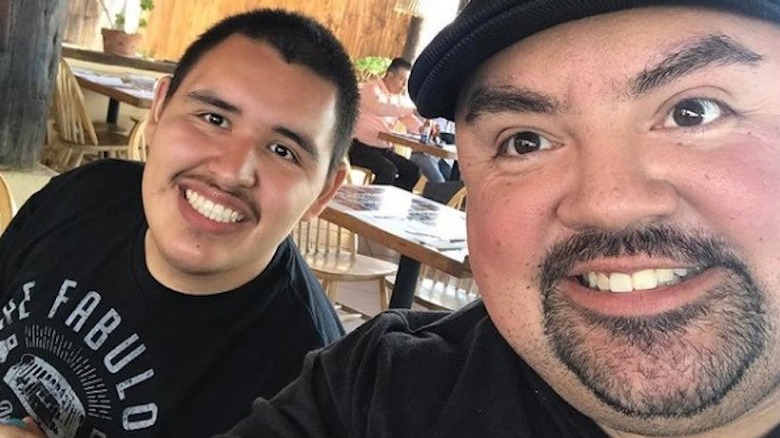 For more than a decade, Gabriel Iglesias was in a long-term relationship with girlfriend Claudia Valdez and is close to her son, Frankie, per The Sun. Iglesias insisted on keeping his relationship with Valdez out of the public eye; in fact, the comedian offered a rare mention of Valdez — without identifying her by name — in a GoSeeTalk 2014 interview in which he briefly mentioned "my girlfriend."
In an old standup performance, Iglesias mentioned "the love and the support of" his family. "It takes a strong woman, first of all, to put up with me." The star brought up his girlfriend's son, Frankie, saying, "...he's technically my stepson" who had "been in my life for eight years." Iglesias said that he "hooked up with a beautiful woman who had a pre-started family...Basically, I took over a lease, is what happened," he quipped. The comedian proceeded to joke about then-15-year-old Frankie and his teenage mannerisms.
During a 2019 performance, reported KLAQ, Iglesias revealed that he and Valdez (still not stating her name) had broken up, telling the audience at the show that he had nothing negative to say about her. Despite the split, reported People, Iglesias remains close to Frankie.
Gabriel Iglesias was serenaded by Michael Bolton on a TV dating show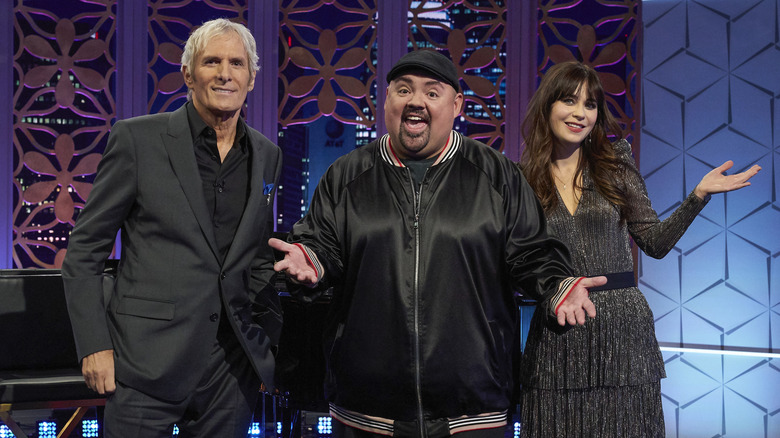 Gabriel Iglesias was single and ready to mingle when he appeared in a 2021 episode of ABC's "The Celebrity Dating Game." An update of the classic "The Dating Game," the new version tasked celebrities with choosing a potential match from one of three members of the opposite sex — none of whom are seen by said celebrity. With "New Girl" star Zooey Deschanel as host, "Celebrity Dating Game" also featured the quirky addition of singer Michael Bolton.
In an added twist, the potential dates don't know which celebrity they may be potentially partnered with; they must guess the celeb's identity using clues offered by Bolton, who puts his bombastic pipes to use by singing a customized song offering hints about that particular star.
For Iglesias' song, Bolton sang, "For all the joy you brought to my life, you were so good in 'Magic Mike.'" Bolton hit even closer to home when he crooned, "You make me laugh so hard I'm weak, your voice in 'Nut Job' was the peak, your Netflix specials I love to see, you make Hawaiian shirts sexy... I'm everything I am because you're Fluffy."
How Gabriel Iglesias' infamous onstage 'meltdown of 2017' changed his life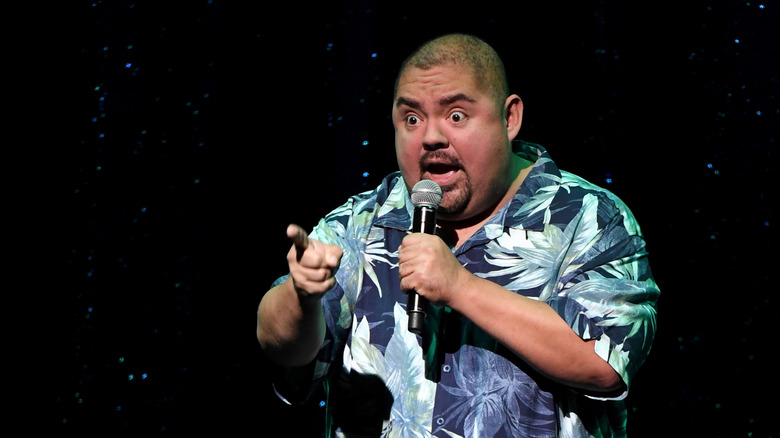 A 2017 standup comedy performance didn't go the way Gabriel Iglesias had planned when he was onstage and experienced what he later described to Billboard as "the meltdown of 2017." While discussing his son onstage, he found himself overcome by emotion due to the realization "that my son is no longer a kid. Now he's an adult, he's a man. And it hit me where I got choked up, I walked offstage, and I just I buckled," he said.
Iglesias ended up cancelling the remainder of his comedy tour, taking to Instagram to apologize to fans and explain that he was "dealing with some serious health and emotional issues that needed attention asap. Attempting to work through my problems was not going over and I had to stop everything b4 things got worse."
According to Iglesias, he had become "burned out" after "twenty years of the same thing with no breaks" and never taking a vacation. "I wasn't being creative anymore," he told Billboard. "It was becoming work. And I wasn't spending enough time at home and that was taking its toll as well." As he told People, Iglesias quit drinking for over two years in order to attempt what he described as "an emotional rebuild."
Gabriel Iglesias is the first celeb to ever be featured on the label of an iconic hot sauce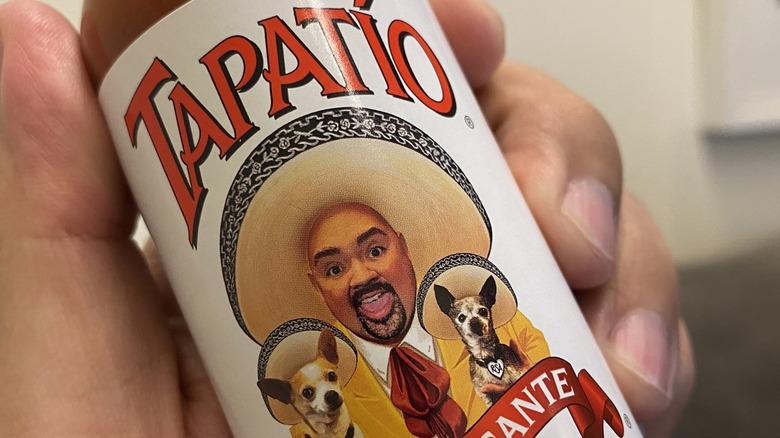 In July 2021, the makers of famed Tapatío Hot Sauce took to Instagram to announce a new partnership with Gabriel Iglesias. A subsequent press release laid out the details, revealing that in celebration of the company's 50th anniversary, Iglesias' face (accompanied by his chihuahuas) would appear on bottles of a special limited-edition release of the sauce. In addition, Iglesias also appeared in Tapatío-themed videos called "Fluffy Can Cook" with several chefs.
"Like so many Californians, I grew up enjoying Tapatío with my family and friends, and have continued to do so for more than 30 years," said the comedian in a statement with the press release. "And It's a real honor and privilege to be featured on the front of the iconic bottle today; Tapatío is Mexican royalty — and I get to be King for a day!"
Iglesias elaborated in an interview with the "Ellen K Morning Show." "I hit the Mexican lottery, are you kidding me? I'm on a bottle of Tapatío and I'm Speedy Gonzalez," he joked, referencing his voice role as the iconic "Looney Tunes" rodent in "Space Jam: A New Legacy."
Comedy has made Gabriel Iglesias wealthy beyond his wildest dreams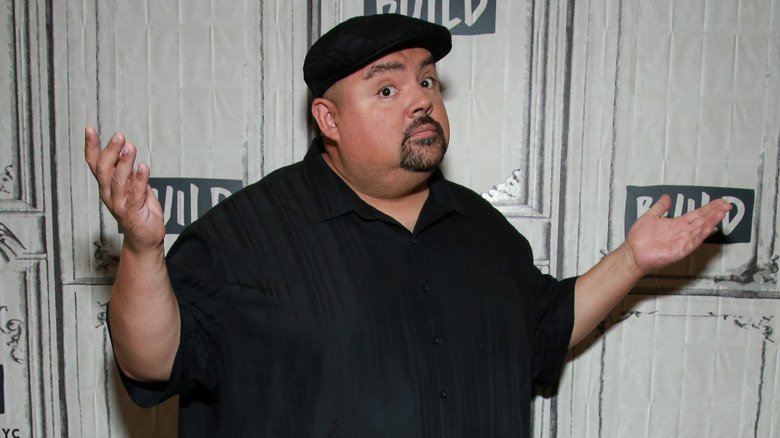 Gabriel Iglesias was certainly not born into wealth, and it's easy to assume that the level of financial success he would go on to achieve far surpassed anything he ever could have imagined. Celebrity Net Worth, in fact, estimated Iglesias' net worth at $40 million, while he was said to be earning a whopping $20 million per year.
There are many revenue streams all flowing together to contribute to making Iglesias a very rich man. In addition to the paychecks he receives for his TV and film roles, he signed a three-project deal with Netflix that included two standup specials and his sitcom, "Mr. Iglesias."
However, the biggest source of income for Iglesias has come from performing live. One of the busiest and most in-demand comedians internationally, Iglesias has spent two decades on the road, bringing his act to fans all over the world. According to Forbes' 2019 list of the highest-earning standup comics, Iglesias landed in sixth place with his 2019 earnings of $22 million. The five comedians to earn more were Kevin Hart, Jerry Seinfeld, Jim Gaffigan, Trevor Noah and Sebastian Maniscalco.